If you are a food lover and you are in Barcelona, you have come to the right place! This city has some of the best cuisine in the world. If you are a lover of French and Catalan cuisine, you will be delighted to discover that Barcelona has a wide variety of French restaurants!  
The only dilemma is how to choose from this variety of restaurants. That's why we've made a list of the top 10 best French restaurants in the city, from Michelin-starred restaurants to neighbourhood brasseries. 
 1. LA DAMA RESTAURANT
La Dama restaurant, a classic of Barcelona, ​​has reopened in 2016 after a closed year. The scenario remains the same: an old modernist house dating from 1915 which has kept its essence in Barcelona's Diagonal Avenue. The menu, which pays tribute to the traditional French cuisine with winks to other gastronomies, will seduce the most demanding palates. In addition, the imposing lobby has turned to a fantastic cocktail bar.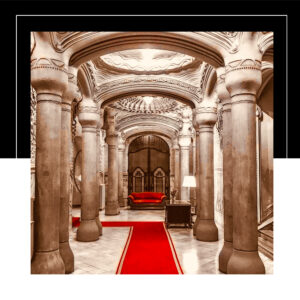 They offer a fine cuisine of traditional French dishes such as truffled pâté, Sole à la meunière, roasted coquelets or steak tartar made in the French style, in a charming and classic atmosphere. They also have small and medium private rooms to welcome groups, companies or events. 
Address: Avinguda Diagonal, 423-425. At Enric Granados. Area: Eixample Esquerre
2. RESTAURANT CHEZ COCO
With a privileged location on Barcelona's Diagonal, Chez Cocó joins the area's gastronomic scene as a genuine French style rotisserie with a luxurious interior design that creates an exquisite ambience.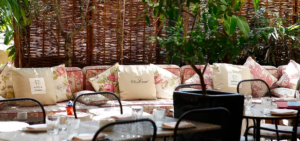 In its impressive open kitchen serves chickens, quails, pigeons and guinea fowls are masterly roasted. With no doubt, it is a must in Barcelona. 
The plus side: they are open after midnight and have a terrace for sunny days!  
Address: Avinguda Diagonal, 465. Between Villarroel and Casanova.
3. ANGLE BARCELONA
Located inside the Hotel Cram, is Angle, the restaurant with two Michelin stars which has a contemporary look that radiates elegance and serenity. The cuisine here, under the baton of celebrity chef Jordi Cruz, has a strong modern focus based around the very best fresh market products and the continual aim of creating "haute cuisine for everyday consumption".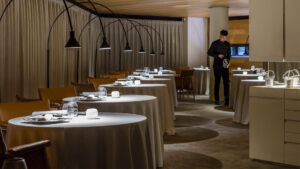 The dishes, created exclusively for Angle are a blend of classic and modern cuisine. Angle delivers a tasting menu at 185 euros, including appetisers, starters, smaller main courses prepared with seasonal fish, seafood and meat, small desserts and petits fours to finish.
Thanks to the richness of the Catalan region, both in terms of soil and climate, the restaurant Angle can offer a fine selection of D.O. Catalan wines to accompany the menu, carefully chosen by their sommelier Josep Rivera. They also offer great Spanish and French "Grand Cru" wines.
Address: Carrer Aragó 214.
4. RESTAURANT LA CARASSA
La Carassa, founded in 1979, is a corner of art and history, where unpublished delicacies will surprise you… Located in one of the most magical areas of the city of Barcelona, the Borne district, a romantic and bohemian place. In this corner you can enjoy the best Fondues, as well as Raclettes, Steak Tartar, Carpaccios and very special salads.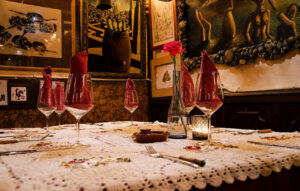 La Carassa is the ideal place for a tasting in couple in the light of the candles, or to savour something with friends. In addition, the communal character of the specialties such as Fondues and Raclettes will make your visit to this place of well-being a most pleasant and unforgettable experience. 
Plus, you have the possibility of choose fondues to take away, but also booking a tasting fondues inside the restaurant.  
Address: Carrer del Brosolí, 1. At Argenteria. Born- La Ribera. 
5. LE P'TY MON
Le P'ty Mon is undoubtedly the place where you can find the best Breton crêpes in Barcelona, always made with artisanal dough. The menu, suitable for coeliacs and vegetarians, also includes other typical products imported directly from the French region of Britany.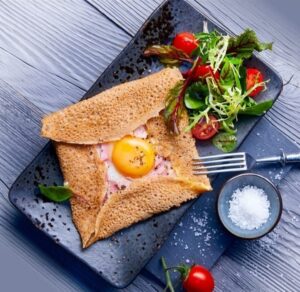 The restaurant is ideal to enjoy with children, especially on Saturdays at noon, when the children's menu is accompanied by an entertaining magic show. 
Le P´ty Mon offers a wide variety of crepes, notably with ham, Emmental cheese and egg, with 4 cheeses, with chicken, old-mustard and caramelized onion, with smoked salmon, fresh spinach and brie, but also with duck confit, figs and mushrooms, etc. The crepes are all including between 10 and 20 euros, and the restaurant also proposes menus of both savoury and sweet crepes. 
Address : Passatge de Lluís Pellicer, 13.
6. RESTAURANT CAELIS
Caelis is the restaurant of the Ohla Hotel Barcelona, awarded with a Michelin star. In an intimate and exclusive environment, the chef Romain Fornell and his team offer contemporary cuisine, from traditional recipes revisited to avant-garde creations.  
The Caelis is a tasting menu restaurant (three menus are offered). In addition, from Wednesday to Saturday, the Caelis Menu is offered, served at lunchtime and modified every week (48 euros TTC). 
The establishment has two distinct spaces: on the one hand, the dining room, with a capacity of 31 people seated on tables of different sizes. On the other hand, there is a kitchen with a "U" shaped chef's table, with a capacity of 14 people. This installation allows you to observe the chef's work live! 
Romain Fornell inaugurated the Caelis in 2004 and was awarded a Michelin star one year after the opening, and this has been renewed every year since.  
Address: Via Laietana, 49. Ohla Hotel. City center, El Gòtic. 
7. RESTAURANT GOUTHIER
Gouthier is a project which was born 20 years ago around a passion: oysters, and more precisely French oysters. At Gouthier, the important thing is the freshness of the product, the fusion of flavours, and especially the quality. 
It is a modern and welcoming restaurant and oyster bar located in the Sarrià district. You can enjoy some of the best oysters in Barcelona, as well as other French dishes. Seafood is the star of their menu, but without overshadowing the meats, cheeses and of course their exquisite white and red wine list. 
Their products are imported directly from the north of France, the narrow coasts of Ireland or the sunny marshes of Cadiz.  
They have a terrace that can accommodate up to 30 people on sunny days, and they also offer the possibility to take away food. 
Address: Carrer de Mañé i Flaquer, 8 
If you have enjoyed our blog on French food and would like to know more about food in Barcelona, check out our blog on the best Italian Eateries in Barcelona!