Recently there has been a surge in the amount of eco-friendly, healthy eating restaurants in Barcelona, many of which offer the ever popular 'superfoods', cold pressed juices, detox programs, and of course, veggie and vegan dishes. But sometimes you can miss the best restaurants if you don't know about them. We went to try some out, so you know just where to find the coolest healthy-living restaurants in the city.
1. Flax & Kale
Just a quick look on their Instagram page and you will want to try everything on the menu at Flax & Kale – it's easy to see why this restaurant is becoming known as one of the best healthy restaurants in Barcelona. Serving breakfast, lunch, dinner and weekend brunch, the variety of food available means there is something for everyone. Aside from plenty of gluten-free dishes and raw foods, they also offer a range cold pressed juices that you can also take away, making them perfect for a day on the beach.
Providing 80% plant-based dishes and 20% fish, you can still bring your meat eating friends along to enjoy a meal. We recommend the vegetarian red curry with an Antiox cold pressed juice!
Address: C/Tallers 74

Tip: For those of you who don't know about the new cold pressed craze, they are drinks made by extracting the juices from the fruit with a high pressure processing (HPP). This is different to using a typical juicer, as the heat produced is minimal, leaving the juice with less oxidation and the maximum number of vitamins and nutrients.
2. The Juice House
At The Juice House you can't only recover the your lost energy with colourful and fresh coldpressed juices, but you can also enjoy healthy and simple dishes, made with local produce. In the warmth of this space, with edgy interiors featuring wooden tables and chairs and a rustic exposed brick wall, this is a cool place to visit it for breakfast, lunch, or weekend brunch.
Must-try dishes include the salmon tartare with avocado and sesame, the quinoa salad with turkey, sweet potato, pear and the vegetable burger with a creamy hummus. This is delicious food without the guilt! And of course…a cold pressed juice is obligatory!
Address: C/ del Parlament, 12
3. Green Shots
For detox programs and a range of cold pressed juices in Barcelona, Green Shots is quickly becoming
one of the most popular places in town for superfoods and a healthy drink to wash them down. With a menu including breakfast, delis, fast food, pizza and sandwiches you have a range of delicious home-made dishes to choose from. A selection of green (and non-green) juices are all made fresh, as well as free WiFi and the friendly staff, you won't want to leave in a hurry! Green Shots also provide the Green Detox, a one-day or three-day program which includes six different cold pressed drinks throughout the day. For more information contact Green Shots on their Facebook page.
Address: C/ Paris, 201 and Via Augusta 21

Tip: Superfoods have extra-large doses of vitamins and minerals that can help us ward off diseases and live a longer, healthier life. Examples are salmon and blueberries. Yum!

4. Sesamo
For a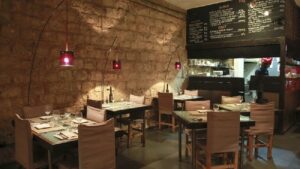 vegetarian restaurant in Barcelona which is a little more up-market, look no further than Sesamo. The food is very imaginative and thought out, the head chef also speaks perfect English and can help if you can't decide for yourself! We recommend the the seven course tasting menu, which is basically a series of delicious tapas. The restaurant is only open in the evening, but that makes it good for a romantic meal in Barcelona.
Address: Sant Antoni Abat, 52 Barcelona, Spain
5. Rasoterra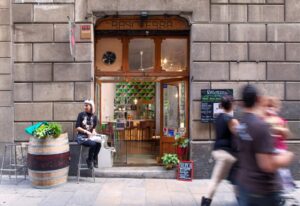 Situated centrally in the Gothic Quarter lies the widely popular Rasoterra. The vegan and vegetarian friendly restaurant grow most of their vegetables organically themselves. Rasoterra offers a wide range of vegetarian tapas, along with larger main dishes. The owner of the restaurant is one of the founders of the slow food movement in Barcelona, so it's easy to see why each dish is presented beautifully and with care. Tapas dishes range from 3-8€ and mains from 7-10€.
Address: Carrer del Palau, 5
Tip: The Slow Food movement was started to combat fast food. Their mission is to protect biodiversity in the world's food supply, educate and promote the population about fresh taste and local producers.