Renowned for its incredible flavours and culinary traditions, Barcelona is undeniably a haven for food enthusiasts! Among the many gastronomy spots in Barcelona, you will find the amazing El Mercado de la Boqueria. This iconic marketplace dates back to the 13th century, and reportedly has around 40,000 visitors a day. Within this bustling market you can savour some of the finest cuisine that the city has to offer, from delectable seafood tapas and prime cuts of meats, to the freshest fruit juices! 
Embark on an exquisite culinary adventure with our comprehensive food guide to El Mercado de la Boqueria and uncover the treasures that make this market a gastronomic sanctuary.
Tapas Bars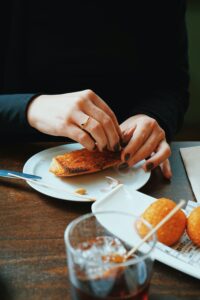 Bar Central
This culinary gem is known for its vibrant atmosphere and delectable tapas, offering visitors a delightful taste of Spanish cuisine in the heart of the city. The menu boasts an array of traditional Catalan dishes and tapas, from succulent seafood dishes to incredible vegetarian options, there is something for everyone here.
This establishment offers visitors a genuine taste of Barcelona's culinary heritage, making it a must-visit spot for both locals and tourists.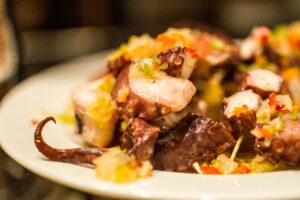 A local favourite in El Mercado de la Boqueria, El Quim, tells a captivating story of growth and evolution. From its humble beginnings with just five seats at its stall in 1987, the bar has now blossomed into an iconic treasure with 18 stools. This inspiring journey from a modest start to its current prominence has intrigued many people to try their dishes.
This tapas bar has earned a well-deserved reputation for its unwavering dedication to using the finest seafood and premium ingredients, ensuring an authentically exceptional dining experience for all who step through its doors. Amidst their diverse and impressive menu, the fried eggs with baby squid emerge as a cherished favourite. 
So whether you are a seasoned local or a curious traveller, their story and menu beckon you to experience the essence of their remarkable journey.
Meat and Seafood Stalls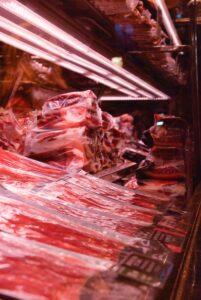 Xarcuteria Galiot
This stand is run by the Galiot brothers, and is a haven for those who love cured meats. Their offerings are a culinary journey, featuring the world's finest "jamón serrano", sourced from renowned regions like Salamanca and Huelva. Complementing these global delights are local Catalan cured meats, adding a touch of regional flavour to the experience. 
Your visit to Xarcuteria Galiot premises, an encounter with extraordinary quality and a hospitable atmosphere. As you savour these remarkable meats, prepare for a culinary adventure that will leave a lasting and delectable impression.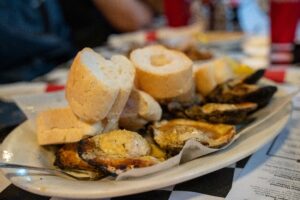 If you have a passion for seafood, don't miss the extraordinary dining experience at Kiosko Universal. This establishment is renowned for its expertise in grilled seafood, and some of the most popular dishes here include grilled sardines, Galician octopus, and their infamous calamari!
Beyond Kiosko Universal's regular menu, they also feature a dedicated board where they showcase their daily specials. The specials often incorporate the catch of the day, offering a delightful surprise for your taste buds. Whether it is a seasonal delicacy or a unique seafood creation, the ever-changing selection ensures that each visit to Kiosko Universal is a new and exciting culinary adventure. 
Fresh Fruit and Vegetables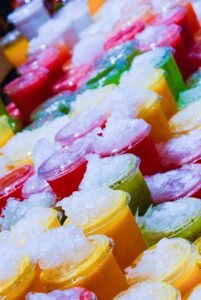 El Racó de la Tere
If you are in need of a delightful and refreshing treat, make your way to El Racó de la Tere. Here, you can indulge in a selection of freshly puréed juices, offering classic flavours such as orange or strawberry, or alternatively, you can venture into the exotic options, with flavours such as coconut and papaya. The offerings extend beyond beverages, as you will also find delectable fruit salads served in convenient cups and even chocolate-dipped fruit, making it an ideal destination for those seeking a sweet, yet health-conscious culinary experience. 
El Racó de la Tere is just one of the many incredible fruit stands in the market, all of which share a common dedication to the pure, natural goodness of fruits.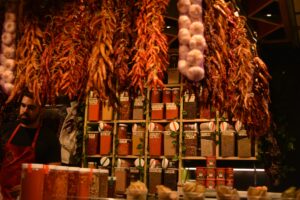 Fruites i Verdures Soley
For those who wish to embark on a journey through the diverse and exotic world of fruit and vegetables, this is the must-visit stall for you! This remarkable establishment sources its products from countries such as Argentina, Africa, Columbia, Bolivia, Brazil, Ecuador, Mexico, Peru, Chile, and many other tropical countries. In their well-curated selection, you will discover an array of intriguing and unique culinary offerings. 
However, Fruites i Verdures does not just provide fresh produce from various countries; they also offer an extensive range of exotic sauces, beverages, confectioneries, and preserves from some of the world's most gastronomically rich areas. It is a one-stop shop for anyone seeking to infuse their culinary adventures with global flavours.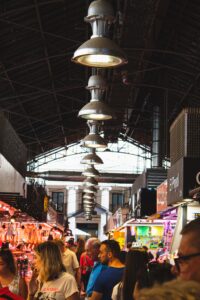 Bolets Petràs
For enthusiasts of all things mushroom-related, Bolets Petràs will be your absolute haven. They provide an array of mushrooms all in various forms, including fresh, dehydrated, and frozen. Beyond mushrooms, you will also find an assortment of edible flowers, truffles, and aromatic herbs at this establishment. 
If that is not enough to excite your palate, they even offer forest fruits and vegetables for a well-rounded culinary experience. Bolets Petras is the go-to place for those who appreciate the world of fungi and the finest natural ingredients for their culinary creations.
Authentic Spanish Stalls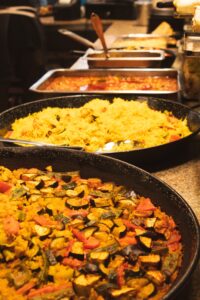 Paella Molt Bo
This establishment is perfect for those on the move or seeking a quick bite, but still want to experience some authentic Spanish cuisine. Paella Molt Bo boasts a diverse selection of paella dishes, catering to a wide range of tastes and preferences. 
Additionally, they also provide a variety of options such as wraps, empanadas, burritos, and convenient portions of fried seafood for a delectable grab-and-go experience.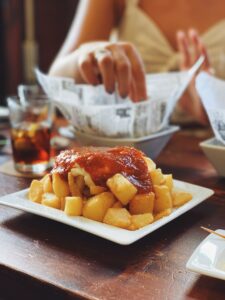 Rostisseria Ramon
Since 2007 Rostisseria Ramon has been serving incredible and authentic Catalan cuisine. Over the years, this culinary gem has consistently delighted diners with its delightful array of delectable offerings. Here you will find exquisite croquettes, perfectly crafted pinchos, and the iconic patatas bravas.
With every visit to Rostisseria Ramon, you embark on a flavourful journey through the heart of Catalan gastronomy, savouring the rich traditions and unforgettable tastes that have made this establishment a cherished destination.
This vibrant market offers a diverse range of culinary delights, making it a must-visit for food enthusiasts! It is where tradition meets innovation, and each stall tells its own story. So, whether you are after tapas, a quick bite to eat, or unique ingredients for your cooking, El Mercado de la Boqueria is your culinary haven in Barcelona!