Every country is known for its special dishes, traditional plates of food that make budding travellers alone book their ticket abroad. Spain is primarily known for paella, sangria, and of course, tapas, but the region of Catalonia also boasts many original and unique culinary delights. Here are eight dishes that you need to try next time you're in Barcelona.
Tapas
One of the country's most famous dishes is of course tapas. These small appetizers can serve as a snack, or a light meal, depending on how many you order. There are plenty of tapas restaurants in the city, and you can even see a full list of some of our favourite places to eat tapas in Barcelona.
If you're a little overwhelmed by the number of different tapas to choose from, start with one each of these:
Patatas Bravas (potatoes with garlic mayonnaise and a spicy tomato sauce)
Calamares (fried octopus)
Pan con tomate (bread with fresh tomato)
Tortilla (Spanish potato omelette)
Croquetas (potato croquettes with a range of fillings)
Queso de Manchego (traditional Spanish cheese)
Ensaladilla Rusa (potato salad with tuna)
Paella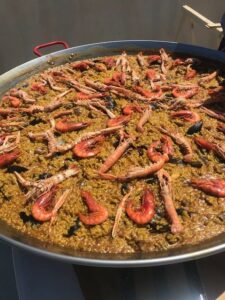 Another famous Spanish dish is paella. Largely regarded as the country's national dish, many don't know that paella actually originated in Valencia.
This tasty rice dish is traditionally eaten at lunchtime as part of a big family meal, and comes in many different varieties like paella valenciana (traditional paella made with chicken and pork), paella mixta (meat and seafood paella), paella de marisco (seafood paella), paella vegetariana (vegetable paella), and paella negra (black rice paella cooked with squid ink).
Be careful to avoid the paella tourist traps along the beach promenade, as you'll end up paying double, for half a portion. Instead, check out our post on the best paella restaurants in Barcelona.
Crema Catalana
Often described as Spain's version of crème brûlée, this traditional dessert dates all the way back to the 18th century when a Bishop once visited a nun's convent in Catalonia. After their flan turned into more of a liquid cream, the nuns sought to fix the situation by adding a layer of burnt sugar. As the dish was piping hot when the bishop took a bite, he shouted Crema! (it burns). This is where the pudding first got its name.
Unlike the French dish cooked in an oven, crema catalana is cooked in a pan. Many also make the dessert with orange and cinnamon, instead of the vanilla taste used for a traditional Brûlée.
The Spanish are very proud of this dessert, so make sure to try one when you're in the city.
Patatas Bravas
Patatas Bravas are arguably the most popular tapas dish, and for something so simple, they can be served in a variety of ways.
For what is literally just fried potatoes with a tomato sauce and garlic mayonaise, we guarantee that you will quickly become very confused at how something so basic, can taste this excellent.
Here's a list of some of the best places to get patatas bravas in Barcelona.
Pintxos
Put simply, pintxos are bite size portions of bread each with a different topping.
These tiny delights are originally from the Basque Country, but have since been adopted into Barcelona in many tapas bars as well. In fact, in the city's Poble Sec neighbourhood there is a whole street dedicated to these Pintxos Bars, called Carrer Blai. For roughly €1-€1.50 per pintxo, these snacks make for a great and cheap dinner.
Pan con Tomate
Considered a staple of Catalan cuisine and identity, this tomato bread, or pa anb tomàquet in Catalan, goes back hundreds of years to farmers who first made the dish by simply combining dried bread, olive oil, and tomatoes.
This creation is probably the most famous gastronomical invention from the region, and should be eaten for breakfast, or as a snack.
Coca
Coca is a traditional pastry also from the region of Catalonia. This cake can be both sweet and savoury, and is typically sold in bakeries. The most popular types of coca are Coca de Sant Joan (a sweet coca made with preserved fruit), Coca de Vidre (decorated with pine nuts), and Coca de Llardons (a savoury coca made with meat).
This delicacy is typically eaten over the celebrations of San Joan in the city which welcome the start of summer.
Churros
We'd be surprised if you've never heard of churros before, as these sugary fried doughnuts are almost as popular as paella!
Almost always accompanied by a hot chocolate sauce, these sweet treats can be eaten at all times of the day, but make for a delicious breakfast or a tasty hangover cure. Just look for your nearest Churrería and get stuck in!