Did you know that paella isn't a Catalan dish? It originated in the region of Valencia, which has many rice-growing fields. It was traditionally an easy and healthy all-in-one meal which includes rice, meat and/or fish, and vegetables.  The best paellas are cooked over a wood fire; any barbecue fans will confirm that the smoky flavour makes all the difference.  There are some great places in Barcelona where you can enjoy a delicious paella. Here are five of our favourites.
1. Gustos Barcelona
There are three Gustos restaurants in Barcelona, and they all have an open kitchen where you can watch the chef preparing magnificent paella dishes in front of you.
Their chefs prepare large pans of paella, so you can choose a quick meal and carry on with your sightseeing. Those who have more time can enjoy some aperitifs, or a glass or two of their excellent house wines.
Gustos Maremagnum – Maramagnum Shopping Centre
Gustos Comtal – C/ Comtal 11
Gustos Barcelona Arenas – Las Arenas Shopping Centre (Plaça Espanya). 1st Floor
2. MariscCo
Does the name of this restaurant give it away? Yes, MariscCo specialises in seafood, and they have a large selection of different paellas.
There's the traditional paella Valencian, made with rabbit and chicken, and the popular seafood paella with shellfish and pieces of fish. You could also have a black paella made with squid ink. Although paella tends to steal the limelight amongst tourists, other rice dishes are also excellent. Their house speciality lobster risotto is highly recommended.
MariscCo Reial – Plaça Reial 8
MariscCo Corsega – C/ Corsega 272
3. L'Arenal
Perhaps you'd like a seafront view with your paella? It doesn't get much better than this.  L'Arenal is a popular favourite with the locals, and is located right on the edge of the beach.
Be sure to make a reservation if you'd like a table on the terrace for a sunny lunchtime treat. This is also a great place to come with kids, as they can finish up their meal and play on the beach right next to you… until it's pudding time.
Passeig Marítim La Barceloneta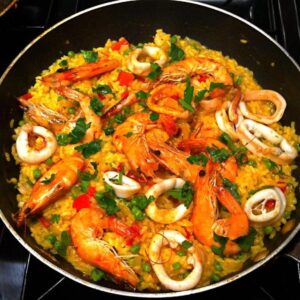 4. La Fonda
It's one of the largest restaurants in Port Olympic, and certainly one of the finest. Their midday menu is a feast fit for a king, for only 11€. They also make a delicious paella, with all fresh ingredient from the sea and market.
Their paella dishes are always impeccably presented, with generous portions of seafood and meat both inside the paella and decorating the top. Portions are large here, so come hungry.
Moll de Gregal 7-10
5. Cal Pinxo
This is an elegant restaurant overlooking Barcelona's Port Vell. If you choose a table on the terrace you can watch all the people milling past, the sails of the boats beyond flickering in the breeze, and of course the blue skies, sunset or twinkling Mediterranean stars that accompany any al fresco Barcelona dining experience.
If by now you're looking for an alternative to paella, which Cal Pinxo do very well of course, you could try the fideua. It's a similar dish but made with noodles instead of rice.
Plaça de Pau Vila, 1
With all these great places in Barcelona where you can enjoy a tasty paella, and many more, make sure you don't get caught out by the frozen "Paellador" fast-food paellas that are stuck in a microwave and usually served slightly cold in the middle. Catalan cuisine is so varied that even if paella is not your thing, you're sure to find many more dishes that suit your tastes in the above restaurants. Bon profit!