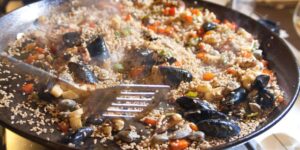 If you're on holiday, you've finally got some time on your hands to enjoy doing something different. What's on your agenda? Chances are you'd like to eat out, maybe meet some interesting locals, international residents and other travellers, and have experiences that you will remember.
Taking a cookery course is an original idea which firmly ticks all these boxes and more! There are several cooking classes in Barcelona which are just waiting to whack an apron on you, roll up your sleeves and inspire you to follow in the footsteps of Ferran Adrià. Failing that, you still get to enjoy the delicious meal you've prepared, in the company of the other participants, and come home with some new recipes to impress friends and family with.
Bcn Kitchen in the Born
You'll feel right at home from the moment you step into this beautiful space. With large windows that look out onto the trendy Born district, these hands-on workshops are guided by professional chefs who will share tips and guide the preparation of a delicious meal.
There's always a friendly atmosphere in the Bcn Kitchen, which begins by meeting all your co-chefs and having a chat over a glass of wine before you get started. There is a market visit and Spanish cooking class available in English, and if you can handle a cooking course in Spanish there are several to choose from. These include Creative Tapas and Pinxtos, Thai Cuisine, Japanese Cuisine, Rice Dishes and many more.
C/ Fusina 15, www.bcnkitchen.com
Spanish dishes with Cook & Taste
The Cook & Taste crew were one of the first in Barcelona to start offering cooking classes ten years ago, and they are still going strong today!
Courses are in English so you've got no excuse! The event starts with a visit to the nearby Boqueria market, where you and your team will pick out the choicest ingredients. You'll learn how to make typical Spanish dishes such as cold gazpacho soup, a selection of typical tapas dishes, and of course great paella.
C/ Paradis 3,  www.cookandtaste.net
Barcelona Cooking: Tapas and Wine
Experienced chefs let you in on their secrets as you prepare a meal together.  Their Spanish Cooking Class is one of the most popular, and it combines the best of Spanish and Catalan cuisine, as you learn to prepare a four course menu using local seasonal ingredients.
Find out how to make a traditional appetizer, starter soup, paella and dessert. A recent addition is the Catalan Tapas and Wine class, which focuses on pairing the right wine with a selection of tapas. Participants also visit the Boqueria market as part of this class, and can speak with some of the local vendors for an even greater insight into the origins of the ingredients.
La Rambla, 58, ppal 2, www.barcelonacooking.net
Amaltea Vegetarian Specialties
If you enjoy vegetarian food then this one is definitely for you. Amaltea is one of the best vegetarian restaurants in Barcelona, and along with their sister restaurant Govinda, which offers Indian vegetarian cuisine, they can easily claim to have some of the best recipes in town.
This deluxe course invites you to participate in preparing 7 or 8 different dishes, which usually include something spicy, something with tofu or seitan and a couple of desserts, all made with fresh seasonal ingredients. Check online for upcoming course details. If you're unsure whether to sign up, just go for lunch or dinner and try it for yourself!
C/ Diputación 164, www.restauranteamaltea.com