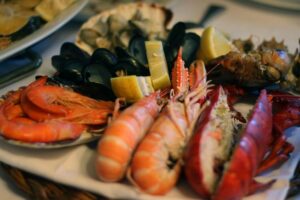 Last Updated: 23/10/2017
No visit to Barcelona would be complete without a taste of Spain's signature dish: paella. This delicious mixture of rice, meat, fish and vegetables can be found in most restaurants throughout the city, and in particular, by the beaches of Barcelona. Plus, due to its location right on the Mediterranean coast, the Catalan capital has access to a large selection of fresh seafood, making its paella dishes even more flavorsome and authentic!
Seafood makes up a significant portion of the local diet in Barcelona and there are literally thousands of restaurants to choose from if you have a hankering for some tasty 'mariscos'. Plus, there are many fantastic markets in the city offering a wide selection of fresh products, such as the Mercat de la Boqueria on Las Ramblas, where you can grab some fresh ingredients and rustle up your own fishy recipe in your Barcelona apartment. But, if you do decide to venture out and discover some of the most mouth-watering dishes in the city, check out a few of our favorite seafood and paella restaurants in Barcelona before you go…
La Paradeta
With a few locations throughout Barcelona, La Paradeta serves up delicious seafood in a unique and informal dining setting, with everything fresh and cooked to order. This restaurant is self-service and specializes in fish dishes, so be prepared to walk up to the counter as if you're ordering at the market. Once you've selected what you'd like, they weigh it out, wrap it up, and send it to the back to be cooked just the way you want it. This hands-on restaurant is great for groups and perfect for an entertaining family outing. We recommend stopping by the original location in the Sants neighborhood, which was first opened in 1994 under the name 'Shellfish'.
How to get there: C/ Riego, 7. Take the L1 to Plaça de Sants or L3/L5 to Sants Estació
7 Portes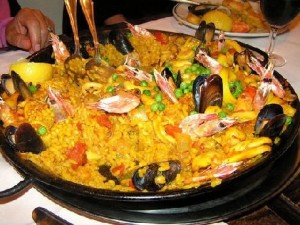 Now this one is a real treat. One of Barcelona's oldest standing restaurants, 7 Portes was established in 1836 and to this day continues to provide some of the city's best seafood and paella dishes. It even served the young Picasso back when he was living in the city! Although everything on the menu is spectacular, the paella at this place is rumored to be the tastiest in all of Barcelona (one heck of a reputation if you ask us). Everything is prepared in the traditional manner with the utmost care for all of the ingredients. This classic restaurant is a must-visit if you're looking to enjoy a piece of Barcelona's rich history. And don't worry about finding a time to get there; the kitchen is open from 1pm to 1am without interruption.
How to get there: Pg. Isabel II, 14. Take the L4 to Barceloneta
Rías de Galicia
For a fancy night out on the town and some amazing seafood, head to Rías de Galicia in the Poble Sec neighborhood, near Montjuïc. Although a bit pricier, this restaurant has been offering a unique Galician take on traditional Spanish dishes since 1986…and everything is absolutely delicious. We recommend the delectable crab risotto or tartar of Bluefin Tuna. Feeling adventurous? Have a go at the sea cucumber with candied potatoes or the sashimi of scallops and sea urchin.
How to get there: Carrer de Lleida, 7.  Take the Metro L3 to Poble Sec
Els Pescadors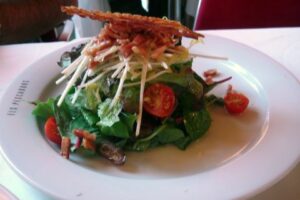 One of TripAdvisor's Traveler's Choice Awards 2012 winners, Els Pescadors is as authentic as it gets. Specializing in Catalan dishes and seafood in particular, everything you will find here is scrumptious. Wine lover? This restaurant has over 150 wines and Cavas on their menu to choose from! As for food, we recommend the fisherman's rice (paella) or trying the Menu of the Day, which changes depending on the products they have been able to buy from the market that morning. Be prepared for a genuine Mediterranean dining experience here, as the setting for your meal is a lovely terrace in a quaint square, ideal for those visiting Barcelona in summer.
How to get there: Plaça de Prim, 1. Take the Metro L4 to Poblenou
Restaurante Pez Vela
Restaurante Pez Vela provides great food accompanied by spectacular views. This 'chiringuito' in Barcelona (a restaurant/bar situated right on the beach) is a pretty new spot in town but has already made a name for itself in the city. With plenty of typical seaside cuisine, here you'll find a simple but delicious menu with many different types of paella. This is a perfect place to start out a night on the town as the beach area begins to buzz with activity when the sun sets. We recommend getting here somewhat early, around 8 or 9pm, to guarantee you get one of the tables with the best views of the Mediterranean.
How to get there: Paseo del Mare Nostrum, 19/21.Take the Metro L4 to Barceloneta
A few other seafood and paella restaurants worth checking out: