Sants-Montjuïc is the largest district in Barcelona, consisting of many diverse and culturally rich neighbourhoods, such as El Poble Sec, Hostafrancs, and Sants. This charming district offers a mixture of history, art, nature and a vibrant local life, ensuring that there is something for everyone to see and do!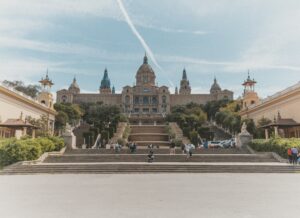 History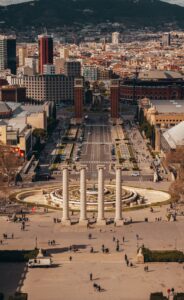 The Sants-Montjuïc district has a rather compelling history, as it originated as a humble agricultural region but evolved into a thriving industrial hub, primarily driven by the establishment of textile factories in the area. The district witnessed substantial changes during the Barcelona Exposition in 1929 and further significant transformations when hosting the Olympics in 1992. 
The district now stands as the largest in Barcelona and is a vibrant combination of history, culture, and modernity. Its diverse neighbourhoods all reflect the city's development, and allow Sants Montjuïc to remain as an essential part of Barcelona's dynamic landscape. It is a testament to the city's ability to reinvent itself while preserving its historical roots, making it an exciting destination for both residents and visitors alike.
Things To Do
Culture
Museums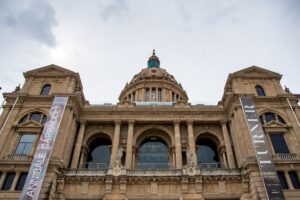 Sants-Montjuïc offers visitors a wide range of museums that will cater for all interests and age groups, from the history buffs to the art enthusiasts, there is something for everyone. 
The district is home to the Archaeology Museum, the Ethnology Museum, and the prestigious Fundació Joan Miró, where art lovers can explore many creative works.For those seeking a deeper understanding of Catalonia's heritage, the National Art Museum of Catalonia offers just this! Here, families can enjoy interactive exhibits, while history lovers can also delve into the past. Sants Montjuïc is a haven for culture, history and art, inviting everyone to explore its diverse and captivating museums.
Historical Sites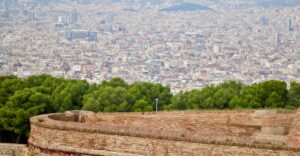 Sants-Montjuïc has witnessed a remarkable transformation over the years, resulting in the emergence of numerous historical sites that bear witness to the district's rich heritage. 
One notable example is the majestic Montjuïc Castle, perched atop the hill, which has played a pivotal role in the region's history, from its origins as a military fortress to its current status as a symbol of Barcelona's resilience and adaptability. 
From here, you can see breathtaking panoramic views of the city and create a truly memorable moment. 
Parks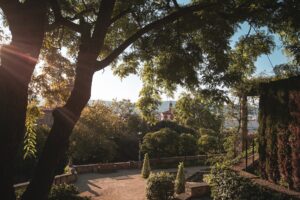 Sants-Montjuïc is full of lots of beautiful green spaces, such as the Botanical Gardens, which has over 1,000 species of Mediterranean plants. Additionally, you can explore the incredible Parc de Montjuïc, an oasis which offers an ideal setting for picnics, leisurely walks, and stunning views of the city. Alternatively, there is also the charming Parc de l'Espanya Industrial, an urban park adorned with fountains and sculptures, perfect for both locals and visitors to enjoy. 
Attractions
The Magic Fountain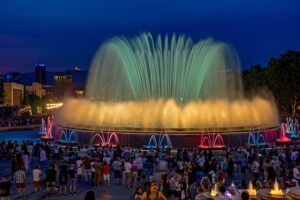 One of the best attractions in Barcelona is the Magic Fountains, located at the bottom of Montjuïc. Here, you can experience thrilling light shows, listen to incredible music, and admire incredible views of the city. Additionally, it is completely free of charge to visit the Magic Fountain, making this a popular attraction for both locals and tourists.
Montjuïc Cable Cars
The Montjuïc cable cars are a popular attraction in Sants-Montjuïc, due to the unparalleled views that they offer. As you glide high above the city, you will have panoramic views of the city, showcasing Barcelona's unique blend of historical architecture, modern skyscrapers, and the stunning Mediterranean coastline. This must-do activity promises a truly unforgettable experience.
Shopping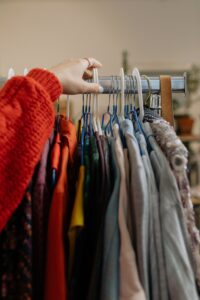 In Sants-Montjuïc, shopping enthusiasts can explore a diverse array of options. Avenida de Madrid is a bustling street where you will find a mix of well-known retail brands and charming local boutiques. For those with an interest in vintage shopping, Poble Sec has a vibrant selection of thrift stores and retro shops. Additionally, the district's markets, such as the Mercat de Sants, are perfect for immersing yourself in the local culture whilst browsing the fresh produce, crafts, and more. Sants-Montjuïc offers a shopping experience that caters to everyone, whether you are looking for the latest fashion trends or distinctive treasures that tell a story of Barcelona's past.
Eating Out
As the largest district in Barcelona, Sants Montjuïc has many dining options. Here are some of our recommendations:
Address: Carrer del Poeta Cabanyes, 25, 08004 Barcelona
Mirador del Migdia, s/n, 08038 Barcelona, Spain
Carrer de Suría, 6, 08014, Barcelona
Carrer de Blai, 28, 08004 Barcelona, Spain