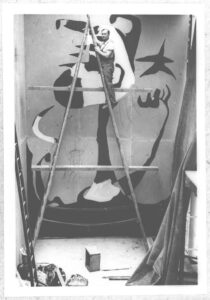 Last Updated: 24th May 2017
In 2015 the Fundació Miró will celebrate 40 years at the cutting edge of contemporary art in Barcelona. It is internationally considered to be one of Barcelona's top art galleries and remains a must-visit sight for cultural tourists. You can also take advantage of its location amid the luscious greenery of Montjuïc and make this just one of the highlights of the day as you visit the cactus garden or Botanical Gardens, discover the Poble Espanyol or see the Olympic sports facilities, also on Montjuïc.
About Joan Miró
So who was Joan Miró? He (yes, Joan is a boy's name in Catalan), was born in Barcelona in 1893, in Passeig del Crèdit. As a young artist Miró struggled to absorb his formal training. His teachers weren't especially encouraging, yet he persevered with still lifes and landscapes during his college years. However, by the time he relocated to Paris in 1921 his interest in the 17th century Dutch realism of Vermeer and Rembrandt had given way to a different style.
An influential contact in Miró's professional life was Picasso, who was already living in Paris when Miró arrived. His mother lived in Carrer de la Mercè in Barcelona, a few streets away from Miró's mother, and the neighbours had been friends for a long time. It wasn't until Picasso's mum gave Miró a cake to take to her son in Paris that the two artists met in 1919. In Paris, Miró stepped through the looking glass into the new paradigm of Fauvism, Cubism and Surrealism. He joined André Breton's Surrealist group in 1924 and became a prolific contributor to this collective body of works and melting pot of ideas.
Miró's style and artistic vision
Bright colours and abstract yet recognisable shapes populate his most important works. Miró was constantly experimenting, playing with traditional perception and taking objects into a twilight zone where things are not quite as they seem, but without crossing the line into pure abstraction. His imagination was expressed through a visual vocabulary that was completely new in the art world. This was also being pioneered by contemporaries such as Jean Arp and Yves Tanguy.
A key concept of his investigative inquiry is perception itself, and in some series of works the object of perception is almost secondary. For example, he developed the theme of "Mother and Child" through several different pieces and different mediums such as painting, ceramics, print making and sculpture.
The Miró Foundation in Barcelona
The Fundació Miró opened in 1975. It was inspired by the first large exhibition of his work that was held Barcelona in 1968, at the Hospital de la Santa Creu. Donations by Miró make up the vast body of the permanent collection. It is an impressive collection that includes more than 14,000 pieces: 178 sculptures , 217 paintings, 9 textiles pieces, 4 works in ceramics, nearly all of Miró's graphic works and over 8,000 drawings.
However, the artist had one condition for this foundation: that it must be a space for promoting and giving opportunities to contemporary artists in Barcelona. A large room is dedicated to temporary exhibitions, which change regularly. Every 2 years the "Joan Miró Prize" of 70,000€  is awarded by the Fundació Joan Miró to an artist whose work is considered by the board of international judges to be of particular merit. This is one of the most significant awards in the art world, both for its prestige and remuneration. In 2013 it was given to New York artist Roni Horn (1955) "on account of her zeal to explore new dimensions and horizons, which she shares with Joan Miró"
Public art in Barcelona by Miró
Barcelona is renowned for being a vibrant and creative city; the proliferation of modern sculptures adds a touch of colour to many streets and squares. Many were created for the 1992 Olympic Games. There are also two notable pieces by Joan Miró. Half way down Las Ramblas, near Liceu metro, you'll spot a mandala mosaic on the ground. Some passers-by stop to take photos of its bright primary colours, many more simply walk over it. The second is a sculpture in the Park Joan Miró, entitled "Dona I Ocell", or "Woman and Bird." This towers 22 metres above the grassy lawn, welcoming visitors to Barcelona.
Visiting the Miró Foundation
Parc de Montjuïc |Entrance 12€ | www.fundaciomiro-bcn.org