Barcelona is a top travel destination for people of all ages due to the memorable opportunities that the city offers. Its diverse and vibrant culture provides a unique chance for visitors to engage in truly unforgettable experiences, and create memories that will last a lifetime. 
Here are our top 5 experiences that you must try in Barcelona!
1. Cooking Class with 'The Paella Club'
If you are a passionate food enthusiast and want to experience the ultimate Spanish cooking class, then The Paella Club is for you!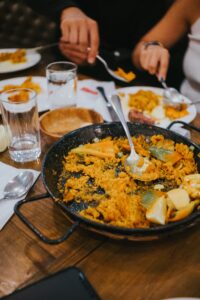 This activity offers an extraordinary culinary experience in Barcelona, where you can not only hone your cooking skills but also enjoy a delightful social atmosphere. Throughout the class, you will have the opportunity to interact with other participants, creating lasting memories as you prepare a typical Spanish paella. At the end of the class, you will try the diverse flavours of each other's paella creations, all whilst sipping on fine wines to enhance the culinary journey. There are a variety of classes
available, each varying in duration and designed to cater to a wide range of preferences, schedules and budgets.
So, whether you are a seasoned chef or a novice in the kitchen, this Spanish cooking class promises an enriching and delicious experience that should undoubtedly feature on your bucket list of things to do in Barcelona!
2. Visit Ikono Barcelona
Ikono offers an immersive adventure designed to captivate individuals of all ages. Each room allows you to step into a world where creativity knows no bounds, and every art installation has been carefully crafted to spark your imagination.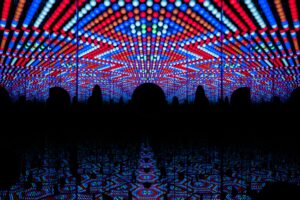 This interactive museum in Barcelona can only be found in 3 countries, making it a truly unique destination for those seeking a completely unforgettable experience. Moreover, for those who enjoy capturing creative photos, the beautiful light installations will make an incredible backdrop for some amazing Instagram pictures! 
Regardless of your age, Ikono will provide the chance to spark your creativity and create memories that will remain long after you leave the experience!
3. Sunrise Paddle Boarding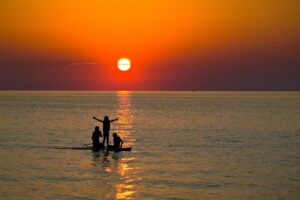 Watching the sunrise in Barcelona is a dream shared by many, and to transform that dream into an unforgettable reality, consider renting a paddle board to experience the sun's gentle ascent over the horizon. 
This serene and enchanting activity offers a unique opportunity to fully embrace the beauty of Barcelona. The combination of exercise, mindfulness, and nature makes this a favoured choice for those seeking a revitalising start to their day. 
Numerous rental stores can be found along the Barcelona beaches, offering paddleboards for approximately €15 per hour. Alternatively, you can opt for guided classes, where you can connect with like-minded people while immersing yourself in this unforgettable experience.
For those looking to reconnect with nature, enjoy the tranquility of the calm waters, and ultimately create a memory that will last a lifetime, this is the perfect experience for you!
4. Wine Gogh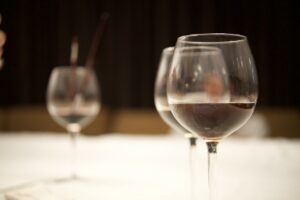 If you're in search of an enjoyable and creative activity, Wine Gogh is an absolute must-try experience for you! 
Indulge in a delightful 'Paint and Sip' adventure where an experienced art instructor will lead you through the creation of a vibrant painting inspired by the artistic genius, Van Gogh. The best part? You'll have a glass of wine in hand, adding a perfect touch of creativity and relaxation to your time in Barcelona!
Wine Gogh offers an ideal setting for a memorable trip with friends to Barcelona, promising an evening of unforgettable fun and bonding where friends can come together to sip on fine wine, unlock their artistic potential, and craft beautiful art.
So, if you want an adventure that combines creativity, relaxation and wine, then Wine Gogh awaits you!  
5. Visit Tibidabo Amusement Park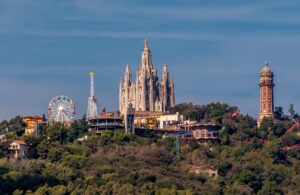 For those looking for an unforgettable experience away from the bustling city, a visit to Tibidabo promises just that. Tucked serenely within the Collserola Mountain range, Tibidabo offers an idyllic viewpoint of Barcelona!
At Mount Tibidabo your options are as diverse as the landscape itself. Here, you can explore the second-oldest amusement park in Europe, capture photos of the breathtaking views, and simply hike around the numerous walking routes that surround the grounds. Regardless of the activity chosen, the reward is the same: an unforgettable experience that rejuvenates the soul and reconnects you with the natural world. 
So, if you are yearning for an escape from the urban hustle, then embark on an unforgettable visit to Tibidabo. You can check the official website for ticket pricing and opening hours!