Golden sands and clear blue seas (well kind of)… what more could you want? Barcelona is famous for being a city with a beach, and it has 5 km of beach to be exact. There are over 10 different beaches in Barcelona and some are busier than others. Here's a short guide to some of the best beaches in Barcelona based on location, popularity, and facilities.
Sant Sebastià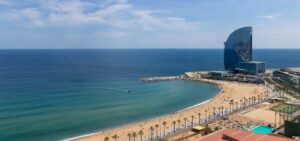 Sant Sebastià used to be a nudist beach and is next to Barcelona's famous W hotel- it's very popular among tourists.
Metro: Barceloneta (L4)
Sant Miquel
Sant Miquel is one of the busiest beaches in Barcelona and is the first beach after the Barceloneta metro station.
Metro: Barceloneta (L4)
Barceloneta
The most famous beach in Barcelona due to its sister metro station, Barceloneta is usually heaving with tourists.
However, it's also really close to the Barceloneta neighbourhood which is great if you're looking for an authentic seafood restaurant in the city.
Metro: Barceloneta (L4)
Somorrostro
Next to the many beach clubs of the city, Somorrostro beach is also popular with tourists. It's a little less busy than Barceloneta and is usually frequented all hours of the day by those entering and leaving the clubs. This beach has been specially adapted for wheelchair users so it's great for those who require extra accessibility.
Metro: Ciutadella | Villa Olímpica (L4)
Nova Icària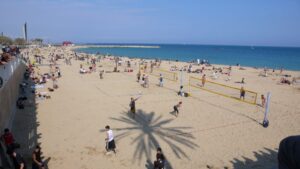 A little smaller than its predecessors, this beach is good for those looking for a quieter spot to sunbathe.
Like Somorrostro, Nova Icària is also wheelchair accessible and has volunteers on hand to help wheelchair users during the day.
Metro: Ciutadella | Villa Olímpica (L4)
Bogatell
Bogatell beach is one of the least touristy sands in the city, and is usually frequented by locals. It is probably one of the calmest beaches in Barcelona.
Metro: Llacuna (L4)
Mar Bella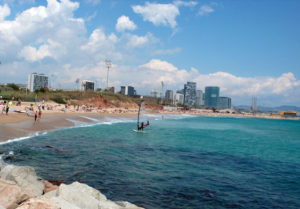 Barcelona's gay and nudist beach, Mar Bella is split into two parts: one for those that like to get their kit off, and another for those that like to keep it on.
Metro: Poble Nou (L4)
Llevant
The last beach on the coastal metro line, Llevant is also the newest beach in the city. It is next to Barcelona's Diagonal Mar shopping centre and surrounded by luxury apartment complexes. Due to its location, this is arguably the quietest beach in the city.
Metro: Selva de Mar (L4)
Banys del Fòrum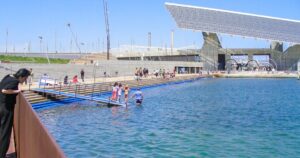 An outdoor swimming pool filled with sea water, these natural baths are the perfect place to go if you don't like getting sand between your toes, but still want to experience the Mediterranean waters.
Metro: El Maresme | Forum (L4)
It's normal for locals to actually leave Barcelona when they're after a day on the sand, making use of the overhead Renfe trains or great bus links. If you fancy getting out of the city to catch some rays, why not go to:
Sitges
Vilanova I la Geltrú
Badalona
The Costa Brava: Vilassar de Mar, Arenys de Mar, Canet de Mar and Malgrat de Mar
For more information about day trips in Catalonia, why not read our post about Barcelona Day Trips on a Budget, or The Best Summer Day Trips from Barcelona.