The decision to move to a foreign country is both thrilling and intimidating, as it involves unfamiliar bureaucracies, various requirements, and numerous logistical challenges. While the process of relocating may seem overwhelming, having the right guidance can help alleviate the associated stresses and uncertainties.
This blog will act as your guide for moving to Barcelona, providing you with all the vital information that you will need to make your transition as smooth as possible. Here we go!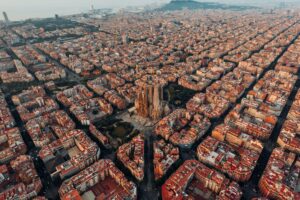 Obtain a Long-Term Visa
One of your first steps in this process is to obtain a Long-Term Visa. This will essentially permit you to enter and remain in Spain for longer than 3 months.
What types of Long-Term Visas are available?
Digital Nomad Visa:

for foreigners planning to live in Spain as a resident whilst working remotely.

Entrepreneur Visa:

for those who wish to take part in entrepreneurial activity

Researcher Visa:

for individuals who are taking part in training or research at public or private institutions

Work Visa:

for those who have been employed in Spain

Golden Visa:

for those looking to gain residency in Spain by making a significant investment in the Spanish economy

Student Visa:

for those who wish to study, volunteer, au pair or be a conversation class assistant

Internship Visa:

This visa is designed for individuals who have earned a university degree within the last two years or are currently pursuing university studies, and are participating in an internship programme in Spain
How to apply for a Long-Term Visa?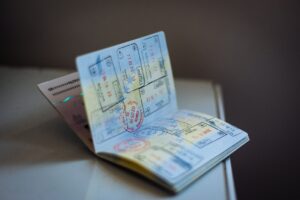 Decide which Long-Term Visa

you wish to apply for

Gather

the required documentation

(each visa requires slightly different documents)

Submit the visa: You will be required to schedule an appointment at the Spanish Consulate, where you will present the necessary documentation and apply for the visa
Residence Permit
After obtaining your Visa, the next thing that you must do is fly to Spain and apply for a residence permit. This is an authorization granted by the Spanish government to allow foreigners to live and work in the country for more than 90 days.
There are two types of residence permits:
Temporary Residence Permit

: authorises foreign citizens to live and work in Spain for more than 90 days, but less than five years. 

Long-Term or Permanent Residence Permit

: grants foreigners the privilege to live and work under the same conditions as Spanish citizens. However, obtaining this residency generally requires having previously held a temporary residence permit, as certain prerequisites, such as residing in Spain for 5 years, must be met.
There are different methods of applying for your residence permit, depending on whether you are an EU citizen or not.
Temporary Residence Permit for Non-EU Citizens
How do I apply for the temporary residence permit?
When you arrive in Spain, you must go to your local police station or immigration office and apply for a foreign identity card (TIE: tarjeta de identidad de extranjero). The TIE acts as your temporary residence permit, as it contains relevant information such as your full name, visa duration, and your unique foreign identity number (NIE).
When do I need to apply for the temporary residence permit?
It is best to apply in the first few days of your arrival, as the application has to be filed within 30 days of entering Spain. It is important to note that after applying for the temporary residence permit, it can still take up to 3 months to receive your TIE card.
What documents are required for the TIE card?
Passport (original and photocopy)

Three passport photos

Private medical insurance

Completed EX17 application form

Certificado de Empadronamiento, this will act as your proof of address (original and a copy)

Valid residence visa

Proof of fee payment 
Please be aware that additional documentation may be necessary, depending on the specific type of visa you have acquired.
Temporary Residence Permit for EU Citizens
If you are an EU citizen and wish to stay in Spain for longer than 3 months, you must obtain a residence certificate instead of the TIE. This residence certificate will act as your temporary residence permit.  
To obtain a residency certificate, it is necessary for you to visit your local Foreigner's Office.
What documents are required for the residence certificate?
Your unique NIE (

Número de Identificación de Extranjero

)

Valid passport 

Certificado de Empadronamiento, this will act as your proof of address

2 passport-sized photographs

A completed EX-1 application form 

Proof of valid medical insurance

Proof of fee payment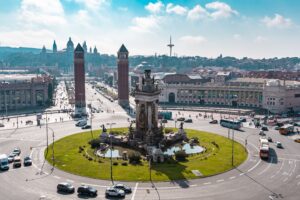 Please be aware that additional documentation may be necessary, depending on the specific type of visa you have acquired.
Work Permit
Once you have obtained the necessary visa, the next crucial step is acquiring a work permit, which is essential for legal employment in Spain.
For citizens of Switzerland, the EU, or the EEA, this step is not obligatory due to existing agreements that already grant them work authorization. However, if you are a non-EU citizen, securing a work permit becomes mandatory.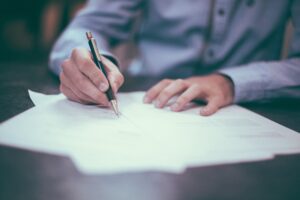 The process for obtaining a work permit involves your prospective employer, as they are responsible for initiating contact with the Public Administration to confirm their ability to hire a non-EU citizen. It is important to note that you cannot independently make this request. 
Initially, the work permit is issued for a one-year duration, but it can be extended if circumstances change or your work contract is expanded. 
Registering for Social Security
Once you have obtained your visa and residence permit, it is essential to apply for your social security number (Número de Afiliación de la Seguridad Social).
How do I request my Social Security Number?
Normally, if this is the first time that you have worked in Spain, then the employer is obliged to apply for your social security on your behalf.
However, if you do wish to apply for your own social security number, you can do so either online, providing that you have a digital signature, or in person at your local Provincial Directorate of the Social Security Treasury.
What documents are required?
Your work permit

Valid passport

A completed TA.1 application form

Employment contract

Your TIE or residency certificate with NIE number

The Certificate of Census Registration
What benefits does Social Security offer?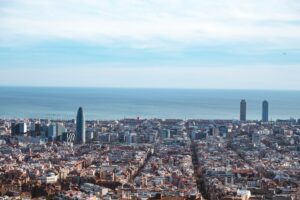 You are able to work in Spain

legally

Free

health care

is available to you 

You are eligible for

family benefits

and other

social services
Applying for social security is an essential part of the process when working in Barcelona.
Opening a Bank Account
Another crucial step when moving to Barcelona is opening a bank account. Although it is possible to manage your finances abroad and use your regular credit card, we strongly recommend opening a bank account upon your arrival in Barcelona. 
Doing so simplifies payments for utilities, rent, and everyday expenses. It is recommended that you book an appointment with a bank so that you can properly discuss the best bank account options for you!
Take into account that opening an account usually takes 1-5 days after the appointment, and the credit cards are typically dispatched within two weeks. 
Which bank is best to open an account in Spain?
Here in Spain, there are several banks that offer standard current accounts for residents, for example, the most renowned are BBVA, Banco Sabadell and Banco Santander. 
In addition, Spain also has online banks, such as N26 and Revolut, as other viable alternatives.
What documents do I need?
Usually, in order to open a bank account in Barcelona, you will need to provide the following documents:
ID (passport)

NIE

Proof of address 

Proof of employment status (employment contract)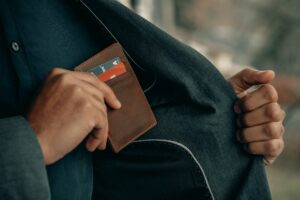 It is important to note that any documents that are not in Spanish may need to be translated by a sworn translator, and if the documents are from abroad, they may need to be apostilled.
Taxes in Barcelona
A complex but crucial aspect to understand when relocating to Barcelona is taxation. We've simplified this topic to minimise confusion and make it as simple as possible for you. Here are some key points to keep in mind:
The tax year is from

January 1st

to

December 31st
All expatriates

are required to pay tax in Spain, however, the amount you pay is determined by whether you are classified as a

resident

or

non-resident

in

tax terms.

(You may or may not have acquired an official residence permit, but if you meet the criteria, you will still be regarded as a tax resident.)

You are considered a

tax resident

if one or more of the following conditions are met:

You reside in Spain for more than

183 days

per year

Your primary professional activities are conducted in Spain (whether you are

employed

by a company or

self-employed

)

Your

spouse

and/or

children

live in Spain. 

Tax-residents are subject to taxation on all

global income

. This includes earnings from

employment

(salary),

pensions

and

rental income

.  

For tax-residents, the

income tax

rate varies between

19%

and

45%

, depending on the amount of earnings.

As a tax resident in Spain, you are entitled to a

personal allowance

for your income tax, covering both savings and general income. 

The amount of your personal allowance depends on factors such as your

age

,

marital status

,

disability

, and the

number of children

in your care.  

For non-tax residents, you are only required to pay tax on any income

earned

in

Spain

, and this will be at a

flat rate of 24% (Beckham Tax Law).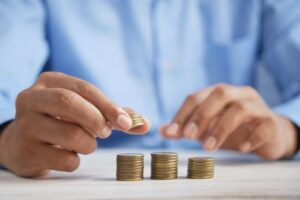 How do I Successfully Complete These Procedures?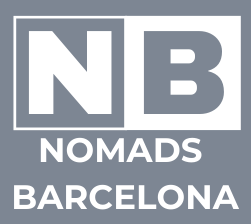 As you may have seen, moving to Barcelona involves so many necessary stages that it can be daunting to do on your own. Fortunately, with the proper guidance and professional assistance, you will face this process easily and with minimal stress! 
Nomads Barcelona provides digital nomads and expatriates with the necessary Legal and Real Estate solutions to empower their exciting journey to Barcelona. 
For peace of mind during this process, do not hesitate to reach out to Nomads Barcelona.
Finding Housing in Barcelona
Last step in your process of moving to the Catalan Capital is securing suitable accommodation in the city. At AB Apartment Barcelona we have more than 500 fully-equipped and furnished apartments, catering to both short-term and long-term stays.
With over a decade of experience in the tourism sector, we can make you feel at home while experiencing your time in Barcelona!
Read our guide on choosing the best neighbourhood to stay in Barcelona to find the option that suits you best!
Ultimate Tips for Moving to Barcelona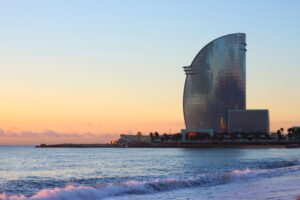 That's all! Relocating to Barcelona can be a smooth and hassle-free experience with the right guidance and support. What are you waiting for? This incredible city awaits you!