You have just landed in Barcelona and undoubtedly have many questions about getting around the city. 
How do I get to the city centre to reach my flat? How will I get around during my stay in Barcelona? On foot, by bike, by public transport, or by car, here are our tips for making the most of the city without exhausting yourself!
Public transport : A city so well served 
With 8 metro lines, a multitude of daily buses, urban trains, and, above all, important public transport links, the Catalan capital is within easy reach. You can reach the city in no time. After reading this guide, you won't be able to do without Barcelona's public transport. Let's discover it together! 
Bus
More than a hundred urban and interurban lines (day and night buses) cross the incredible city of Barcelona. With its extensive bus network and multiple routes, you can get to every corner of Barcelona. Whether you're in the city or a more remote location, find the buses that will accompany you on every adventure. So, what's your next trip? 
Bus timetable: 
Daytime buses start service: 5.30 am / End of service: 11 pm

Night buses start service: 10.30 pm / 5.30am 
Metro 
What would we do without the metro? It gets us from point A to point B in record time. Although it's crowded during rush hour, we love our metro for its cleanliness, its speed and especially for its multiple access points in the centre. 
It will take you to all the sights, bars and restaurants, museums, and much more. From the north to the south, passing through the west and the east, the 8 metro lines serve the whole of the Catalan capital for the greatest pleasure of your legs. 
Metro timetable:
Sunday to Thursday: 5 am – 12am

Friday to Saturday: 5 am – 2am

Saturday to Sunday: continuous service 

Public holidays (and holidays eve): 5 am – 2am
Tram
The best way to discover the city outdoors is by tram. There are very few tram lines, but if you live near one, this is your chance to try it. The tramway usually covers areas that are not used by the bus or metro. In Barcelona, there are 6 trams, Trambaix, which includes the T1, T2, and T3 trams, and Trambesòs, which includes the T4, T5, and T6 lines. Discover the city differently!
Tram timetable: 
Sunday to Thursday: 5 am to midnight

Friday, Saturday, and the day before public holidays: 5 am to 2am
Train
If you live further away from the city centre or simply want a more direct way of getting around, you can opt for the urban train. As well as being a complement to the metro, you can also travel to the cities near Barcelona. Perfect for a short trip with the family and a change of scenery from the city centre. 
There are two companies, RENFE and FGC, which offer train journeys throughout the Catalan capital. The best known stations are Barcelona Sants, Passeig de Gràcia, Catalunya, or Espanya. Don't hesitate to try them to shorten your journey.
Train timetable 
Sunday to Thursday: 5am – 12am

Friday to Saturday: 5:00 am – 2:00 am

Saturday to Sunday: continuous service 

Bank holidays and public holidays: 5:00 am – 2:00 am
Funiculars
Take off and discover the city, its landscapes and monuments! Take to the skies with the city's funiculars, which are linked to the two metro stops, Paral·lel and Montjuïc. 
If you like the views from above, take the paid cable car for a better experience. With the Montjuïc cable car you can access Montjuïc Park, Montjuïc Castle and the Mirador de l'Alcalde. A must-do at least once during your stay in Barcelona!
Funicular timetable
Autumn/winter:
Monday to Friday: from 07:30 to 20:00

Saturdays, Sundays and public holidays: from 09:00 to 20:00
Spring/summer: 
Monday to Friday: from 07:30 to 22:00

Saturday, Sunday and public holidays: from 09:00 to 22:00
Public transport tickets and passes
You are probably confused when you see all the options available to you in terms of transport tickets. There are so many that we have decided to group the most useful ones for a short stay in Barcelona. Let's find the one that best suits your needs.
Tip: Check the official website for latest updates
Types of Tickets 
The Single Ticket
Perfect if you rarely use public transport. The ticket is valid for one way only. 
Price: 2.40 euros (1 zone)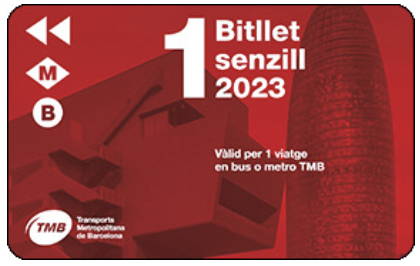 Airport ticket
The ticket will allow you to connect to the different metro lines from the airport. The ticket is only valid for a one-way trip
Price: 5.15 euros (1 zone)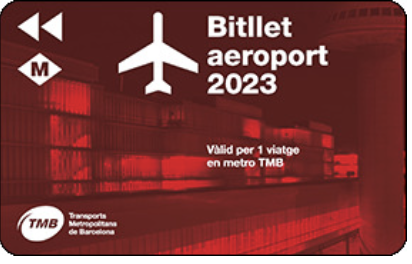 T-Dia 
Unlimited travels for one day with this individual card. 
Price: 10.50 euros 
T-Casual 
Make 10 journeys with this individual card, valid throughout the Barcelona transport network. You can only validate it once each time you travel. 
Price: 11.35 euros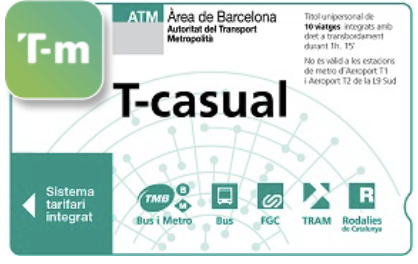 T-Usual 
If you want to stay in the capital for more than 2-3 weeks, and you use transport regularly, this card is for you. It allows you to make unlimited journeys for one month on the entire Barcelona network. This card is individual.
Prices vary according to the zone you choose.
For zone 1 (the one you will use most): 20 euros (until the end of 2023)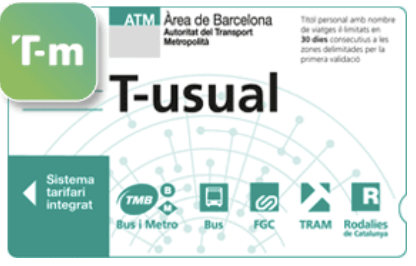 T- Familiar 
Discover the whole city of Barcelona with your family with this multi-person card, which allows you to make 8 trips in 30 consecutive days from the first validation. The card is valid on the entire Barcelona network. 
Prices vary depending on the zone you choose
For zone 1 (the one you will use most): 10 euros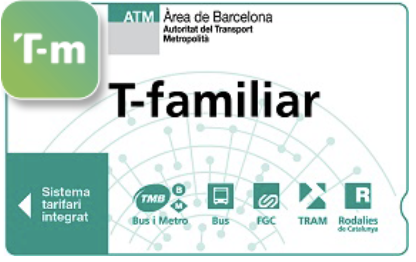 Transport Cards for Travelers
Hola Barcelona Card
Discovering Barcelona has never been easier with the Hola Barcelona Cards, which allow you to make unlimited journeys on Barcelona's public transport. Select your card and travel for consecutive periods of between 2 and 5 days. The countdown starts from the first validation. 
You will be able to use all the transport in Barcelona during your stay, everything is included in this card.
Price: 
2 days (48h): 16.40 euros 

3 days (72h): 23.80 euros 

4 days (96 hours): 31.00 euros 

5 days (120h): 38.20 euros 
Take advantage of a 10% discount by booking directly on the Hola Barcelona website! 
Barcelona Card 
As a good tourist, you want to visit the most famous monuments in Barcelona during your stay. For this, you need an all-in-one card. Opt for the Barcelona Card which is available for periods of 2 to 5 days (48 hours to 120 hours). This complete discount card allows you to have: 
Unlimited transport

on the entire Barcelona network

Free access

to more than twenty museums and tourist sites (Montjuic Castle, MNAC, Botanical Gardens ….)

Discounts

on excursions, shows and many attractions such as the Gaudi monuments: La Pedrera and Casa Batlló, Poble Espanyol, PortAventura and many others 
Prices: 
Barcelona Express Card
2 days/48h): 25 euros

Please note that the 48h card does not include free entrance to museums. 
Barcelona Card
3 days / 72 hours: 53 euros 

4 days / 96 hours): 63 euros 

5 days / 120h: 75 euros 
This card is available at the Tourist Office or you can buy it online and get a 10% discount. There are also rates for children from 4 to 12 years old. 
Tourist Bus Card 
Would you like to visit Barcelona using only one means of transport? During the journey, you can admire the landscape, discover the main monuments of the city while listening to the audio guides and take advantage of the WIFI, which is usually free. 
For a 24-hour ticket, prices are 16 euros for children, 25 euros for seniors and 30 euros for adults. There are discounts if you book for 2 days.
The Barcelona Transport Map 
Here's a map of the entire public transport network in Barcelona!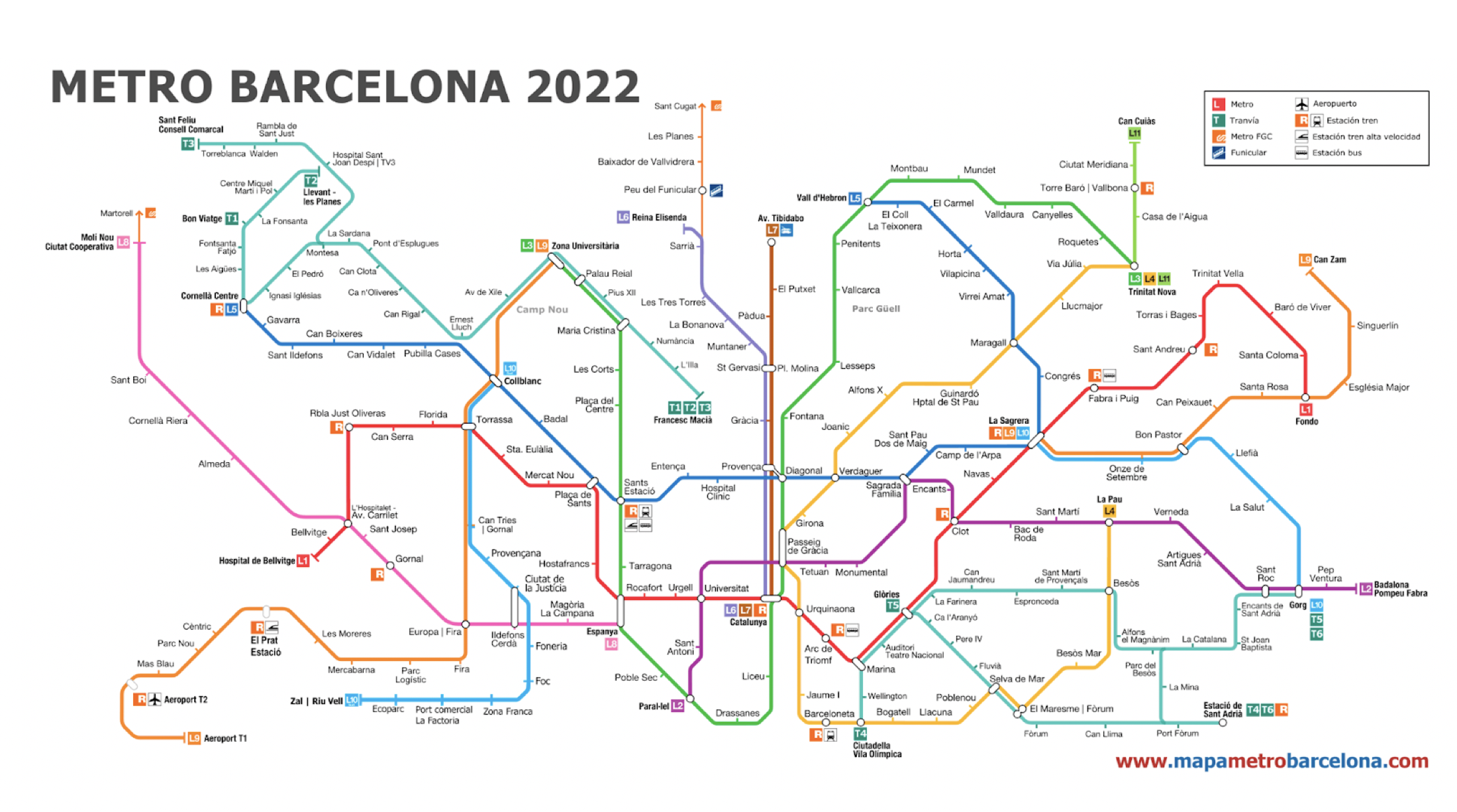 Other transport means to get around
Rent a bike
Get back on the bike in Barcelona and enjoy a ride in the open air. With miles of cycle paths, there's no excuse for not getting out and about. There are many rental options available: for example, you can rent bikes for a full day for around 10 euros. Private tours can also be arranged. 
Where to rent a bike: Despite the wide range of possibilities, Bicing Barcelona is the designated bike partner of the city!
Scooter
Scooters are widely used in Barcelona. As well as being quick and easy to use, it can be carried anywhere and gives a sense of freedom. The scooter is equipped with an electric motor that allows you to move without making any effort. The prices are much higher than renting a bike, but they are still very competitive. Read our blog to find out how to rent a scooter in Barcelona!
Segway
For those who want to try a new machine, the Segway is really good. It has 2 wheels, handlebars and a central platform on which the driver stands. This individual and motorized vehicle offer a whole new sensation. Having tried it, it was a pure pleasure. Why don't you sign up for a Barcelona Segway tour?
Please note: Wearing a helmet is required in Barcelona!
Renting a car 
More of a headache than anything else, renting a car can be complicated if you don't have a parking space. However, if you plan to stay longer or visit cities outside Barcelona, renting a car can be a good solution.
We recommend incredible places such as the Montseny Natural Park, Montserrat, or many other day trips close to Barcelona, which offer breathtaking views in addition to the landscape.  
Taxis and VTCs
You can't miss them! If you want to order one on the street, it's easy, just give a thumbs up or a wave. You will then have to tell your driver where you want to go. In the centre of Barcelona, it is usually no more than 15-20 euros. However, the price can vary depending on the time of day you take it. There are daytime and nighttime rates, and extra charges may be added if you are coming from or going to the airport, for example. 
However, if you want a fixed fare for your journey, we recommend you opt for a VTC. There are many VTCs available in Barcelona, either Uber, Cabify, FreeNow or Bolt. 
From the Airport to the Centre: I have just arrived at the airport, what should I do?
Have you just collected your luggage? Now you want to go to your flat. Choose the means of transport that suits you best and make yourself comfortable. 
Aerobus
Operating 365 days a year, the Aerobus is the airport shuttle par excellence. It will take you directly to the centre of Barcelona in less than 30 minutes. With Plaza Catalunya as its final destination, the Aerobus leaves from both terminals and serves many stops in the centre of Barcelona. For us, this is the best value for money. There is space for luggage, so you can sit comfortably. 
Prices:
5,90 One Way 

10,20 Return ticket 
Metro
For a more economical journey, you can opt for the metro. The L9 Sud line serves both airport terminals and connects with other stations of the city. The journey takes just over half an hour. If you have a card, you will not have to add anything extra, the journey from the airport is included. If not, the ticket is 5.15€.
Bus 
If you want to see the city of Barcelona without breaking the bank, choose the 46 bus! The route is from Airport T1/T2 to Plaza España. For a few extra stops, you only have to pay 2.15 euros, the price of a unit ticket. If you have a travel card, this also works. The journey takes 45-55 minutes. A long journey but great savings!  
Train 
If you want to go by train, you'll need to take the R2 line, but it's only available at Terminal 2! You can reach the city in no time. It costs 4,15€ for a single ticket!
Taxi or VTC
Of course, you can also take a taxi or a VTC. If you opt for a taxi, you'll need to consider that the cost will be higher, but you will travel with peace of mind. However, with a VTC driver you'll be more comfortable and since the prices are fixed, there will be no surprises on arrival. 
Check out our blog about how to get from Barcelona airport, if you want to know more!
So, now that you have read all the necessary information on public transportation, why don't you take a look at our best tips to save money during your stay in the city?