From the Northern shores of Catalonia to the picturesque Collserola mountains, these top day trips outside of Barcelona are easily accessible by both public transport and by car. If you think you've seen all that Barcelona has to offer, or are intrigued to see how the rest of Catalonia compares to its capital, take a look at these great options just outside of the city. Whether you're a beach bum or a city-goer, we guarantee there's something for everyone!
Nature Lovers
1. Montserrat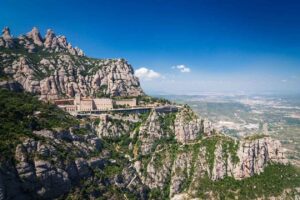 Montserrat mountain can be reached directly from Barcelona by train and offers amazing views from its highest peak, Sant Jeroni, standing tall at 1,236 meters. Hiking to the top of the mountain is possible in under 2 hours, but you can also ride the funicular train to the top for less than ten Euro. Don't worry if hiking isn't really your thing, you can explore the flat grounds and take a look inside the spectacular monastery that is Santa Maria de Montserrat Abbey.
How to get there: Take the R5 Train from Plaça Espanya in the direction of Manresa, exiting at Montserrat-Aeri station. From here you can take the cable car or rack railway up to the Monastery.  
2. Collserola Mountain Range
If you don't want to travel as far as Montserrat, you can enjoy the Collserola mountain range surrounding Barcelona. Part of the Catalan Coastal Range, these mountains offer spectacular views over the city and are the perfect place to take a leisurely hike or, if you're feeling adventurous, why not explore them by mountain bike?
How to get there: Take the S1 FGC train from Plaça Catalunya towards Terrassa or S2 towards Sabadell, exiting at Peu del Funicular. From here you can take one of many paths to climb the mountains. 
Beach Bums
3. Sitges
Sitges is a small town located just 30 minutes south of Barcelona. Sitges is renowoned for its gay-friendly community, amazing nightlife and relaxing beaches. The beaches closest to the centre are often busy but offer a friendly, party atmosphere. If you're looking for somewhere a little quieter, the peaceful Garraf beach offers a 350 metre stretch of golden sands and crystal clear waters, making it one of our top 10 beaches in Catalonia.
How to get there: Take the R2S train from Passeig de Gràcia or Sants station, towards Vilanova i la Geltrú, exiting at Garraf or Sitges. Garraf- Take the same train, exiting before Sitges at Garraf.
4. Cadaqués
With its amazing rock formations, vast wilderness and beautiful rock pools, Cadaqués is a must-see for nature lovers looking for a totally relaxing experience by the beach. Located within the nature reserve of Cap de Creus, the beach of Platja de Sant Lluís is one of the most beautiful sopts in the Costa Brava region and offers blissful relaxation on the Med!
How to get there: Take the MD or Renfe train from Barcelona-Sants or Passeig de Gràcia, exiting at Figueres. From here you can take the bus to Cadaqués. Alternatively, you can take a bus with Safra from Barcelona Estació del Nord straight to Cadaqués. 
City explorers
5. Girona

Girona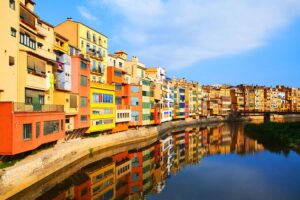 is a small city. around 100km north of Barcelona, with all the charm of a larger city. Its rich history makes it the ideal day trip for those looking to delve deep into the past of another Catalan city. From the Jewish Quarter to the old town, Girona is packed with things to do for all ages. We recommend a trip to the Roman city walls with their various tower lookout-points offering spectacular views over the city.
How to get there: Take the MD or Renfe train from Barcelona-Sants or Passeig de Gràcia, exiting at Girona.
6. Tarragona
Another city with a rich Roman history, Tarragona is located just over 1 hour south of Barcelona by train in the Costa Dorada area of Spain, making it an ideal day trip outside of Barcelona. Step back in time and get lost amongst the medieval buildings, ancient aqueducts and historic architecture that Tarragona has to offer.
How to get there: Take the R. Express train from Barcelona-Sants or Passeig de Gràcia, exiting at Tarragona.
Thrill Seekers
7. PortAventura
For the adrenaline junkies amongst you, PortAventura is a theme park and water park in one! Located near Tarragona, just a short train ride from Barcelona, this adventure-land promises guaranteed fun for the whole family! From the depths of the Himalayas to the Grand Canyon Rapids of the Far West, the park is separated by themed-zones with each one offering a different thrill.
How to get there: Take the R. Express train from Barcelona-Sants or Passeig de Gràcia, exiting at PortAventura. 
8. Illa Fantasia
With 23 attractions and 3 large swimming pools, Illa Fantasia is the perfect summer day trip from Barcelona. The water park is located just 30 minutes north of Barcelona by car and offers a vast array of water slides for all ages. Refreshments are available on-site but if you'd prefer, there's a shaded picnic area where you can enjoy your own food. This day trip from Barcelona is the perfect place to entertain the kids during the summer months.
How to get there: Take the R1 train from Barcelona Arc de Triomf towards Macanet-Massanes, exiting at Premià de Mar. From here you can take a short 10 minute taxi ride to the park. 
Culture Vultures
9. Catalan Wine Tours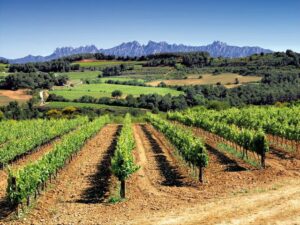 Unknown to most, Catalonia is home to a vast array of vineyards producing some of your favourite wines, including Cava – Spain's answer to Champagne! A trip to the popular Penedès region, located just over an hour from Barcelona, could see you sample some of the finest Cava and wine around, along with a traditional Catalan lunch or dinner. This day trip from Barcelona is a must for any self-proclaimed foodies or vino connoisseurs.
How to get there: Take a Wines of Catalunya tour with Spanish Trails, which includes a bus direct from Barcelona to the Penedés region. 
10. Dalí Museum in Figueres
Figueres is a small town located in the province of Girona and can be reached in under 2 hours from Barcelona by car or by train. Perhaps the biggest attraction in Figueres is the Dalí Museum which houses the surrealist works of Salvador Dalí. The museum itself is even a surrealist building in ode to the famous artist. Figueres is also home to the historic Sant Ferran Castle and the Toy Museum of Catalonia, guaranteed to bring back a few childhood memories!
How to get there: Take the MD or Renfe train from Barcelona-Sants or Passeig de Gràcia, exiting at Figueres.