Last updated: November 2017
Barcelona is a hotbed of art and culture, but if you've got enough time to take a day trip or two out of the city you might like to experience other aspects of Catalan culture outside the capital. One of the most popular places to visit near Barcelona is Figueres, a small town in the province of Girona whose biggest claim to fame is the magnificent Dalí Theatre Museum. If you want to come face to face with some of Salvador Dalí's most remarkable works this is perhaps the best place in the world.
Figuring out Figueres
Named after the third kind of tree to be mentioned in the Bible, the humble fig, this town might have something a little special in the air. Not only was it the birthplace of the extraordinary mustachioed Surrealist artist, the inventor of the first machine-powered submarine was also born here, according to Wikipedia.  Or perhaps that's just a coincidence.
If you want to show you kids what Childhood 1.0 was like, or indulge in a nostalgic reminder, visit the Toy Museum of Catalonia. You'll see over 4,000 exhibits that include vintage robots and Meccano constructions as well as timeless classics that have endured through the ages; spinning tops, dolls, puppets, magic tricks and all the rest of the pre-tech entertainments for kids. The Empordá Museum has an important art collection with spaces dedicated to archaeology, Medieval sculpture, a collection of Baroque paintings loaned from the Prado Museum in Madrid, and 19th-20th century painting and sculpture.
You could also take a stroll down the Rambla, which is surrounded by shops, bars and restaurants and leads to many characteristic squares such as the neoclassical Plaça del Ajuntament and the covered Plaça del Gra, where you'll find a lively food market every Tuesday, Thursday and Saturday.
"So little of what could happen does happen." Dalí
And now for something really different…
However, this all pales in comparison to the Teatro-Museo Dalí building, which is perhaps the world's largest surrealist object. It was originally the town's Municipal Theatre, but was destroyed during the Spanish Civil War. Dalí renovated and redesigned it to create his temple for all things surreal and sensational.
As you approach the museum entrance you'll notice what appears to be giant eggs perched on the roof tops between golden statues of about the same size. Inside, there is a circular walled garden with a 1941 Cadillac that happens to have a giant boat dripping with a blue tear drop suspended above it.  Put a coin into a special slot in the car, and it starts to rain inside the vehicle. Dalí was reportedly delighted by this detail. It's not for nothing that André Breton, founder of the French Surrealist movement gave Dalí the nickname "Avida Dollars", a cheeky anagram of his name.
"The only difference between me and a madman is I'm not mad."  Dalí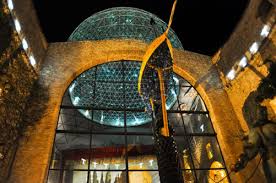 Shifting perception in the Dalí Theatre Museum
The building's foyer is topped by a gigantic glass dome created by fragments of thick glass that illuminates the colossal canvas image of a torso with a cracked skull and a huge doorway passing through it. From here on in you can explore as you wish, the museum's unique layout can be approached from any direction.
Dalí's eclectic collection ranges from early sketches to some of his most famous pieces like "The Persistence of Memory" (1931), also known as "Melting Clocks", "Galarina" (1945), one of the many portraits of his muse and wife Gala, and "Figure at a Window" (1925), an early work that depicts Dalí's sister gazing onto the Catalan coastline of Cadaques.
"A true artist is not one who is inspired, but who inspires others." Salvador Dalí
A winsome window on Mae West
One of the most innovative surrealist installations of all time is the Mae West room, a homage to the sultry actress that so fascinated Dalí. The room is based on his original paining "The Face of Mae West" (1935), and contains five objects; a red sofa, a stand, two paintings and a giant wig.
Guests form an orderly queue around the room and climb a step ladder to look through the magnifying eye of a needle that is guarded by a giant camel. From this angle, through this lens, the objects merge together to form the well known portrait as a giant surreal representation of the actress's face. The remarkable "Palace of the Winds" (1973) ceiling painting can also be found here. Tilt your head back and look up to admire this breathtaking piece of artwork, which shares this grand space with the melting clocks and a surreal furniture collection.
"An elegant woman is a woman who despises you and has no hair under her arms." Dalí
Getting to  Figueres
If this sounds like a perfectly weird and wonderful day out, then make it happen!  The Teatro-Museu Dalí is an absolute one-of-a-kind inspirational place that is visited every year by thousands of people from all over the world.
Direct trains run from Barcelona Sants to Figueres. Regional trains take 2 hours and cost 24€ return, whilst a faster train takes 1 hour 40 minutes and costs 32€ one way. www.renfe.es. Buses depart from Barcelona Estación del Nord. The bus journey takes 3 hours and costs 38€ return. www.barcelonanord.cat
 "Have no fear of perfection – you'll never reach it." Dalí