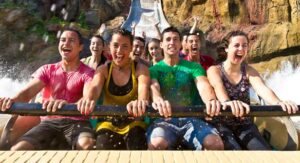 Last updated: November 2017
Barcelona isn't just about Gaudí and Las Ramblas. For you adrenaline junkies, thrill seekers and those just looking for some good old fashioned fun, PortAventura Theme Park is an ideal day trip from the Catalan capital. Located just over an hour away from Barcelona in Costa Dorada's Salou, the wide range of exciting attractions boasted by the park mean that it's a fantastic option for families wanting to entertain the kids, and equally great for those young at heart. So buckle up and hold tight as we wiz you through the ins and outs of this top theme park in Catalonia!
A World of Attractions
PortAventura is separated into differently themed sections, meaning that every zone has something new to offer. From the depths of the Himalayas to the mysteries of the ancient Mayan world, each area brings a whole new experience. Visit the four corners of the globe as you pass from the Mediterranean to Polynesia, China, Mexico and the Far West, and sample the thrills and spills that each place has to offer.
There are endless attractions on offer at PortAventura, but some of the favourites include the classic Dragon Khan roller coaster, the hair-raising Huracan Kondor free fall, Shambhala, the white knuckle Himalayan adventure and tallest roller coaster in Europe, and new in summer 2014, a fun-filled tour of ancient Angkor! For younger visitors, there is also SésamoAventura, a Sesame Street themed area with plenty of rides, attractions and cuddly characters perfect for entertaining the little ones.
PortAventura Water Park

If that wasn't enough, PortAventura is also home to a great water park too! Make a splash at the Costa Caribe as you take to the slides at this Caribbean water-world. Chill out at the Bermuda Traingle and hit the Pirate Galleon as you live out your very own sea-faring adventure! Take on your friends on the Rapid Race or if you're feeling brave, hit the might King Khajuna slide!  For the adults, this is an ideal place to cool off and relax after the adrenaline rush of the theme park, but for the kids, the adventure continues…

Fancy a Show?

And it doesn't end there! Throughout the day and into the evening there is plenty of entertainment provided in PortAventura too. From Tahitian fire shows and Cowboy and Indian showdowns to upbeat musicals and dancing fountains, there's something for everyone!
If you're heading to Catalonia in October, don't miss the freakish fun of Hallowe'en at PortAventura, where the rides are even scarier and the decorations will chill you to the bone!
Essential Info

PortAventura is easily accessible via public transport from Barcelona city centre. Trains can be caught from Estació de França, Passeig de Gràcia or Sants train stations and journeys take around 1 hour 20 mins. Train tickets and entry into PortAventura can be bought as a combined ticket at machines and booths at the stations.
Prices for PortAventura start at around 45€ for one adult, one day and 39€ for a junior pass, with discounts if you buy for more than one day.
For more information visit the PortAventura website.
Need a place to stay? Apartment Barcelona has over 900 apartments available for rent across the city. Book yours today…