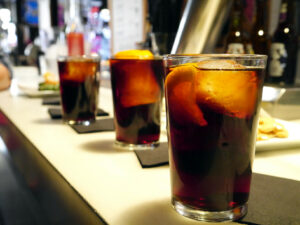 Last updated: November 2017
It is said that Spain is the country with the most bars per capita in the world. That means that there are certainly a large number of rounds in which to participate. Barcelona, never being one to let the side down, has a phenomenal range of bars to choose from, ranging from traditional bodegas and wineries, to trendy beach hangouts. There is just so much to chose from, it's difficult to know where to start.
A good idea, of course, is always to do what to locals do. So, where do the cool-cats and city-slickers of the Catalan capital go for a tipple? Naturally, the Mediterranean culture determines certain drinks for certain times of day… coffee in the morning, wine at lunch, cocktails at night… But what about in-between? The answer is vermouth! This traditional drink is enjoyed during the afternoon as a pre-meal aperitif, and has made somewhat of a comeback recently, becoming the trend of the moment. So where can you get your hands on a classic Vermouth? Check out some of our favourite vermouth bars in Barcelona and get sipping away!
1. Bar Mut
Located in Barcelona's swanky district of Eixample, Bar Mut has a classy, olde-worlde feel to it with a modernist, even Parisian ambiance. The traditional interior of this Barcelona bar makes for an authentic experience and provides the perfect setting for sipping a classic vermouth.
Carrer Pau Claris, 192
2. Senyor Vermut
The name of this bar says it all. Its specialty is written on the tin – vermouth aperitifs though and through. There is a great range of vermouth on offer (the house vermouth is highly recommended) as well as a delicious array of tapas to accompany your drink. The decoration is great, with a selection of classic vermouth bottles lining the walls.  All in all this is a lovely, authentic bar in Barcelona.
Carrer Provença, 85
3. Bar Velódromo
This historic local was once an important hangout for artists and intellectuals of the city, and even today its art deco interior provides a real sense of years gone by. Run by Michelin starred chef Carles Abellán, this place certainly has a touch of style and the range of food and drinks on offer certainly makes it worth the visit.
Carrer de Muntaner, 213
4. Quimet & Quimet
Located in quirky, bohemian Poble Sec, this traditional Barcelona bar has a fantastic, rustic atmosphere and a real spirit. Bottles line the walls as high as the ceiling, and as glasses of vermouth and servings of olives, cheeses, hams and other deli style tapas are whipped up in a flash, locals stand at the bar and chat over a nibble and a tipple.
Carrer Poeta Cabanyes, 25
5. Bodega 1900
Like stepping back in time to the youthful days of our grandparents, stopping by Bodega 1900 is to enter into a world gone by. This authentic, rustic Barcelona bar has a real yesteryear atmosphere and is perfect for that afternoon pick-me-up. Traditional Spanish hams hang from the walls and delicatessen treats are prepared before you, hand in hand with a glasses of cool vermouth.
Carrer Tamarit, 91
6. Tarannà
With somewhat of a hipster vibe about it, this traditional-meets-trendy bar is a great place to stop off with friends for an afternoon tipple. Like many bars in the Sant Antoni neighborhood, the classic bodega style décor of Tarannà has a fashionable twist and a real chilled-out vibe. Relax with a good book or take some time out for a gossip as you enjoy the great selection of vermouths and nibbles available.
Carrer Viladomat, 23
7. Bodega Vinito
This bar-come-shop-come-bodega is perfect for all your vermouth needs. The friendly, stool-perching, bar-standing style of the place has a lively atmosphere and the selection of tapas and pintxos lining the bar are a tempting accompaniment to the range of vermouths offered. You can even pick up a few treats here to take back home with you and recreate your very own Barcelona-style aperitif whenever you like!
Carrer del Parlament, 27
So, if you're feeling thirsty and in need of an afternoon tipple, forget sangria on Las Ramblas, and do as the locals do with a timeless vermouth aperitif!