Last updated: November 2017
Catalonia is a holidaymaker's dream world.  From its vibrant culture and exquisite cuisine, to its sporting prowess and wonderful architecture, this magnificent corner of Spain really has something for everybody. And when summer is well and truly in full swing, there's one thing on everyone's mind – hitting the beach!
Catalonia boasts a spectacular coastline. With kilometers of golden sands stretching the whole length of the region, there are endless beaches to choose from, whether you head north to the picturesque towns of Costa Brava or further south to the golden sands of Costa Dorada. So to help you make up your mind on just where to lay out your towel for the day, we'd like to present to you our top ten beaches in Catalonia!
1.  Barceloneta Beach (Barcelona)
Where better top start off your discovery of the beaches of Catalonia than right in the heart of it? Barcelona is awesomely located right on the Med, and Barceloneta Beach with its cool ambience, eclectic mix of people and chill-out-chiringuito bars has to be one of the top beaches in Catalonia! While it does become home to many visitors to the Catalan capital in the summer months, it has been named as one of the best urban beaches in the world, so for those staying in the city on just a short break, it is definitely worth a look.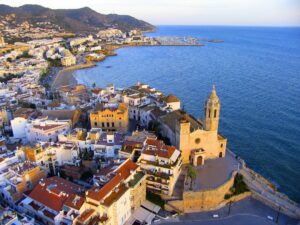 2.  Sitges
Just 30 minutes south of Barcelona is the once fishing village of Sitges. This fun-loving town has a vivacious summery ambience and is made up of 17 golden beaches, which along with its charming whitewashed buildings make for an ideal holiday spot and a top choice during summer in Catalonia!
3.  Garraf (Just Outside Barcelona)
Picturesque and quaint, this pretty Catalan area has a beach much loved by locals. The cute beach casetes (huts) and rocky surroundings give off a wonderful atmosphere and the direct train connection to Barcelona makes this a great spot for a day trip from the city!
4.  Waikiki Beach (Tarragona)
Situated just 10km from Tarragona in Costa Dorada, the Waikiki Beach definitely makes our list of top ten beaches in Catalonia. This stretch of sand  is named after the famous beach of Hawaii, and is close to a little village called La Mora. The water is blue, the sands are fine and it is a quiet place to relax with your own thoughts. Clothing is optional, too, as this is a known nudist beach.
5.  Port Lligat Beach, Cadaqués (Costa Brava)
A picture-perfect, quintessentially Mediterranean village, Cadaqués melts everyone's heart. Beautiful, cliffy coves and winding cobbled streets, makes this little known destination a must for those wanting to discover the hidden corners of Catalonia and the true essence of the sensational Costa Brava. Salvador Dalí is said to have visited the town often and he later had a home on the Platja de Port Lligat, which is now a museum.
6.  Tossa de Mar (Costa Brava)
Perhaps one of the best known seaside resorts in Catalonia, Tossa de Mar is a favourite with holiday makers in the Costa Brava, and with good reason. Its beaches such as the lengthy Platja Gran and the tucked away El Colodar, offer azure waters, cool waves and plenty of Mediterranean sun. There is also a striking medieval walled town here called Vila Vella, ideal for an evening stroll. This one is a great family destination and a firm choice in our top ten beaches in Catalonia!
7.  Cala de Sant Francesc (Costa Brava)
Just 2km from the town of Blanes, this beach cove, with its crystal-clear waters and smart surrounding villas is great for those wanting to escape the crowds. Also known as 'Cala Bona' aka 'pretty cove', this is an ideal place to unwind and catch a few rays. There is a beach bar here in case you're feeling a little thirsty, too. This local hangout is a real gem and certainly one of the loveliest beaches in Catalonia.
8.  Altafulla Beach (Costa Dorada)
Altafulla Beach on the Costa Dorada runs from Cap Gros as far as La Roca del Gaià and is around 1,100m long and 20m wide. It is known for the pretty whitewashed buildings which line the coast, as well as its sailing club and volleyball tournaments. The golden sands of this beautiful Costa Dorada beach are perfect for families and the town offers plenty to do, too.
9.  Calella de Palafrugell (Costa Brava)
Along with the Tamariu Beach, this gorgeous seaside location is a perfect summertime getaway and yet another example of the Costa Brava's winning hot-spots. With its pristine waters, thick sands, cute fishing boats and chilled-out town, this is a top-notch Mediterranean setting and easily one of the best beach options in Catalonia.
10.  Aiguablava (Costa Brava)
Amongst our top ten Catalan beaches  we couldn't not include Aiguablava. Meaning 'blue water' in Catalan, the name certainly says it all. The beach is located in the town of Begur, and its sensational waters are the stuff of paradise. Don't forget your camera for this one!
So, if you're visiting Catalonia this summer, be sure to check out a few of these fantastic beach locations!
You can also enjoy trips to great beach destinations outside Barcelona with the Barcelona Guide Bureau.
Need a place to stay? Why not rent an apartment with Apartment Barcelona! Book yours today…