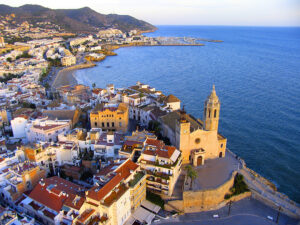 Last updated: November 2017
A mere 30 minutes south of Barcelona, away from the constant hum of the bustling Catalan capital, lies the lovely seaside town of Sitges, ideal as a destination for escaping the crowds and relaxing in a truly Mediterranean environment. The quaint, whitewashed houses and narrow winding streets are a great attraction of this town, not to mention the great stretch of beautiful coastline which provides a wonderful promenade. Its array of bars, cafés and restaurants as well as enticing trinket shops make a break in Sitges a great option, and its proximity to Barcelona airport  means that it is a convenient, hassle-free place to holiday.
History
Once upon a time, Sitges was a flourishing fishing town also involved in the production and trade of wine – this may be one of the reasons why we are able to find such delicious cuisine here! One of the most prominent features of Sitges is its dramatic church overlooking the sea, La Iglesia de San Bartolomé y Santa Tecla, constructed in the 1600s on the original site of an ancient Romanic structure. The town hall also has a deeply rooted history, with the original construction dating back to the 11th century. A stroll around the old town centre offers plenty of charming old buildings and curious corners, perfect for the snap happy visitor!
Sitges Culture
Sitges has a vibrant social scene and wonderful events calendar. It has a great deal of gay pride and is known for its gay culture.
One of the best events of the year is the vivacious Carnival which brings the streets to life around February. The Sitges Film Festival is also one of the most anticipated events in the region attracting a host of celebrities and film fans from far and wide. The towns proximity to Barcelona, easily accessible via train, also means that during you're stay you can be present for the cultural highlights of the Catalan Capital too!
Wining and Dining
A great way to while away a few sunny hours during your holiday in Sitges is by lunching in one of its wonderful seafront restaurants or 'chiringuitos'. Try out some delicious seafood and flavorsome paella as you gaze out on to the Mediterranean Sea. Sundays are an especially lovely time for this, and many restaurants offer fantastic set menus, perfect for a lazy afternoon with friends and family. The main street running through the centre of town, Carrer de les Parellades, along with those running directly off it also host a great selection of bars, cafés and restaurants, ideal for an afternoon stop off or leisurely evening drink.
Beaches
Sitges is known for its 17 wonderful beaches which really come alive in the summer months and fill up with locals and visitors. With warm, clear waters and golden sands they are great places to unwind and catch a few rays. For the active among you, they are also perfect for trying out some water sports. Jet skiing and sailing are popular, as well as more relaxed activities such as sea kayaking or renting fun-filled pedalos. During summer, sea swimming is also an attractive option, given the balmy temperature of the Med.
Shopping
Another way to spend time during your time visiting Sitges is by indulging in some retail therapy. There are endless quirky shops around in the town centre selling everything from traditional products, clothes and jewellery to buckets and spades. Also, there is often an open air arts and crafts market located at the back of the church and over looking one of the beaches, a great place for picking up a gift or two. An added bonus is that shops generally stay open on Sundays in Sitges, unlike in Barcelona and many other nearby towns.
Apartments in Sitges
Thinking about visiting Sitges? A great option for accommodation is renting an apartment. From large villas ideal for extended family and friends and cozy flats for romantic getaways, to town centre properties and modern apartments with swimming pools, Apartment Barcelona offers a range of holiday rentals in Sitges catering to your every need. Visit  www.apartmentbarcelona.com/en/sitges/eur for more information.