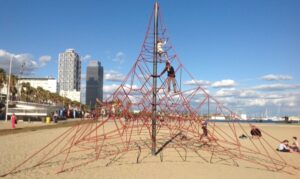 Last updated: November 2017
A family holiday in Barcelona can be fun for everyone, as you can find plenty of activities to entertain even the most demanding little ones. There are plenty of playgrounds for kids scattered throughout the city, and of course Barcelona's beaches are a giant sandpit along the coastline with many climbing frames for kids.
If you're visiting Barcelona with children the good news is that this is a very kids-friendly city. They are sure to enjoy the open-air lifestyle and terrace culture, not to mention the abundance of delicious ice-cream parlors and fascinating street entertainment. Here are a few suggestions of activities for kids in Barcelona.
1. Play in the Bosc Urbá
This innovative and unique adventure park opens up a world of fun and possibilities for kids in Barcelona. There's no need to escape from the city in order to have a fun day out with all the family in Barcelona. Just take a trip down the yellow metro line to the Fòrum and you will find an ultra cool playground just itching to be explored. The park has over 50 attractions from zip wires, nets, creepers and bungee jumping, to suspension bridges and trunks on platforms of up to 6 metres in height where children can play and explore to their hearts content. It is located in the El Maresme/Fòrum district.
2. Discover Poble Espanyol
A popular sightseeing day out with kids, El Poble Espanyol in Montjuïc is a fascinating model village. There are 117 full scale constructions that represent the architecture typical of all different parts of Spain. Some of its most iconic buildings are the Casa de los Celdrán (Murcia), Casa Son Berga (Palma de Mallorca), and the Romanic Monastery of San Miquel (Catalunya).
It is renowned for its safe, child- friendly spaces, restaurants, and activities, which include workshops, shows and games. The village hosts a "gymkhana" minus the horses, where kids take part in a treasure hunt, answering clues and uncovering the secrets of the village. This is available in English, Spanish and Catalan and is suitable for kids of all ages, but those aged 3-9 must be accompanied by an adult. It costs 5€ for a game pack.
3. Enjoy CosmoCaixa
Barcelona's interactive science museum is fun for kids of all ages, and is highly recommended for any visitor. Permanent exhibitions include a Submerged Forest ecosystem with tall trees, exotic birds and quirky animals, a Geological Wall and visual representations of key scientific theories.
There is a strong emphasis on giving children a chance to play with the exhibits, and plenty of computer graphics in various languages allow a closer contact with the many different topics that can be explored here. There is a magnificent planetarium that has a program of screenings which include the birth of the cosmos, also in English, and there's a supervised exhibition where visitors can discover different creatures up close. A current temporary exhibition presents a unique insight into the micro-world beyond human vision.
4. Thrills at the Tibidabo Funfair
This amusement park is 100 years old, making it one of the most interesting in the world and an ideal destination for a fun day out with children in Barcelona. There are 25 different rides and attractions suitable for smaller children, teenagers and adults. Its breathtaking location in the Collserola Mountains adds to the excitement of many of the rides.Views from the roller-coaster seem to drop as far down as the city itself, which is an incredible experience whilst zipping along its track on an adrenaline-fuelled high!
You can enjoy incredible panoramic views of the city and the glittering Mediterranean whilst exploring this magical funfair. There is a good selection of food and drink in the park's restaurants as well as lovely picnic areas which are always put to good use when the sun comes out. Whilst you're there, take a moment to enter Tibidabo's Church of the Sacred Heart.
 5. Fun at the Chocolate Museum
A perfect museum for kids in Barcelona! Chocolate-making classes are offered at the weekends, for children aged 3 and upwards. Make sure you book the session in advance because the activity is notoriously popular and loads of fun for the whole family.
In addition to this, the Barcelona Chocolate Museum itself contains many interesting chocolate sculptures to see. These range from replica models of Barcelona's sightseeing attractions such a the Sagrada Familia and Arc de Triomf, to a replica Barça team all made of chocolate. Kids will love the treats the café has to offer, not to mention the chocolate shop. Tasty and informative!
Why not rent a child-friendly apartment in the heart of Barcelona? Book yours today with Apartment Barcelona…