Barcelona is best known for its rich culture, historical monuments and famous architectural feats, but it is also home to some of the finest wines and Cava in the world. The beautiful region of Catalonia in northeastern Spain harbors plenty of fertile soils. Pair that with the gloriously warm climate to be encountered on the Mediterranean Coast, and you will inevitably find vineyards that will give Napa Valley a run for its money!
Whether you are a 'vino' connoisseur, or simply enjoy the odd tipple, taking one (or more!) of Barcelona's many wine tours not only makes for an interesting day out, but also allows you to get a better understanding of the origins of this popular drink, and a chance to experience a whole host of new flavors.
A Rich History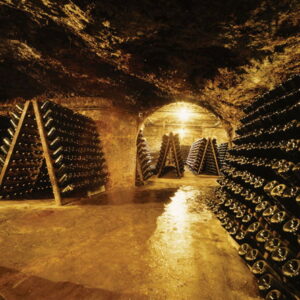 The history of wine in Barcelona plays an important role in your wine-tour experience as it dates back to Phoenician times, when the Greeks introduced grape production. At first, many towns created their own wines, a much stronger version than those you might find today, but the vineyards of Spain and Catalonia hit gold during the 19th century when they mastered the art of mass wine production, and more importantly, the creation of Cava!
Cava is the Spanish version of Champagne, with the main difference being the grape selection. Having undergone some changes, it is currently best described as a sparkling wine, which can either be found in white or rosé. Josep Raventós, the man responsible for developing this bubbly burst of flavor, did so at the Codorníu winery, a facility that remains to be one of the most visited vineyards in Spain.
 Make a Day of it at Codorníu!

A day trip to Codorníu offers you the chance to experience a mix of art, architecture and of course, a vast array of wine for your tasting pleasure! Spending the afternoon touring through its world famous Cava cellars, expansive vineyards and beautiful gardens filled with Art Nouveau buildings, gives visitors the perfect escape from the bustling streets of Barcelona for a day. Located on the city outskirts, Renfe trains run frequently to the winery from two of the city center stations (Plaça Catalunya and Sants Estació), so it is easy to get to from your apartment in Barcelona! For more information on pricing, the tour schedule and directions to the area, visit the Codorníu Winery website.

Penedès Region: White Wine Heaven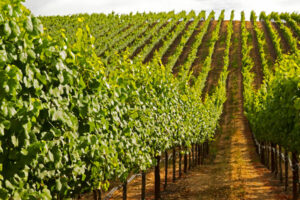 Catalonia as a whole may be best known for its Cava, however, the Penedès region in particular is renowned for its masterful blends of white wine. With over 153 vineyards located in this area just south of Barcelona, it should come as no surprise that Penedès has gained international notoriety for its bottled delights. Head to this sun-drenched area where the resident wine-makers will take you on private tours of their fields and facilities, while offering Cava and wine tastings in every cellar! The tasting selection is even accompanied by a traditional Catalan lunch or dinner. With a ticket price of 95€, guests will enjoy free transportation to and from Barcelona, a guided tour, entrance to all the vineyards and a meal. The tour lasts for 7.5 hours, so turn this event into an unforgettable day trip! For more information on schedules and availability, visit the Spanish Trails website.
Hands On Experience
: Make your own Cava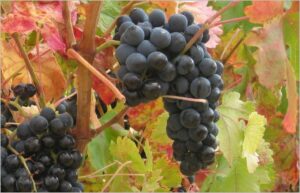 If you are looking for a wine-tour with a little more action, head for an El Moli Tour in the Penedès wine country. An area packed with small and charming wineries, visitors will find no better backdrop to experience the prosperous and longstanding history of Cava creation. This day-trip offers all of the regular activities one would expect, a stroll throughout the sun-kissed vineyards of the region, a peek around the cellars, and a barbeque lunch. What sets this tour apart from the rest is that visitors will be allowed to try their hand at the age-old practice of Cava-making. After sampling numerous blends of wine, guests will be able to choose their favorite type, and dive in to master the tricky process of Cava disgorgement. Whether you fail or succeed at this interesting activity, bringing home your very own bottle of Cava is sure to impress your friends and loved ones and make for a unique souvenir of your stay in Barcelona. For more information on this unforgettable day out, as well as this companies other local tours such as the visit their popular 'Wine and Culture Tour', visit the El Moli Tours website.


Prefer Wine Tasting in the City?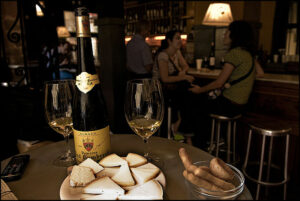 If your tight schedule of activities in this cultural hub doesn't allow for time to venture to the outskirts of the city, rest assured, your palate can still be tantalized within the city borders. One of our recommendations is a visit to restaurant, "La Vinya del Senyor", Catalan for the Lord's vineyard. This charming location in the Born-Ribera neighborhood offers an unforgettable experience for wine-lovers. Located next to the entrance of Basílica de Santa María del Mar, you will experience the ever present cultural ambiance of the city, while enjoying some of the finest wines in the city. With over 300 wines to choose from, you cannot go wrong with a dinner here!
Whether you choose to take a stroll in the wine countries of Catalonia, get your hands dirty with some Cava-making, or simply stroll around the picturesque streets of Barcelona, you will be sure to find a wine-tour to suit your tastes. Who knows, you could leave the Catalan capital a wine-buff and impress your friends at home with your knowledge of all things Cava…¡Salud!