Have you seen everyone whizzing around Barcelona on electric scooters, and want to join in on the fun? Whether you're staying here for a couple of days and want to have a bit of fun, or are here for a while and want to invest in a more modern form of transport… Read on for everything you need to know on how to hire an electric scooter in Barcelona. 
Electric scooters are the perfect way to avoid the traffic jam, travel quickly, skip the expensive taxis and have fun on the way. There are hundreds of electric scooter hiring spots throughout Barcelona, with prices ranging between €10 to €30 per hour. 
Types of electric scooters 
Companies such as JetScoot offer a variety of electric scooters. From original ninebot ES2 scooters, which you can rent for only €10, to the ninebot electric scooters, which you just use your body to control, for only €20!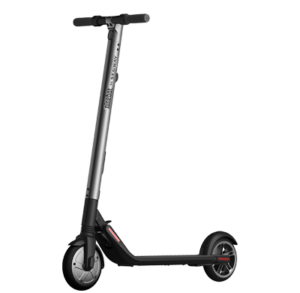 The original ninebot ES2's are perfect for those wanting comfort for urban mobility, making it easier to get places, doing this with speed and it's easier to park your scooter. Barcelona has bicycle lanes perfectly interconnected so that you can reach any point of the city!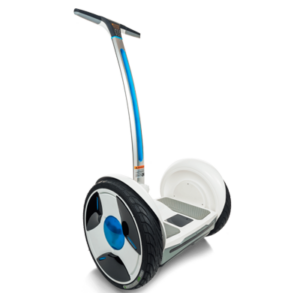 Whereas, the ninebot electric scooters, which are more of a giant segway style, are more suitable for creative exploring, using your body to move around, and touring Barcelona in a more unique way.
Picking the right electric scooter for you 
Depending on what it is you're wanting to do, travel far, just go exploring, or purely hire a scooter for a bit of fun, the type of electric scooter you need can vary. Electric scooters differ by weight and power. 
Lighter scooters offer slightly less power but they're much more versatile, so these are much more suitable in areas that can become very busy.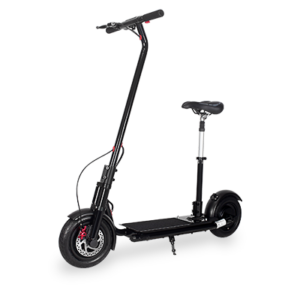 Heavier scooters are perfect for those who want a more powerful trip, with better brakes, a better battery and battery life. These are more recommended for your long distance trips, where you're able to go a bit faster! 
The segway scooters, or self- balancing scooters, are rentable through tours of Barcelona. You can explore the city and the cultural aspects of Barcelona on your segway throughout group tours. 
Where can you ride?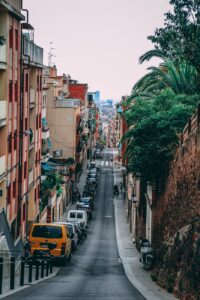 When it comes to riding your electric scooters, you want to be sure you're not breaking any rules! When riding a scooter, you must ensure its always on cycling roads or roads which have a speed limit of 30km/h.
So, what's the rules?
You cannot ride on the sidewalk
You cannot ride on the roads with regular speed limits (50 km/h)
In pedestrian areas/ parks, you must ride at a max speed of 10km/h
You must wear a helmet, this is obligatory when renting, and important for your safety! 
Respect all traffic lights and signals 
Lock in your scooter in the appropriate areas intended for personal mobility scooters, make sure you're not in the way of pedestrian traffic! 
And make sure you're not wearing headphones! 
Barcelona has loads of cycle lanes, in fact over 137km of cycle lanes, of which can be used by electric scooters! These lanes run by the side of the road, there are also many in the city's parks, and a long cycle lane which runs the entire length of the Barcelona seafront.

When it comes to the self- balancing segways however, these can only be used during guided tours. 
Where to park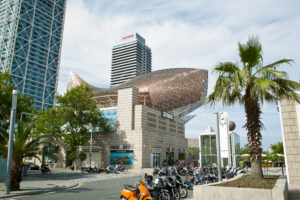 Parking your electric scooter is a lot easier than you might imagine… These can be parked on any designated motorbike parking areas. Keep a look out for the diagonal white lines, with a blue sign stating 'Motos'.
You can also park your scooters on the pavement, as long as you are following these rules:
– The pavement must be more than three metres wide to allow the passage of pedestrians
– The bike must not be parked close to a building or within two metres of a bus stop

If you are renting a scooter, it is better to keep your scooter with you at all times, as the strict law was implemented in 2019 stating that any illegally parked electric scooters will get towed away, with the company being fined, and this fine subsequently being passed on to whoever was using the scooter at the time. 
The best companies with which you can rent electric scooters 
Jetscoot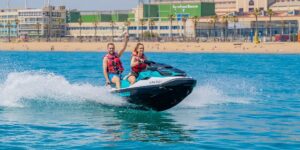 As well as loads of water sport vehicles available, JetScoot offers everything from your smaller lighter scooters to your self- balancing segways. Their prices begin at €10 and go up to €30 per hour. 
Rentelectric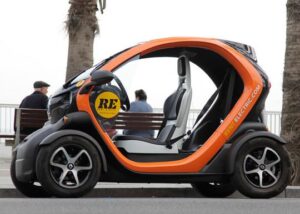 At rent electric, they host renting options for all types of electric vehicles, including twizys, e bikes and scooters, at very low prices! Their prices include a helmet and start at €10, and go up to €40, for 80km/h twizys. 
GoMeep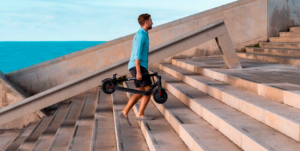 GoMeep rent out electric scooters on a monthly basis, from only €39 for gomeep scooters. These involve a minimum rental period of two months, but insurance and maintenance are all included in the price. They also provide E- bikes, at €89 monthly. 
Lynx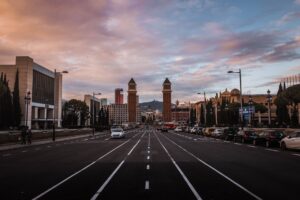 Last but not least, Lynx are one of the best rental agencies for electric scooters and bikes. They offer rental scooters by the hour or by days, they have the best prices in the city, and offer storage space for those who want to leave their bags at the office whilst they enjoy their scooters. 
You can book a standard scooter for €25 for 24 hours, or €20 per day for 2-5 days, these payments include a helmet and charger. They offer express delivery of between 1-2 hours to their store, or give the option to get your scooter delivered to your door at an extra charge. 
Now you have everything you need to know on electric scooters, go and explore the city in this unique & fun way!