Born is home to the beautiful and historic Santa Maria Del Mar (if you've not looked inside, it's something you must do whilst in Born!), as well as many trendy shops, tempting bars, and delicious restaurants. 
But what we rarely get into, now everything can reopen post Covid-19, is the takeaway places we lest not forget! Born is home to some of the coolest, most unique and incredibly mouth- watering, both sweet and savoury, takeout places in Barcelona! We give you… our top 10. 
Let's start savoury… 
Las Fritas: Fresh French Fries with whatever toppings you fancy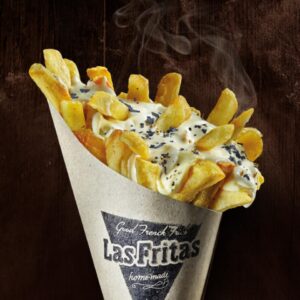 Las Fritas Born, located in the heart of Born and open through 12pm till 10pm, this is the perfect place to fill a hole in your stomach. The best part is that it's only €3.30 for a small portion, but we have seen them do deals in the past where you can get both a small portion of fries, along with a Caña (small beer) for only €2.50!
Pick from a range of toppings on your thick, and 'real fresh' french fries! You can choose from cheese, to egg and bacon. They have the option for chilli con carne on top, or even Catalan sausage! On top of this, they serve every sauce from your plain jane ketchup to Bravas sauce and aioli! 
Find them here: Carrer de l'Argenteria, 70, 08003 Barcelona
Pizza del born: One slice of heaven for €2!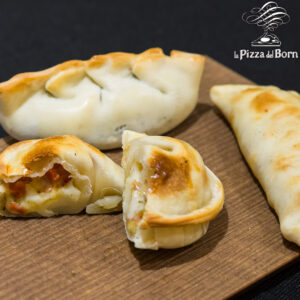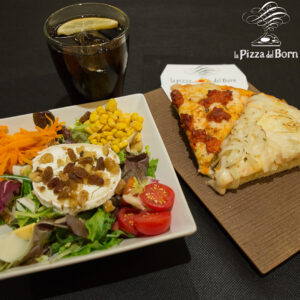 If you've not heard of Pizza del Born, you're seriously missing out. They have every flavour of pizza you can imagine… Seriously, they have over 26 flavours! They also serve empanadas, which are similar to your British Cornish pasty, but you're looking at flavours like cheese and ham… or spicy meats! They even serve salads, pastas, and desserts. 
Their team are always smiling and having fun, it's always good vibes here. I would definitely recommend their pizza slices, they are only €2 each, and you can create your own pizza with as many different flavours as you like! Definitely one way to cure your munchies, and the best part… they are open till 3:00am (only Friday- Sunday, rest of the week varies between 1am and 2:30am)! 
They have deals Monday to Friday, which include either 2 pizza slices, 2 empanadas, or a salad, served with a drink for only €4.50! They are on Deliveroo and Glovo, but definitely worth a visit… and their sangria, it's to die for. 
Find them here: Passeig del Born, 22, 08003 Barcelona
Taco alto: Mexican food lovers read carefully…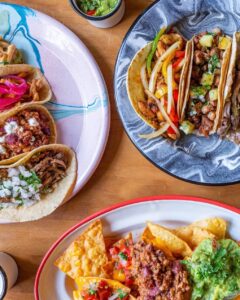 Taco Alto is a Mexican, adored by residents, tourists and just anyone who steps foot in there. They are renowned for their extortionate low prices, starting at only €1.95 for tacos! They also serve quesadillas from just over €5! 
They serve beers at €3.50 with your meal, so that you can sit back and relax, wherever you might be and enjoy the Mexican mayhem going on with your tastebuds! You can also find them on both deliveroo, uber eats and glovo. 
If you're wanting to visit this place in person, they are open till 10:30pm, and you can find them at the below address: 
Carrer del Portal Nou, 62, 08003 Barcelona
Narciso: Sandwiches made in the moment you order them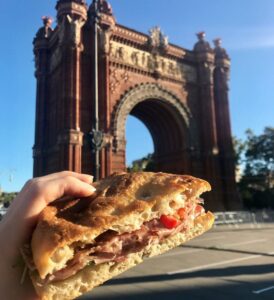 Narciso are renowned for serving some of the best, freshest and most delicious sandwiches using only the traditional schiacciata bread from the Italian Tuscany. These sandwiches are made right in front of your eyes with the best fresh ingredients. They use secret incredible sauces to produce a secret and special touch with each individual sandwich. 
Their sandwiches start at €5 and they have the option for you to take a seat and stay for a drink if you wish. One of the best perks of this place is whether you're craving a fresh sandwich at 12pm or 12am, they will be there and open for you! 
Find them here: Calle Princesa 9, 08003 Barcelona Spain 
Gusto del born: Italian cuisine speciality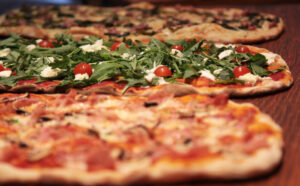 Fancy a lasagne? Or a slice of pizza? Gusto del born serve some of the tastiest slices of pizza cooked with natural ingredients. They serve lasagnes, salads, parmigianas, and fresh slices of pizza which are only €2.50 each and are huge! 
They have loads of different flavours of pizza, ranging from veggies and cheese to meats and traditional Italian specialities. This place is a must if you're a big pizza lover, their thin and crispy bases are delicious! 
Find them here: Passeig del Born, 16, 08003 Barcelona
Sushi wai mai: For you sushi lovers…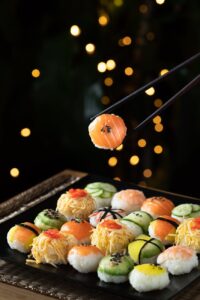 Sushi wai mai is one of the top sushi restaurants in Barcelona, they serve fresh sushi and perfectly cooked monkfish. Perfect for anyone in a hurry, wanting to grab a bite to eat and get a good value for their money. 
Quality, quantity and good service is something you can expect when visiting sushi wai mai. Everything is freshly made, but quickly so that you can decide what you'd like and get it in around five minutes. 
Find them here: Carrer de l'Allada-Vermell, 19, 08003 Barcelona
Onto the sweet stuff… 
Demasie: For the best cinnamon rolls in Barcelona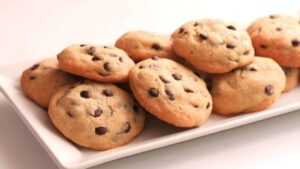 Demasie is an absolute must for anyone with a soft spot for sweetness. They are a small trendy and modern bakery, known mostly for their vegan cinnamon rolls, oversized cookies and flavoured coffees. 
They serve cookies baked with kinder, chocolate chips, red velvet, nuts, biscoff, oreos and much more. They also have a load of different flavours of cinnamon buns, from biscoff to matcha, and they are to die for! 
Their queues are always out the door, so be sure to get there quick, before they run out of their goodies! 
Find them here: Carrer de la Princesa, 28, 08003 Barcelona Spain
Joncake: If you like cheesecake (or even if you don't) Joncake is your new favourite place…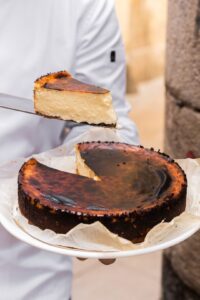 Joncake, serve perfect, professional and passionate basque- style cheesecakes. The chef uses high quality cheeses such as truffled savarin, cabrales and smoked cheddar to create unforgettable flavours of cheesecake. 
This place is an absolute must go, Jon serves speciality and freshly made cheesecakes daily to ensure that they are served to perfection, he involves flavours like biscoff to add a bit of something different into his sweet dishes. 
This place is always heaving, so make sure you get yourself down just after midday, as they sell out daily! 
Find them here: Carrer dels Assaonadors, 29, 08003 Barcelona
Hoffman: Created to perfection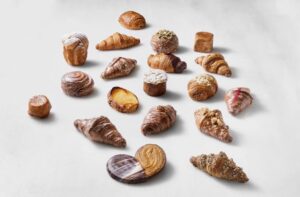 The patisserie Hoffman offers an extensive repertoire of sweet proposals, reviewed and perfected over years. This place has been compensated by numerous awards and recognitions over the years, allowing them to create some of the best croissants in Catalonia. 
Their mascarpone croissants are recommended by the staff in Hoffman, and from personal experiences, are to die for. They also serve a plethora of beautiful and delicate desserts, from egg-like shaped pistachio desserts to their authentic fruit tarts. This place is a must when you're in Born! 
Find them here: Carrer dels Flassaders, 44, 08003 Barcelona
Dinos Gelateria: Helado to die for…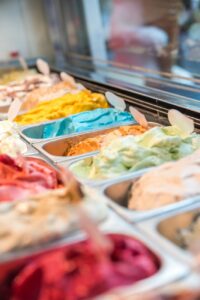 For all things ice cream, Dinos Born is the place for you. Ask for a taste test, they'll provide you with one, with fresh ice cream created daily, any flavour tastes amazing. 
From your average vanilla, to a creamy biscoff, or pistachio, or even coffee flavour, this place has the perfect flavour for you. At a small price, you can enjoy whichever flavours suit you, in a cone or in a tub, with a friendly service, this place won't let you down. 
If you fancy, they also serve crepes, fresh hot chocolate, coffees, cakes and even cookies. Those with a sweet tooth will be in heaven. 
Find them here: Carrer dels Corders, 15, 08003 Barcelona