One of the best ways to immerse yourself into a culture is by playing team sports in Barcelona. When you think about sports in Barcelona, you might think about FC Barcelona, both the football and basketball team. Of course, there are also opportunities to do those two sports on a recreative level.  
The people you meet and the people you play with become some of your closest friends. Lucky for you, Barcelona is packed with opportunities to play team sports. Here are our top 6 suggestions to play a team sport in Barcelona, Spain. 
Football: Celebreak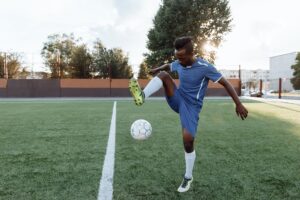 When you think of Spain, especially Barcelona, your mind instantly reverts to football. It is the most celebrated sport in the city. With CeleBreak, you now have the opportunity to completely immerse yourself into the culture. With fair prices, you can sign up with a team or as an individual to the game of your choice. 
However, if you are here for a short amount of time, don't worry. The company organises daily football pick up sessions, every day of the week with a beer at the end! How could you go wrong? Offering various locations and various times, there is sure to be a time for you! A media team is also there snapping pictures at the end so you are able to remember your time there forever. Join the community of Celebreak today by accessing their site.
Volleyball: Multicultural volleyball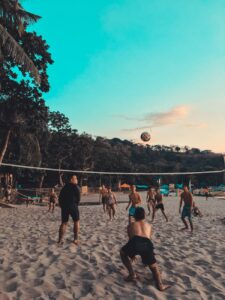 Not only football but also Volleyball is very popular. Even if you have never played, you will love Multicultural Volleyball experience. You are playing relaxed and easy-going volleyball on the beach, listening to live music, and meeting new people. You do not need to have an Olympic skill level either, just give it 100% and enjoy the friendly game!  
With their prices only being 2 euro to cover the cost to play, it is a no brainer to join the fun! If it is your first time joining them, you simply message them on Whatsapp, let them know you are attending that day or night and they will help you find the location for the event! If you are interested, join their group on Facebook!
Basketball: Courts of the World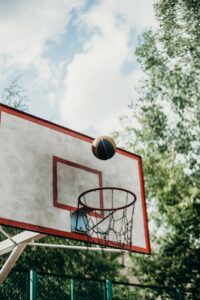 Additionally, basketball is on our list for team sports you can participate in Barcelona. Basketball is very popular in the city and many want to play a pickup game. Luckily, Courts of the World make it extremely easy to find others that want to play at a court near you.   
Using their Courts of the World's website is simple. You create an account and set up where you would like your home court. Once you complete your profile and are ready to play, let the other users know! With this website you are able to compete at any time of the day, catering to your schedule. Once you finish a game make sure you rate the court you played at so future users know! Enjoy your game! 
Padel: Fair Play Padel club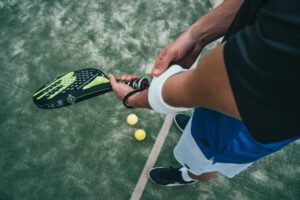 Another way to stay active in Barcelona is to join the Fair Play Padel Club. It is easy to join and play. They offer a flexible and dynamic way to play every day called Players Bag. Basically, once you are a member and you would like to join, they add you to one or multiple WhatsApp groups based on your level and your day-to-day flexibility. That way you are coordinating with people who are free at similar times.   
Once you have joined, you will now receive messages with proposals to play. If it suits you, you set up a match and play! There is also room to improve and move into the higher skill level group messages and play with harder competition. 
Fair Play Padel Club also offers classes to improve your skills. Reaching up to 48 euro for private lessons, however the cost significantly decreases as the number of people in the lesson increases. Lastly, the club also offers tournaments to the members. They put on an American tournament and Express tournament for very reasonable prices. 
Rugby: BUC (Barcelona Universitari Club)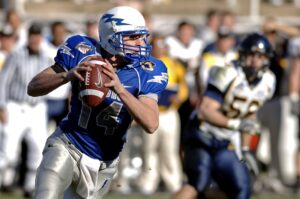 If you are interested in getting a little aggressive, Barcelona Universitari Club (BUC) is the place for you! They offer rugby teams for all ages to join. From 3 year old's to 100 year old's…people from any age category are welcome to join the experience BUC has to offer. 
BUC offers a Rugby School as well. They review the fundamentals of the sport, however they also touch upon the respect for the game. It is also a requirement for the members of this club to play with joy, play for pleasure, and to enjoy yourself… perfect for a team sport club to join while staying in Barcelona! 
Handball: Federació Catalana D'Handbol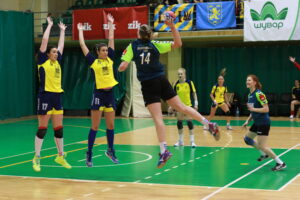 Another team sport that is highly celebrated in the Catalan region is handball. You can participate in this sport through the club Federació Catalana d'Handbol (FCH). With a strong community of handball players, you will face intense competition while making friendships with the entire community. Sign up for a club membership through their website. 
Once you have signed up, you have access to the many options they offer. Including tournaments and training sessions, at a cost.