As you may already know, Barcelona is a city full of life, culture, architecture and, above all, plenty of things to do! It can often be difficult to decide how to spend your time in this exciting city, so this guide to the 50 best things to do in Barcelona should help you along the way!
1. Explore Montjuïc – complete with museums, cafés, gardens, amazing views of the city and of course, the 1992 Olympics site!
2. Get an ice cream at one of Barcelona's many gelato shops – we recommend Chocolat-box, Gelaaati de Marco and DelaCrem.
3. See a football match at FC Barcelona's Camp Nou – or complete the magical stadium stadium tour. It's a must for footie fans!
4. Enjoy a glass of Catalan cava from El Xampanyet – this quaint establishment is famous for its tasty cava and accompanying tapas dishes.
5. Visit the Sagrada Família – probably Antoni Gaudí's most famous work…it really is a must-see!
6. Head up to the Bunkers del Carmel for 360° views of the city – we recommend making the hike in time for the sunset to see the sky become a rainbow of colours.
7. Take a food tour – Barcelona is renowned for its incredible gastronomic scene, so why not take the advice from expert food tour companies such as Devour Barcelona and Secret Food Tours?
8. Visit La Boquería market – situated on La Rambla, this market is home to the freshest and most colourful produce, and is a top tourist attraction. Head there early as it gets busy!
9. Enjoy a tasty brunch at Milk Bar & Bistro – be sure to get there early to get a table as there is often a queue at this famous Barcelona brunch spot.
10. Go to Tibidabo Amusement park – this theme park is perched atop Tibidabo mountain and makes a great day out, but don't worry if rides aren't your thing, you can just take in the panoramic views of the city instead!
11. Enjoy a picnic in Parc de la Ciutadella – a cool park space full of lush greenery, a beautiful fountain and a large lake – a perfect picnic spot!
12. Watch the sunset on the beach – get your friends together, bring some refreshments and watch the sun go down as you relax on one of Barcelona's many beaches.
13. Check out some local events and festivals – Barcelona is a city where there's always something going on! Be sure to check out events in advance in case you need to buy tickets.
14. Visit the enchanting El Bosc de les Fades – an enchanting fairy-themed bar/café situated on La Rambla.
15. Take a bike tour around the city – Barcelona is one of the most bike-friendly cities in Europe, so why not explore the city the eco-friendly way?
16. Explore Poble Espanyol – this model village is based on a variety of Spanish architectural styles – a beautiful place to visit on a sunny day!
17. Go shopping at the Maremagnum – situated across the Rambla del Mar bridge on its own artificial island, this shopping centre is open on Sundays and public holidays, when most shops are closed.
18. Relax at Port Vell – take in the sea views at Barcelona's main port.
19. Explore Passeig de Gràcia – there are plenty of shops, restaurants and beautiful architecture along this grand boulevard.
20. Enjoy a glass of vermouth at Quimet i Quimet – a classic vermutería loved by locals and tourists alike.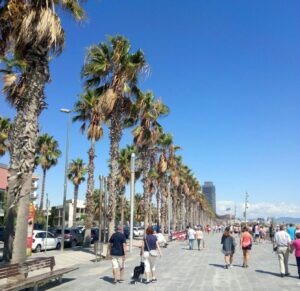 21. Stroll along the Passeig Marítim promenade – the perfect way of enjoying beach views without getting sand between your toes!
22. Check out local vintage markets – there are often many vintage/flea markets going on in small locations across the city during the weekends.
23. Have a spa day – enjoy a day of ultimate relaxation in one of Barcelona's top spas.
24. Take a day trip to Sitges – just 35 minutes away on the train, this coastal town makes the perfect day trip. Be sure to visit in February during 'carnaval' season!
25. Bar hop on Passeig del Born – the majority of this street is made up of trendy bars and restaurants, making it the perfect place to go for a drink in the evening.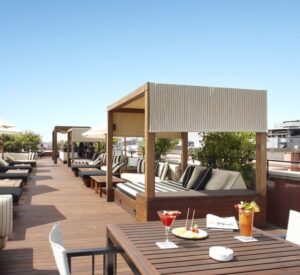 26. Relax on a rooftop terrace – Barcelona boasts plenty of rooftop terraces, they're the perfect spot to enjoy a cocktail on a sunny day!
27. Enjoy some tasty churros at Granja La Pallaresa – one of Barcelona's most famous spots for churros con chocolate, and rightly so!
28. Explore the winding streets of the Gothic Quarter – there's so much to explore!
29. Dine on Rambla de Raval – another street that's home to a variety of restaurants.
30. Check out Barcelona's 'Brunch Electronik' events – a favourite Sunday event of many during the spring and summer season in Barcelona!
31. Visit Casa Batlló – another exquisite and beautiful building by Gaudí, located on Passeig de Gràcia.
32. Enjoy a typical 'menú del día' at lunchtime – 3 courses for (usually) under €15 – bargain!
33. Visit the 1992 Olympic Park – home to several of Montjuïc's many famous attractions such as the Olympic Stadium.
34. Take a Gaudí tour – and immerse yourself into what is often known as 'Gaudí's city'!
35. Go rollerblading – these can be hired from certain bike/scooter rental stores.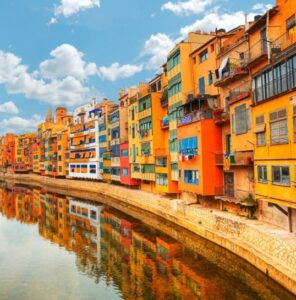 36. Take a day trip to Girona – the perfect escape for Game of Thrones fans, as many of the scenes were filmed there!
37. See the light show at the magic fountains of Montjuïc – watch the fountains at Plaça d'Espanya illuminate for an exciting music show!
38. Attend one of Barcelona's top music festivals – such as Primavera Sound, Sónar, Cruïlla and DGTL, to name just a few.
39. Visit Casa Vicens – take the time to go and see this quirky, colourful Gaudí house!
40. Stroll along Passeig de Lluis Companys in the sun – it's lined with palm trees and is home to the majestic Arc de Triomf!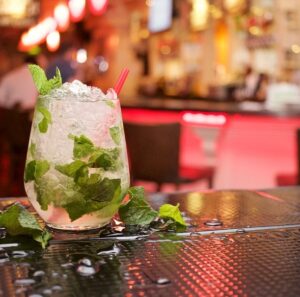 41. Drink mojitos – tasty mojitos can be found in most bars in Barcelona, but we recommend Limehouse, Alsur Café and Rosa Negra!
42. See a flamenco show – the passion of the dancers will amaze you!
43. Visit Park Güell – this colourful park is another must-see when visiting the city.
44. Take a cookery class – learn to prepare tasty Catalan and Spanish dishes from local experts such as Marta at her famous cookery class!
45. See the Barcelona Cathedral – another beautiful piece of architecture, located in the Gothic Quarter.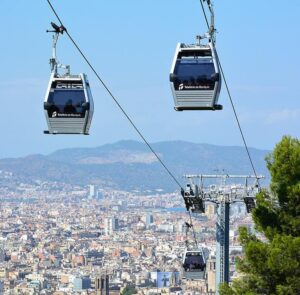 46. Go on the cable cars at Montjuïc – a great choice for those wanting to see the city from a different perspective.
47. Grab a coffee at El Magnífico – a cool coffee shop in El Born famous for its tasty blends!
48. Go for tapas – this is just a given! Check out our guide to tapas restaurants in Barcelona.
49. Take a Catalan wine tour – Catalonia is famous for its incredible wines, so why not discover more?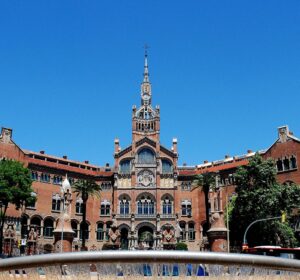 50. See the rest of the sights! – Palau Güell, the Hospital de Sant Pau and the Palau de la Música Catalana, just to name a few!
For more ideas on how to spend your time in Barcelona, check out the rest of our blog!