A culinary dream lies in store for any tourist visiting the city of Barcelona during spring. After a long day of sightseeing, be sure to indulge in some of the more famous delicacies of the season, which include the Catalan favorites: calçots and botifarra. Paella is a must, and we recommend you enjoy this traditional dish on the beach while soaking up the sun!
Calçots

During the spring season, the residents of Barcelona and its surrounding regions prepare themselves for one of the most appetizing Catalan delicacies: los calçots. Similar to a spring onion, leek, or scallion, this vegetable can be found in many restaurants in Barcelona from the end of winter right through until April or May.
Discovered near Tarragona (about an hour south of Barcelona), the onion grows from January to March, making spring the perfect time to indulge in this tasty customary food! Traditionally, the vegetables are char-grilled on a giant barbeque until the outside is blackened and the inside is soft. The black exterior is then peeled off, revealing the tasty vegetable underneath, which is dipped in a salvitxada or romesco sauce made with garlic, peppers, nuts and olive oil. It is then swallowed almost whole, as the diner leans his/her head back to drop the calçot in.
The scrumptious onion is often paired with red wine or cava, drank from a porron, a type of long-spouted glass. Furthermore, the calçot meal is usually served with various types of meats and breads, so that you are sure to be completely full-up by the end of the feast!
This Catalan tradition, known as a calçotada, can be found all over Barcelona, and one of the locations that offers this delicacy is Restaurant Balmes/Rosselló, located in the Eixample district, with a calçotada set menu for 26€. Otherwise, try El Buffet d'AltaFulla in Tarragona, the first open buffet in Catalonia, offering a Calçot Buffet and an Open Buffet for only 16€.
Chocolate
No matter where you're from, you are sure to have experienced nature's best aphrodisiac: chocolate.  With Easter falling during springtime, what better excuse to indulge in some sweet treats? Check out our post on Semana Santa if you're planning on spending Easter in the Catalan Capital.
Barcelona is home to some of the most delectable chocolate in the world and to prove it, one of the most renowned chocolate museums in Europe is situated in the Catalan capital: El Museu de la Xocolata. Located in the Born district of the city, those visiting the museum have a chance to see how chocolate is made, where it originated from and, of course, try a tasty treat to satisfy their chocolate craving.
Once you've heard the story of the cocoa plant, head straight up to Cacao Sampaka for another palate pleaser: los bombones. With 8 different collections and over 70 different types of flavoured chocolates, you won't be able to resist these mouth-watering snacks.
Paella
Originally from Va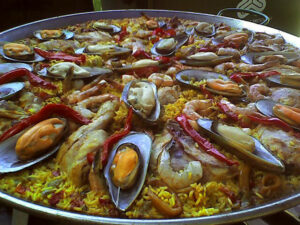 lencia, paella has become one of Spain's most famous dishes. Paella is a Catalan word, which derives from the Latin patella, meaning pan. Widely consumed throughout Barcelona, chefs create this meal in large frying pans, mixing massive amounts of rice, vegetables, seafood, chicken and more together. They then serve it up hot to the delight of the patrons. Thanks to the large amounts of fresh seafood imported into the city daily, this rice and fish meal is a Catalan favorite.
From the traditional seafood paella, which includes mussels, squid, shrimp and prawns, to the  vegetable paella, complete with peas, carrots, and other types of vegetables, there is paella for every palate. All dishes are fried up with saffron and other tasty spices to give the rice a unique flavor unlike any other.
With the warm weather of spring approaching, why not get a pan of paella along the beachfront? Sit back, soak up the sun, enjoy the breeze from the ocean, and dive into a one of Barcelona's favorite feasts. Order a pitcher of Sangria (a red wine and juice combination) to complete your Barcelona dining experience.
There are many seaside restaurants that offer paella, including, but definitely not limited to, Escriba Xiringuito, Can Majó, and El Suquet de l´Almirall. Discover these, or your own new favorite paella place, and ask to sit outside under the sun, taking in all of what Barcelona has to offer.
Botifarra

A Catalan favorite found all over Barcelona, this garlic sausage can take many forms and is often served alone, or as a side dish, complimenting other Catalan foods. Traditionally, botifarra meat is served grilled with white beans, but it can also be found combined with rice dishes or cooked with an egg mixture.
Whatever your fancy, trying some of these typical Catalan (and non-Catalan) dishes is a must on your spring trip to Barcelona. Grab a plate of paella, try your hand at a calçotada, or even take a trip to the Chocolate Museum and enjoy some traditional Barcelona cuisine.