You are vegan and don't know where to get your breakfast in Barcelona? You just want to try something new? Or, you are simply on vacation with a vegan friend who also needs to get their breakfast in some time? Then, don't stop reading this article. We created a little guide for you on how and, more importantly, where to get animal and eco-friendly breakfast in the Catalan capital. You are lucky that Barcelona is one of the most vegan-friendly cities, even if it doesn't seem like it on first glance. So, let's get started:
Vegan Brunch Spots
When you first come to Barcelona or any other city near the sea, you might be overwhelmed by the number of traditional fish, seafood, and meat dishes you can get here. But no worries, most of the restaurants have one vegan option on their menu. However, we want to show you how vegan-friendly our beautiful Catalan capital really is. This is why we take you on a journey through the best vegan brunch spots in the city. Places where you can get your morning coffee together with a toast if you are late in the day or just need to cure your cravings. We love the idea of brunch!
1. Faire. Brunch & Drink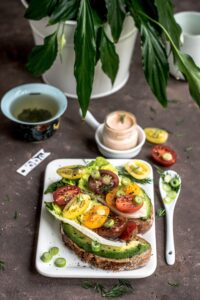 We'd like to start with a very special one. The Faire. Brunch & Drink is a really cute brunch location where you can either sit inside in a really welcoming atmosphere or outside on a terrace-like place in front of the store. They offer a variety of vegan breakfast and brunch options that you should try. Why don't you take a look at their menu and convince yourself of their delicious dishes? We really recommend the Tostada de Aguacate y Remolacha with a Chai Latte and if you still have space, their vegan pancakes! Also, your visit there helps the environment. For every receipt they get, they will plant a tree to reforest the world. So, what are you waiting for? Your next brunch is waiting, and what is better than starting your day with a delicious breakfast and the knowledge that you have now planted a tree?
Address: C/ de Girona, 81, 08009 Barcelona
2. CactusCat Bar
Next on our list is this wonderful brunch spot. At CactusCat Bar, you will find everything the heart desires. The founder, who was never a chef in the first place and used to work in branches not even close to food, now runs one of the best rated restaurants on HappyCow. They offer a variety of vegan dishes that are all worth a try and made of local and organic ingredients. They also "veganized" some traditional Catalan dishes. The place is cozy, small, and very famous. So, if you see a free table, go ahead and ask if you can sit down and have a nice brunch in the beautiful district of El Raval.
Address: C. de Valldonzella, 52, 08001 Barcelona
3. The Vegan Corner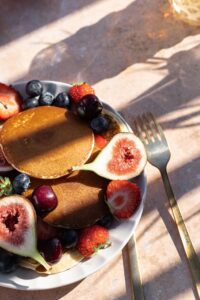 From El Raval you will be directly led into the Gothic Quarter, where you will find our next recommendation for you! They offer organic food, coffee, and drinks for all vegan food lovers. In a small corner, you will find yourself in a cozy little café with some kind of rustic style to it. Their 100% vegan menu offers you pastry for your sweet tooth, but also vegan quiche or potato tortillas to fortify yourselves for the day ahead. Truly a place where you will find yourself being once again surprised by how good vegan food can be!
Address: Carrer d'Ataülf, 5, 08002 Barcelona
4. Chez Kessler
A few streets further in Eixample Chez Kessler waits for you. This restaurant also offers, next to their breakfast, lunch, and dinner menus, a precisely chosen brunch option until 2 p.m. every day. Their menu is also fully vegan, so you can eat with no doubt. From the outside, it might not look very special, but as soon as you take a look inside, you will realize how thoughtfully the interior was designed, which immediately gives you the feeling of being welcome there and as if it was especially designed for you. How about taking a first look over the menu so that you can decide whether to get a toast/sandwich or one of their bagels, which we truly can recommend!
Address: C/ de València, 201, local 1, 08011 Barcelona
5. Green Shots Barcelona
We are staying in the beautiful Eixample district and would like to present Green Shots Barcelona. It is a vegetarian/vegan brunch location where you can not only order green juices and smoothies but also a lot of other healthy foods and drinks to refill your energy level. If the place is full, you can always order the takeaway, but if you can have a seat, we recommend doing so and enjoying a great meal in a calming atmosphere. What's stopping you from having a green brunch and getting a lot of vitamins to reduce fatigue and get ready for the day?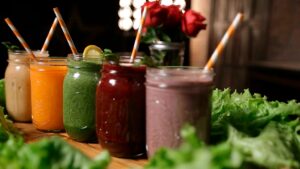 Address: C/ de París, 201, 08036 Barcelona
6. Green & Berry
Our next stop is Green & Berry where almost every item on their menu is vegan. The other way around, this place offers just a few non-vegan options. These do not affect their organic juices and sweets, which are fully vegan. Their products are made of natural ingredients without added sugar and are gluten-free.  You might guess it: You can find them in the apparently most vegan district, Eixample. Do not hesitate to treat yourself to a detoxing brunch at their place.
Address: C/ d'Enric Granados, 153, 08008 Barcelona
7. Billy Brunch
Last but not least, we have the perfect place to brunch for all our vegan and non-vegan friends. On the menu, you will find a lot of options for both sides. Here, you can get a classic breakfast and the same one as a vegan option. We are sure everyone in your group will find something delicious here. They also offer a variety of juices and coffee. You will spend a good time here fulfilling your cravings with an English breakfast, an Açai Bowl or some rich and tasty pancakes.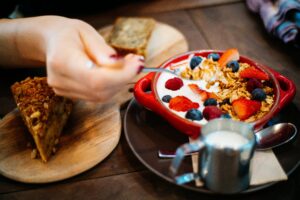 Address: C/ de Bailén, 115, 08009 Barcelona
What do you think about the range of vegan brunch options Barcelona has in store for you? Vegan or not, we know that there is something for everyone and that these brunch places won't disappoint. If you are intrigued and want to get to know more vegan/vegetarian places all around Barcelona, then check out our blog on vegan and vegetarian restaurants in the Catalan capital.