Barcelona is known for being a meat loving city, with the rest of Spain. However, in March 2016, Barcelona finally named itself a "Veggie Friendly" city. This is encouraging residents to embrace a meat free diet at least once a week. In Barcelona there are more vegan and vegetarian restaurants popping up all over the city, there are a load of quirky and cool places to check out. Here we give you some of the restaurants that we think are the best in Barcelona.
Maoz
You can find Maoz just off Las Ramblas. The vegetarian fast food joint serves the best falafel wrap in the city. Maoz promotes the "Vegolution" which helps people understand more about the concept of nutritional meals that can be flavorful too. Only fresh ingredients are used inside so you can top up your wraps with a wide selection from their salad bar yourself. Fresh juices and fries are served also if you don't fancy a wrap. The perfect spot in the centre of Barcelona to stop for a tasty and nourishing bite to eat.
Address: Carrer de Ferran, 13.
Metro: Liceu (L3)
Cat Bar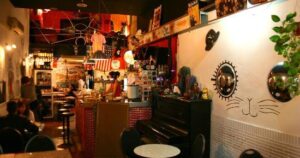 Cat Bar is a vegan backstreet artisan beer bar, the cat-themed vegan bar is as quirky as it sounds. You will find that the vegan restaurant the staff are all super friendly and welcoming. Inside they serve veggie burgers which are widely known for being out of this world. An extensive range of local real ales and beers can also be found inside, so you don't just have to go for a bite to eat. Cat Bar turns into The Guitar Bar at the weekend after 11:30pm, you'll find that local bands and acoustic singers playing there. If you want to experience something a little different, Cat Bar is the place for you.
Address: Carrer de la Mercè, 29
Metro: Jaume I (L4) 
Veggie Garden

The Veggie Garden can be found just around the corner from the MACBA. Open all day, the food served inside is heavily influenced from India and other eastern countries. From exotic Thali dishes to vegetable lasagna,  you'll always be pleasantly surprised with what's on the menu at Veggie Garden. If you aren't a vegetarian, the seasoning and plant-based ingredients used will make you think about converting, you'll forget that there's no meat in the dishes. This is one of the most popular vegetarian and vegan joints in Barcelona so be prepared for a wait, but you will be glad you once you try the food on offer.
Address: Carrer dels Àngels, 3 & Gran Via de les Corts Catalanes, 602
Metro: Liceu (L3 & L1)
Amaltea

Found in the Eixample district of Barcelona, Amaltea is one of more recognized vegetarian restaurants in the city. Established in 1988, the restaurant has stayed popular through its good prices and use of organic food. Midday meals begin at 10.70€ and weekend and evening set menus from only 15.30€. You can also take part in cooking classes throughout the week. To find out more check out their Facebook page.
Address: Carrer de la Diputació, 164
Metro: Urgell (L1 &L3)

Green Shots
Green Shots is still a relatively new vegetarian/vegan joint in the city. When you enter Green Shots you'll see the wide variety of green and non-green juices and smoothies available (An English menu is included so you don't have to guess what's inside each juice). They offer a large assortment of vegetarian and vegan dishes and make three soups  each day with fresh ingredients. There's lots of space to sit inside to enjoy your meal or take away options are available. Keep up to date with what's on offer on their Facebook page. You can pick up the mixed menu at Green Shots where you can choose the starter, main and a dessert for only 15€.
Address: Carrer de París, 201, Casanova 178, Barcelona & Via Augusta 21, Barcelona
Metro: Diagonal (L3 & L5) 
Teresa Carles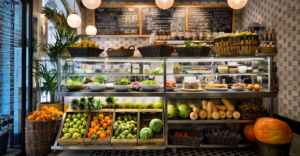 Teresa Charles has cemented itself as one of the go-to vegan/vegetarian restaurants to go in Barcelona. From designing your own salad, to a big choice of starters, soups, pastas and their own specialties – the restaurant covers it all. They have a very impressive range of juices and smoothies to choose from, too. You can keep up with new dishes and offers on their Facebook page here, where they also show live cooking shows so you can create your own vegetarian and vegan dishes.
Address: Carrer de Jovellanos, 2
Metro: Catalunya (L1, L3, L6, L7) 

For more vegan friendly content, why not read about the best vegan burger bars in Barcelona?