Temperatures in Barcelona are steadily rising. The sun is shining brighter and longer. Shorts and shades are making an ever increasing appearance. It can only mean one thing – summer is here in the Catalan capital! And what better way to celebrate than by indulging in some delicious, first class ice cream. From citrusy sorbets to creamy, whippy cones, you're bound to find the ideal choice for you. But with so many ice cream shops in Barcelona it's difficult to know where to start! So here are a few of our favourites to help you along your way!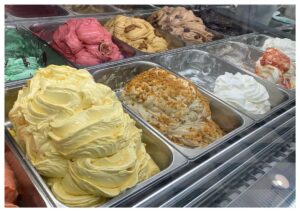 1. Manna Gelats – Quirky Flavours
Famed as one of the best spots in the whole of Barcelona for ice cream, we couldn't not include Manna Gelats on our list! They're an artisan ice cream parlour that specialise in tropical flavours, as its owners hail from sunny Venezuela. Try quirky flavours such as soursop, cherimoya, and chocolate with jalapeños, as well as the classic favourites that we all know and love. Manna Gelat's owners learnt their craft in Italy, the home of gelato, and all of their ice cream is home made by them. For those with an even sweeter tooth, why not try some of their delicious crepes, waffles and brownies alongside your ice cream? They cater for vegans too!
Carrer dels Banys Nous 22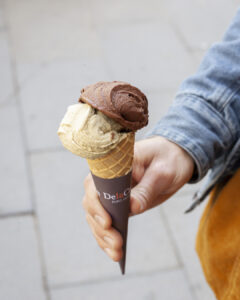 2. DelaCrem – For Ice Cream Connoisseurs
Owner Massimo Pignata created DelaCrem based on the foundations of the slow food movement, with a meticulous selection of the finest quality ingredients and daily production by his team. They are passionate about serving some of the best ice cream that Barcelona, and indeed Spain has to offer – Tripadvisor named them as the best ice cream parlour in the country in 2013! Expect divine flavours such as pistachio and roasted apple and cinnamon, as well as more intriguing creations such as parmigiano!
Carrer d'Enric Granados 15
3. Gelaaati di Marco– Authentic Italian 
Located in the heart of Barcelona, Gelaaati di Marco is a treasured italian ice cream parlour that we couldn't recommend more. They have an enormous variety to flavours to choose from, and nothing too crazy on offer! All of their products are prepared with 100% natural ingredients with no additives or preservatives. We recommend trying their Sicilian cannolis too – to die for!
Carrer de la Llibreteria, 7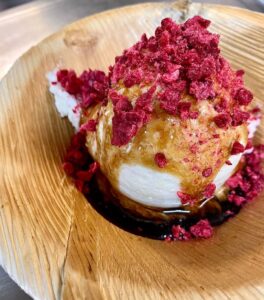 4. Parallelo – Ice creams with a local flair
For the italian amigos at Parallelo that set up the shop, craftsmanship and seasonality are top priorities when it comes to their ice cream. Strawberries in spring, watermelon in summer, pumpkin or figs in autumn, citrus fruits in winter … They buy their ingredients in local markets, selecting the best fruits (and vegetables, sometimes!) at their perfect moment of ripeness. Whether you want to venture out with an experimental flavour or stick to the trustworthy classics, Parallelo has you covered for a flavour sensation every single time.
Carrer de Sèneca, 18
5. Belgious – For a Cooling Hit in El Gòtic
This quirky Barcelona ice cream haunt is located right in the heart of the Old Town, making it an ideal stop off during your sightseeing tour of the city. Specialising in what they call HD ice creams, Belgious pride themselves on the finely selected ingredients and out of the ordinary flavours. Aragon Black Olives, Belgian Leffe Blonde Beer, Ceylon Cinnamon and Dried Figs with Rosemary Honey are just a few of the incredible flavours on offer!
Rambla del Poblenou, 24
6. Baboia – For true Catalan Flavours in the trendy El Born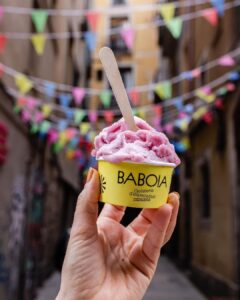 Barcelona is very particular in the flavours that it offers to its community. The famous dishes that you will find all around the city range from Gazpacho, Marzipan, or Crema Catalana, but imagine these flavours incorporated into ice cream… this is what you will find in the incredible Baboia.
Baboia offers its customers artisan ice creams made with natural ingredients based on native products. They don't just make seasonal ice cream, but for all year round. They also provide specials for limited time, depending on celebrations like Rose for Sant George or Coke for Sant Joan.
Of course they also have a huge variety of signature classics, like chocolate, nuts and traditional flavours. If you're someone who is super indecisive, not to worry, Baboia have the option of spinning for a flavour! Give it a go and see which flavour you receive!
And guess what? We have a special discount for you! USE CODE ABAPARTMENT15 for 15% off your delicious ice cream at Baboia!
Carrer dels Canvis Vells 2
So what better way to cool off in the Catalan capital over the next few months that by stopping by these delicious Barcelona ice cream parlours? The trickiest thing will be deciding on just which flavours to go for!