For those parents wanting a holiday in Barcelona, we are here to make your holiday a little more easy going! There are a plethora of cultural things to do, and things that are interactive to keep the kids entertained. 
The trick is to find the perfect balance between cultural activities and pleasure, so that you're able to see all the amazing aspects of Barcelona whilst your kids can enjoy all the exciting activities! 
Cultural activities that won't bore the kids 
Park Güell: Gaudí's Fun Park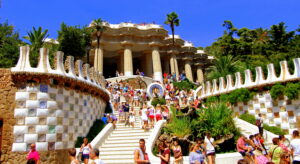 Gaudí's Park Güell is an absolute must when visiting Barcelona, the Park is decorated with colourful mosaics making it fascinating in appearance. 
The park itself has astonishing views of Barcelona, filled with gardens and architectural elements which are perfect for the kids to immerse themselves in and have some fun! It is also surrounded by cafes so that the kids are able to fuel up after a good run around. 
Quick tip: It is worth booking in advance, as it can get very busy! For more information, read our blog about Park Güell.
Tibidabo Amusement Park: For Theme Park Enthusiasts 
The Tibidabo Amusement Park is located on the top of the Tibidabo Hill, with fascinating views of Barcelona, only a 30 minute bus ride from the city centre! 
This fun filled family fair will keep the kids occupied for hours, they supply water rollercoasters, crash cars and carousels, as well as interactive games which are perfect for a bit of family fun! 
For more on things to do at the Tibidabo, read our blog on the best of Tibidabo.
The Chocolate Museum: For those who have a sweet tooth! 
In the heart of the Born District, you can find the Museu de la Xocolata, perfect for those chocolate lovers. 
This museum will take you through a tour of the history of chocolate, how it was founded and how it has developed in Barcelona. They have tours and workshops available, as well as chocolate gift shops and taste tests, I am sure your kids won't be complaining! 
The Science Museum- CosmoCaixa: Endless Entertainment 
CosmoCaixa is an incredible eye opening scientific museum which offers a load of activities such as a bubble planetarium, creativity workshops, 3D printing reality rooms, and universe rooms which interact with visitors to give them a tour of everything from the big bang theory to an exploration of the human brain. 
This museum will educate your children on the societal issues faced and the incredible complexability of science, whilst encouraging participation and grasping a sense of excitement! 
Best Beach Activities for kids : Bogatell and Watersports 
For those younger kids, Beach Bogatell is perfect, located in the Poble Nou. 
Bogatell is not quite as crowded as the other beaches, so that you are able to relax and enjoy the weather and scenery without worry. It is also located right next to the Rambla of Poble Nou which is filled with restaurants, cafes and ice- cream shops to ensure the kids don't go hungry!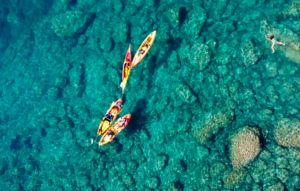 For those older kids, there are a plethora of water sports activities available throughout Barcelona. Brutal power sports offer major activities such as fly boards, wake boards, banana boats, crazy sofas and fly fish! Activities like these are great for larger family groups with older children, making the most of the weather whilst getting a bit of exercise in! 
Family friendly bars and restaurants 
Finding the best restaurants to satisfy both the needs of yourselves and your little ones isn't always easy in big crowded cities, but these restaurants are specifically reviewed to be great for families, and kids especially!
Fancy a bit of Tapas? Louro, the Galician traditional tapas bar.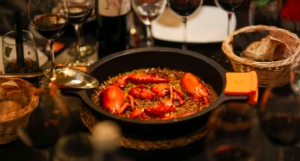 Louro is a Galician traditional tapas bar, which offers a high quality children's menu, to satisfy family needs. They are located in Las Ramblas and open Thursdays to Sundays. 
For those who love tapas, the top 20 tapas bars in Barcelona might have something in store for you! 
Best Family Friendly Italians Barcelona: Patsa Lab and Piazzetta Barcelona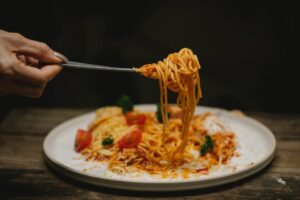 We know you can't go wrong with pasta and pizza when it comes to children. Patsa Lab serve fresh homemade pasta dishes, which are reviewed to be the best in Barcelona! They can be found in Eixample, just round the corner from the contemporary art museum!
They are completely children friendly, recommended for their fantastic and friendly service. 
Pizza wise, Piazzetta Barcelona, located in Les Corts, provides the best in Barcelona! They serve homemade fresh pizzas, cooked in their own traditional pizza ovens. The perfect place for kids who love pizza! 
If these aren't for you, our blog on the best Italian eateries in Barcelona might have something else for you.
Dessert 
Manna Gelats: I scream for ice cream!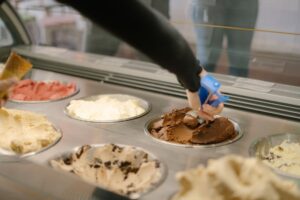 If you kids are ice- cream crazy they will love Manna Gelats, which is only a 3 minute walk from the Barcelona Cathedral. Manna Gelats serve the best artisan ice cream in Barcelona, with dozens of flavours to choose from! 
For ice cream lovers who want to see more, check out the 6 best ice cream parlours in Barcelona! 
Xuerreria Trebol Barcelona: Fresh Filled Churros 
Xuerreria Trebol Barcelona serve fresh homemade giant churros! These are filled with different flavours of chocolate and creams, and they are situated right outside the Sagrada Familia. Their reviews exclaim that for churro lovers this place is a definite must go!