Brunch is the perfect social event, eaten at any time during the day. In Barcelona, there are some incredible places with amazing dishes to be eaten, from all things vegan to all things meaty, from alcohol infused french toast to pancakes topped with more than you can imagine. 
Brunch doesn't care what you look like or what you fancy. Perfect for any day of the week, lazy or productive! We've found our top 7 places to brunch, providing you with the option of sweet, savoury and everything in between.
Picnic Restaurant: The American- Chilean special…with alcoholic infusions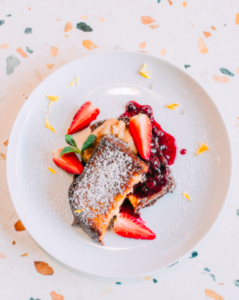 In the heart of El Born District, you can find Picnic: the perfect place for lighter brunching. They serve pancakes, salads, eggs benedict, cereals, yogurt, sandwiches and burgers. These are served alongside natural juices and cocktails. 
They even infuse some of their dishes with alcohol, like their eggs benedict which is infused with pink lemonade and vodka! 
You can reserve a table via email or just walk in! Just make sure you get there early as it does get busy. They are open all week 10am- 5pm!
Elflako Barcelona: Cereal with a twist…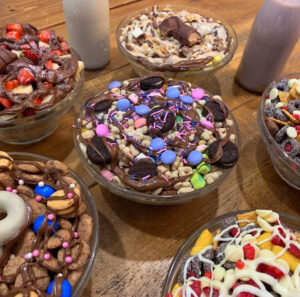 For those cereal addicts, Elflako is a must, serving smoothie bowls full with granola, fruit, chia seeds and coconut shavings. They serve bowls of cereal topped with sweet sauces, snacks and biscuits, and pancakes topped with your favourite flavour cereal, ice cream, chocolates and fruit. They even have giant freakshakes topped with donuts, crushed biscuits, cream and different sauces! 
For those of you with a love for cereal and all things sweet, make sure to stop at Elflako in El Born for all your breakfast needs, open Tuesday's to Sunday's, during the morning and during the evening.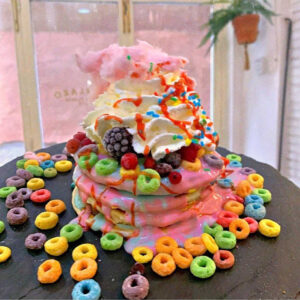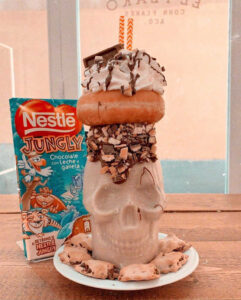 The Egg Lab: For those egg lovers! 
In the beautiful San Antoni, open 9am- 4pm weekly, you'll find the Egg Lab, with the ultimate brunch experience. They serve eggs in all different shapes and sizes! They serve eggs in burgers with meats such as bacon, beef, salmon and chicken. 
The incredible egg lab is a must go for those egg lovers, serving your eggs scrambled, poached, benedict, or sunny side up.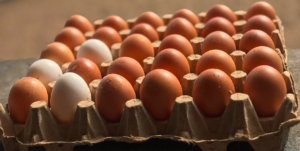 They also serve 'surfing USA', 'Norway classics' and 'China Towns' as well as pancakes and french toast, served with mimosas, bloody mary's or fresh juice! You can book online or walk in at any time during the day that suits you. 
Alsur Café and back door bar: The hip and trendy el Born café with a secret bar…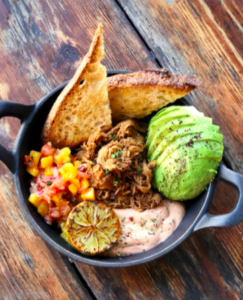 In El Born you can also find the hip and trendy Alsur café which serves waffles, savoury and sweet pancakes, 'epic eggs', 'epic bowls' (which involve frozen smoothies filled with granola and fruit!), as well as 'epic' burgers and sandwiches.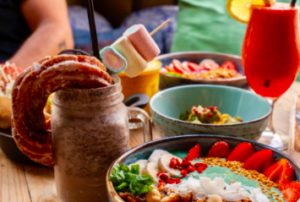 Their eggs benedict is renowned for being amazing, and their portions are huge, so be sure to prepare yourself and your stomach! You can reserve a table via their website. They're open 9am- 11pm weekly, and be sure to take a visit to their back door bar serving the finest cocktails.
Lady Amaro: For those who want a lighter lunch and an alcoholic beverage!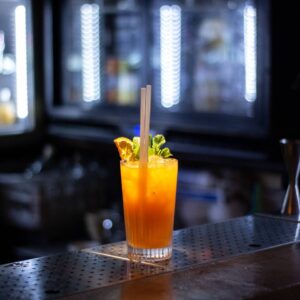 In Eixample, you can find the Lady Amaro, open from Wednesdays to Sundays. This place is perfect for veggies, serving everything from their 'healthy lady' to their 'not so healthy lady'. Their 'healthy lady' includes salads filled with quinoa, veggies and cheeses. They also serve burritos and eggs benedict with salmon. 
Lady Amaro is the perfect place for a bit of a lighter brunch and a sneaky drink; serving gin infused iced teas, white wines filled with fruit, and coffees with rum! Their Lady Amaro cocktail is also a must, inspired by roses and red fruit. You can reserve a table or just walk in! 
Caravelle: For our vegan friends 
In El Raval, you can find 'Caravelle', this small and trendy spot offers some of the best savoury vegan and veggie options, as well as meaty ones!
They serve tofu scrambles, with halloumi and vegan chorizo, pork eggs benedict, veggie eggs benedicts and traditional rancheros; with frijoles, tortillas, guac, pico de gallo and more! 
Caravelle also own their own brewery, giving you the opportunity to choose your favourite beers, served especially to suit the local lifestyle of the sun, sea and city.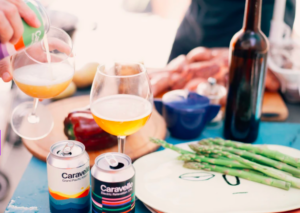 They don't take reservations so feel free to walk in for a table whenever it suits you! For those struggling to find some more good vegan places, check out our take on the 10 most delicious vegan spots in Barcelona.
Gabbys BCN: For those with a sweet tooth! 
If you've got a sweet tooth, Gabby's, in Poble Nou, is the place for you. Their menu contains sweet specialities such as healthy smoothie bowls, suitable for vegans. If you're an açai bowl lover, our blog on açai bowls gives you an insight into the best places to find these in Barcelona. 
They also serve French toast with caramelised banana, salted caramel and candied hazelnuts, and you must try their incredible pancake choco ball; which includes an entire stack of pancakes smothered in chocolate sauce, blueberry compote and a giant chocolate ball filled with coffee ice cream. 
They also have various savoury options to choose from, such as their kimchi waffles or asian bowls (filled with rice, salmon, fresh avocado and more!). 
Gabby's serves their dishes alongside cocktails, juices or the finest speciality coffee from Brazil. If you're visiting Bogatell beach, Gabby's is the perfect place for a bite.