Year in and year out, Barcelona is one of the most popular destinations in the world for people coming to study, whether that be for Erasmus, or to complete a full degree course here. With beaches, nightlife, and culture, it's a destination that ticks all the boxes for students looking to have fun.
Although Barcelona is not the biggest city in Spain, its neighbourhoods each have their own unique character and personality. If you're studying in Barcelona and wondering where to live, read on for our guide on the best neighbourhoods for students to live in when coming to study in the Catalan capital!
Gràcia: to have an authentic, bohemian experience of Barcelona
Once an entirely separate town to Barcelona, until the creation of the Eixample district joined Gràcia onto the city, this neighbourhood still retains its authentic, village feel. Gràcia is full of quirky, independent shops selling sustainable fashion, vintage clothes, and delicious local produce.
In Gràcia you can also find some of the best squares and terraces to enjoy a drink and some tapas in the sun. The area is best known for its annual neighbourhood festival, Festa Major de Gràcia, which will next take place in August 2022, where streets compete for the prize of 'best decorated' and the neighbourhood comes alive with hundreds of events, including workshops, activities and concerts for everyone to enjoy.
Gràcia is a fantastic area for students wanting a lively and authentic experience of Barcelona. If it sounds like the neighbourhood for you, here's a selection of AB Apartment Barcelona rentals in Gràcia.
Universities in Gràcia: IED Barcelona, INSA School for Business, Marketing & Communication
Eixample: to be in the centre of it all
Barcelona's largest and best-known district, Eixample, is another haven for students descending onto the city. Recognisable for its iconic grid-layout, famous landmarks and vibrant nightlife, Eixample is an unforgettable place to stay. It's a safe option if you're a student and undecided on where to live, as it's centrally located, with lots to do, and well-connected to the rest of the city.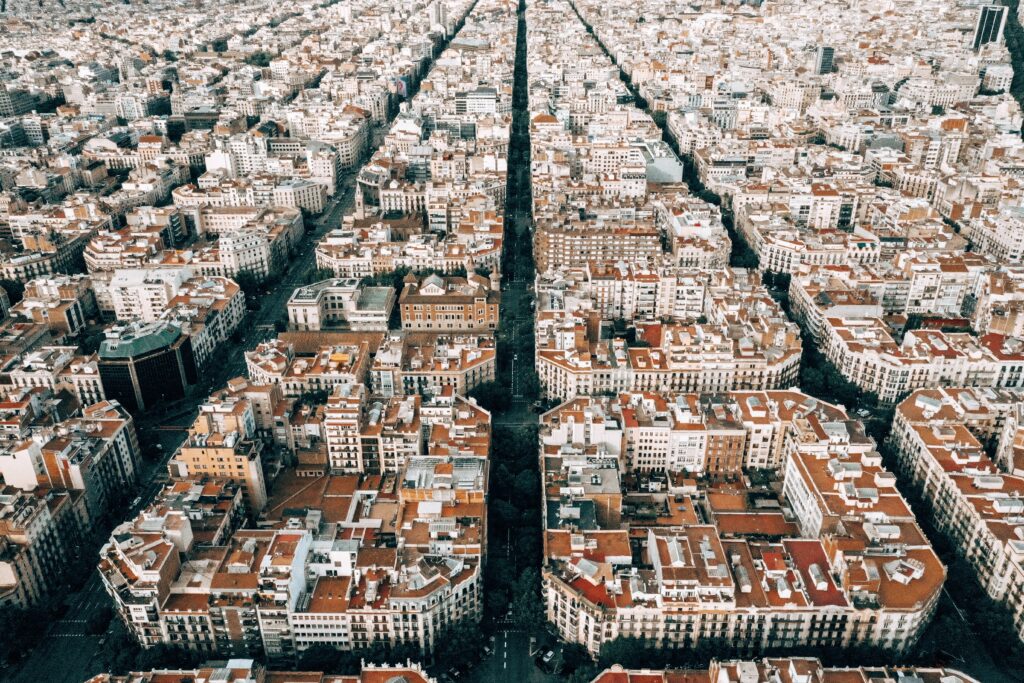 Eixample is a district that contains various neighbourhoods: Eixample Derecho, Eixample Izquierdo, Sagrada Familia, Sant Antoni and Fort Pienc. It's a vastly large area, so we'd narrow it down to these neighbourhoods as being the best for students:
Quite a touristic area due to Gaudí's Sagrada Familia standing tall in this neighbourhood, but full of cafés and rooftop terraces to grab a drink with friends.
This neighbourhood is not the first neighbourhood to spring to mind, but it's one you really need to consider as a student. Sant Antoni is trendy and lively, a local's favourite to head out for a vermut with friends.
Voted the number 1 coolest neighbourhood in the world by Time Out magazine! Eixample Izquierdo earned this title thanks to its fun atmosphere, community spirit and excellent independent shops and restaurants.
Universities in Eixample: University of Barcelona, EAE Business School, EADA Business School, Toulouse Business School.
El Born: to feel close to everything
El Born is a neighbourhood that is close to everything you could want in Barcelona. From here you are just 15 minutes' walk from Barceloneta beach, close to the high-street shops surrounding Plaça Catalunya and Passeig de Gràcia, nearby nature in the Parc de la Ciutadella, and much more.
Sant Pere, Santa Caterina i la Ribera is the official name for this area but has come to simply be known as 'El Born'. The neighbourhood itself also retains a beautiful, traditional charm, giving you the opportunity to live in some of the oldest buildings in Barcelona, but in apartments that have been newly renovated inside.
It's also being a great place to hang out with friends, as El Born is home to countless excellent restaurants and bars. There's always a buzz of life and activity in the El Born neighbourhood from morning to night, so perfect if you're somebody that enjoys the opportunity to socialise and feel part of a community.
Universities in El Born: although El born does not have any university campuses based in the neighbourhood, it is well connected to all the main universities of the city.
Les Corts: to be in the university district
The university area of Barcelona (Zona Universitària) is found within the Les Corts district. This area is found on both sides of the Avinguda Diagonal and is a peaceful and quiet area despite being popular with students.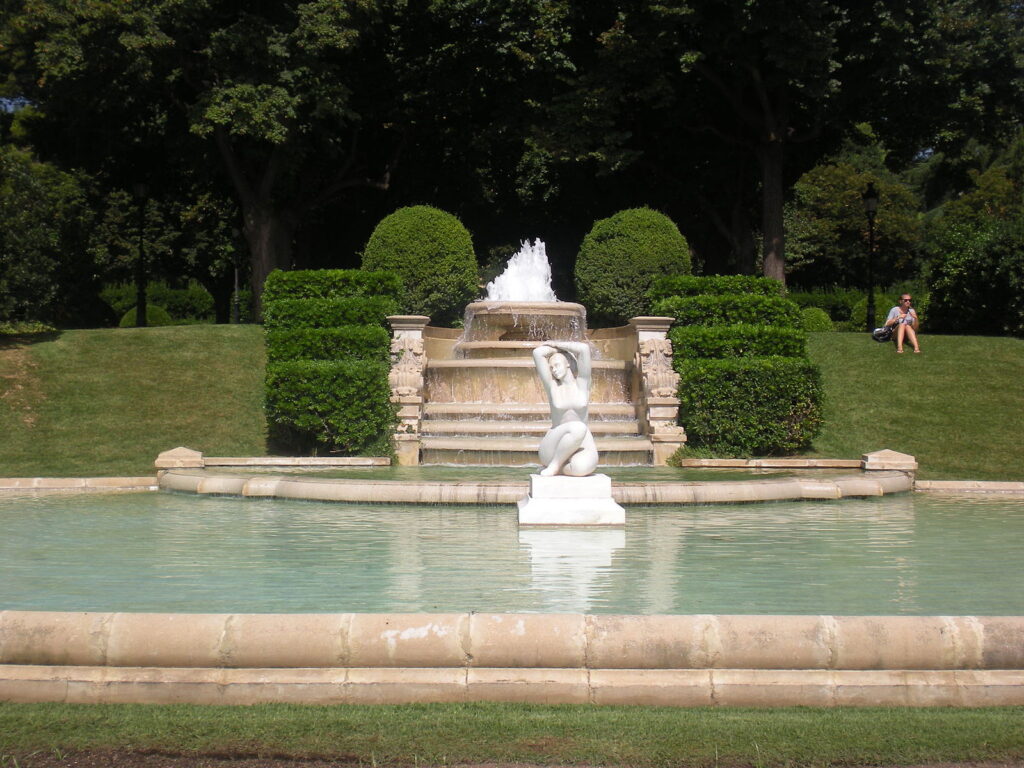 Les Corts has beautiful parks, such as the Pedralbes Park, which is ideal for a relaxing walk for a study break but is also the location of one of Barcelona's most famous music festivals, Festival de Pedralbes. For shopping and a bite to eat in restaurants, being located by Avinguda Diagonal gives you a wealth of options to choose from.
This neighbourhood has both modern and more traditional sides to it. If you choose an apartment near the Avinguda Diagonal, the blocks are more modern as well as being close to shopping malls, such as L'illa Diagonal, and a large Corte Inglés department store. For football fans, the iconic Camp Nou also takes its home in Les Corts!
Universities in Les Corts: ESADE, EU Business School, IESE Business School, UPC, University of Barcelona Law Faculty.
Gothic Quarter: for winding streets, history and culture
Another wonderful part of the Ciutat Vella (Old Town) of Barcelona, this neighbourhood is home to some of the city's oldest buildings and magnificent architecture. Here you can find the Barcelona Cathedral, the Santa María del Pi, as well as the Plaça Sant Jaume where the Palace and Generalitat of Catalonia take their home.
There are many open squares in Gothic Quarter to sit and enjoy a drink with friends, and you'll always see young students buzzing about in this neighbourhood. The most famous square in Gothic is the Plaça Reial, lined with bars, restaurants and a few popular nightclubs with students.
The new combines with the old in the Gothic Quarter, and against the backdrop of the ancient roman walls, you can find quirky, independent stores and vegan food places. It's an area with a lot of life and you could never be bored here.
Universities in Gothic Quarter: Pompeu Fabra University, Elisava Design and Engineering University of Barcelona
Barceloneta: to enjoy sun, sea and sand every day!
The dream neighbourhood for anybody coming to Barcelona for the beautiful beaches! Barceloneta is the city's beach neighbourhood positioned next to the three beaches of Barceloneta, Sant Sebastià and Somorrostro. Be the first person to arrive at the beach and the last person to leave living just a few minutes' walk away in Barceloneta.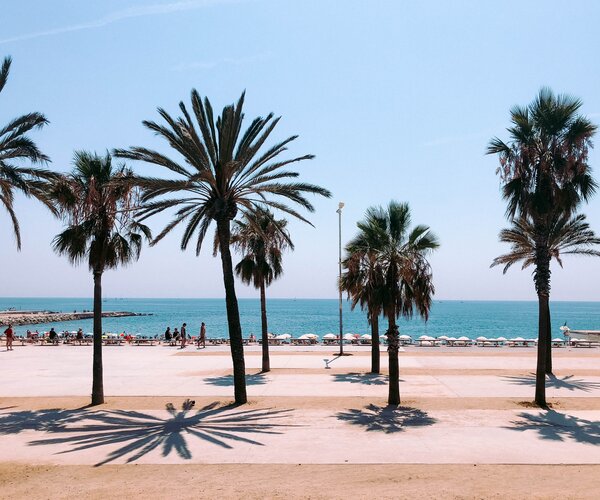 Spend a chilled-out day at the beach, sunbathing and playing volleyball, then by night head to some of the most popular nightclubs in Barcelona that are in Barceloneta. Shoko, Pacha and Opium are frequented by students and young adults looking to party in Barcelona!
Renting an apartment in Barceloneta has lots of benefits, you can easily find an apartment with a balcony looking out to sea to admire the sunsets.
Universities in Barceloneta: Pompeu Fabra Campus de Mar, Barcelona Nautical Faculty
If you feel more decided on the neighbourhood that you would most like to stay in during your studies in Barcelona, we're happy to help find your ideal apartment! At AB Apartment Barcelona we have hundreds of apartments all over the city that can cater to your specific needs, in the best neighbourhood for you. Search our website to browse our apartments by location or contact our friendly team who are available 24/7 to answer any queries you may have.