Last updated: November 2017
Tapas, tapas, tapas! Everywhere you look you'll find tapas bars in Barcelona, and it's essential to visit a few while you are in the city. Yet a simple search on Google won't help you too much in trying to choose a fresh and authentic tapas bar as there are just too many to choose from. So, we've come up with a short guide to the 20 best tapas bars in Barcelona, found in every corner of the city, ranging from traditional to unique fusions, cheap to gourmet. We've even included some top tapas joints where you can try these tasty, bite-sized snacks for free!
1 Ziryab offer a unique fusion of Catalan and Arabian tapas, from creamy spinach dips to Serrano halloumi sticks. International wines, shisha pipes and live acoustic music sets the mood here.
C/ de Grunyi, 4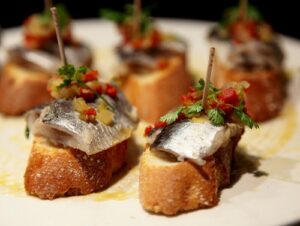 2 Sagardi serve tapas typical in the north of Spain along with pintxos. Pintxos are assorted tapas piled on a slice of bread and held in place with a cocktail stick. They come in all sorts of varieties and usually range in price from 1-3€.
C/ Avenida Diagonal, 3
3 La Bodegueta serves amazing wine along with traditional tapas like olives, tortillas de patatas, sausages, and cheese. This place has a heavy student crowd mixed in with locals so it's a great place to meet people and practice Spanish or Catalan over some delicious food.
Rambla de Catalunya, 100
4 El Xampanyet gets very crowded with the locals in the evening due to its delicious tapas and exceptional champagne and cava. Located near the Picasso Museum, the best seller in this Barcelona tapas bar is the canned seafood. Yum!
C/ Montcada, 22
5 Atrapatapa is a tapas bar that holds the tradition of southern Spain by serving free tapas with your purchase of a drink. You can get out of here pretty cheaply, drinks are not expensive, and you usually have about 15 different tapas to choose from.
C/ Comte d'Urgell, 77
6 Quimet i Quimet is unique because the tapas are not fried and the chef is known to choose your tapas for you based on what drink you order. The walls are lined with wine bottles from around the world and there is an incomparable beer selection, so this tapas bar in Barcelona truly feels like a bar.
C/ Poeta Cabanyes, 25
7 Cava Mar is a beautiful beach side tapas bar that was recognized for the "Best Tapas" at the 2012 Festival de Tapes de Barcelona. They serve tapas along with larger dishes and delicious, bubbly cava.
C/ Vila Joiosa, 52
8 Bar Mingus is a well kept secret in the Gothic Quarter serving free tapas with every drink. With skateboards hanging from the walls and portraits of famous musicians, this bar attracts quiet an eclectic crowd. Tip: try the amazing meatballs.
C/ Ataülf, 6
9 Nou Candanchu is in the bohemian neighborhood of Gràcia and is known to locals and visitors for serving delicious tapas featuring fish.  This is a great place in Vila de Gràcia square to go and experience the traditional flavor of Spain and Catalonia.
Plaça de la Vila de Gràcia, 9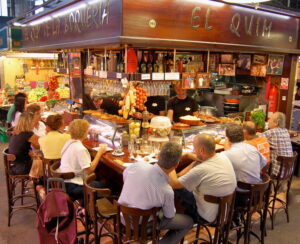 10 El Quim de la Boqueria is located inside the famous La Boqueria market, which relieves some of the pressure of trying to navigate the market. You can grab a stool and examine your surroundings while the chef whips up the most beloved Catalan tapas.
Mercat de La Boqueria, Las Ramblas
11 Ce'l Chusco in Barceloneta serves free tapas with every drink, so if you are lucky you will get to taste the delicious 'bombas' (potato balls, usually stuffed with meat or cheese). You also can order larger portions if you are feeling extra hungry.
C/ de l'Almirall Aixada, 5
12 Tapes Gaudí is near the Sagrada Familia and decorated accordingly in traditional Gaudí style with mosaic tiles and vibrant colors, and serving traditional Spanish tapas. This is a great place to stop after visiting Gaudí's masterpiece.
Avinguda de Gaudí, 442
13 Cervecería de Dues is another tapas bar in Gràcia that offers free snacks with the purchase of drinks. There is also an early bird special, meaning you can get beers for as little as 1€ if you arrive before 7pm.
C/ Torrent de l'Olla, 89
14 Tasca el Corral in the Gothic Quarter has an 'olde worlde', rustic atmosphere with dim lighting and Iberian ham hanging from the ceiling. Best known for their amazing meats, this is a great place to stop for those with a 'jamón' craving.
C/ Mercè, 17
15 Txapela offers a grand assortment of pintxos. This is a great Barcelona tapas bar to stop when you are losing your energy to shop on Passeig de Gràcia. They make it easy for you here by offering a picture menu so you can just point to what makes your tummy rumble the most.
Passeig de Gràcia, 58
16 Pappa e Citti serves tapas on the house with drinks ordered from 6-9pm. Drinks are pretty cheap here, ranging from 1.80€ – 5€. This is the perfect place in Gràcia to start your night out with friends, grab a cheap drink, a free tapa, and enjoy your time in Barcelona.
C/ l'Encarnació, 38
17 Jai-Ca is in Barceloneta near the beach. As you would imagine, they serve amazing seafood tapas, so be sure to try the pescadito frito (little fried fish) for a real taste of the sea.
Carrer Ginebra, 13
18 Cervecería Ciudad Condal, near Plaça Catalunya, display their Catalan tapas along the bar where you can get a mouth watering look at what you are about to indulge in. They also offer an extensive beer list. Tip: arrive early as queues can get pretty big.
Rambla de Catalunya, 18
19 El Jabalí serves cheap and delicious traditional tapas along with good wine. You can grab a seat on the terrace and enjoy your croquettes while you watch the world go by.
Ronda Sant Pau, 15
20 Ambient del Sur is another great bar that will serve free tapas with the purchase of a drink. We recommend their famous 'tortilla de patatas', offered every day except Tuesdays and Thursdays.
C/ Viladomat, 85
Have another tapas bar to add to the list? Drop us a comment below!