Barcelona is a fantastic place to visit as a family, with so much to see and do for any age range. The beauty of Barcelona is that it not only has a wealth of activities and attractions in the city itself, but that it has an enviable location on the beautiful coast of Catalonia.
Within an hour, you can visit a plethora of quaint seaside villages, charming hamlets, secluded beaches, and even full theme parks! There's an endless list of places we could recommend visiting for the day while you're staying in the city, but we've narrowed it down to our best recommendations for family-friendly day trips from Barcelona:
Montserrat
The Montserrat mountain is a breathtaking spot around 50 km northwest of Barcelona, perfect for hiking and some history. Its name means 'serrated mountain' due to its jagged peaks, and is a sacred, religious place due to the stunning monastery that takes its home here.
Kids will love riding the cremallera (zip train) and funicular to reach the top of the mountain, which offers some truly exceptional views out onto the countryside of Catalonia. Once at the top you can explore the courtyard and monastery itself, and head out onto the mountain to explore on a walk. Some of the areas can be steep without fencing, so perhaps is a better one for bigger kids, or just remember to bring your harness for little ones!
How to get there: take the R5 train from Plaça Espanya to Aeri de Montserrat which takes approximately one hour, then from here hop onto the cable car to the top!
Sitges
For those with kids that love nothing more than a splash around in the sea, Sitges is the place for you! It is an old fishing village that has transformed into an upscale seaside resort, known for its stunning beaches and quaint town.
Spend the day on the beach and fuel up on some delicious food at one of the town's many fantastic restaurants and cafés. There are some great sights to see too, such as the Parròquia de Sant Bartomeu I Santa Tecla church, and the Racó de la Calma, an alleyway by the sea with beautiful architecture. It's no hidden gem however, during the summer months there are lots of visitors, so be sure to head early to park up on the beach!
How to get there: It takes just under an hour to drive to Sitges from Barcelona, or you can hop on the train which only takes 30 minutes.
PortAventura
For kids who want an adrenaline rush on exciting rides, take them to PortAventura Theme Park for the day! Found in Salou, just around an hour away from Barcelona, the park has a wide range of thrilling attractions that are perfect for kids and adults alike.
The park is split into different themed zones, with something new to experience around every corner. Visit the four corners of the globe as you pass from the Mediterranean to Polynesia, China to Mexico, a feast for the eyes and senses. There is also the Caribe Aquatic Park with 17 different rides and a wave machine, we're sure this is one that the kids will be begging to come back to again!
How to get there: by car PortAventura is just over an hour's journey, and just over an hour and a half by train from Barcelona Sants station.
Girona
Girona is a beautiful, medieval city found to the north of Barcelona, located between the Pyrenean Mountains and the Costa Brava. It's a small city but it is bursting with history and charm, there is a 600-year-old Cathedral which is a must-visit, and the Cases de l'Onyar, which are a stretch of postcard-perfect, brightly coloured houses along the river Onyar.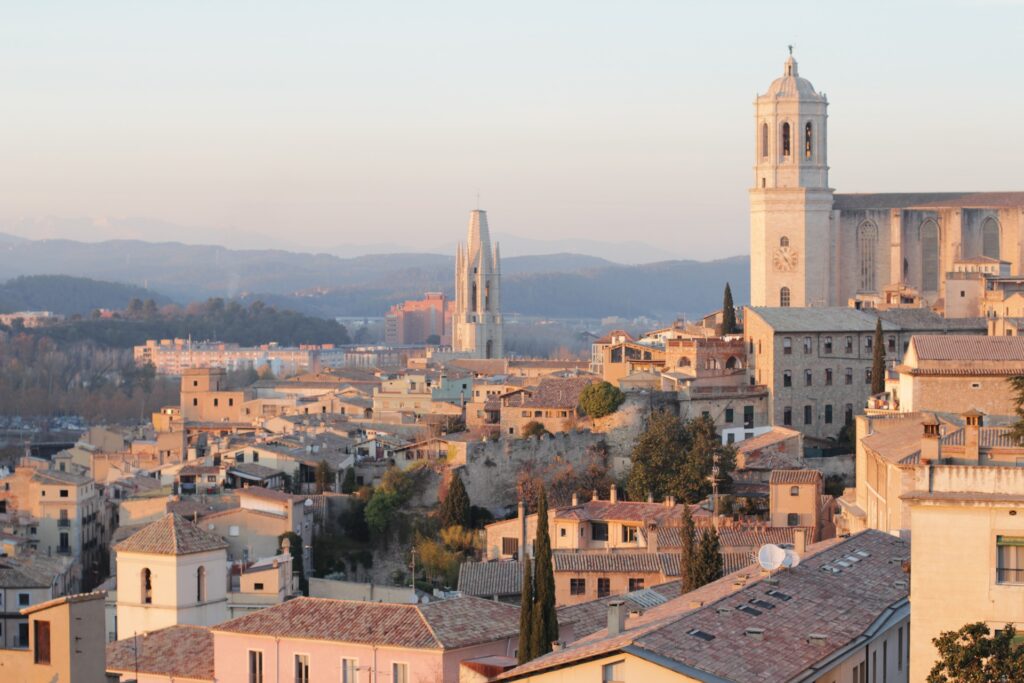 Kids will love exploring the city's walls and medieval streets, but we would recommend that if you are coming with a baby to wear them in a baby strap as some of the old, cobbled streets can be difficult for prams!
How to get there: it is only 40 minutes by train to Girona, or by car 1 hour 20 minutes.
Tarragona
Tarragona is one of the oldest Roman cities, dating all the way back to the 5th century BC! The town has a stunning stretch of beach, that will leave you wanting to pass the whole day together basking in the sun and taking a dip in the turquoise blue sea.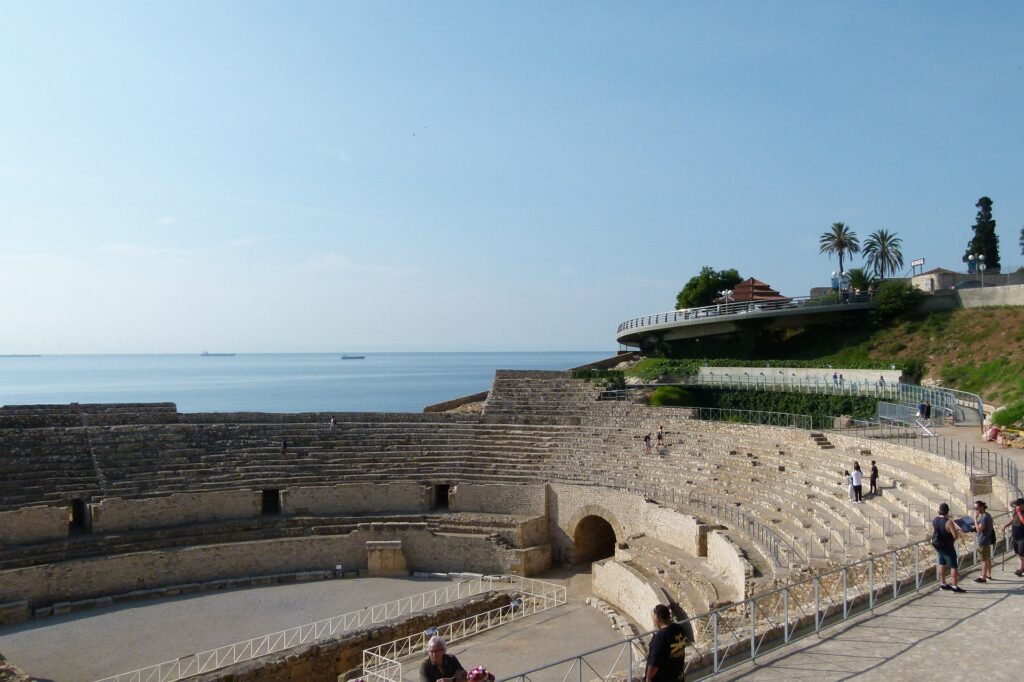 For a bit more exploring if the kids don't want to spend the whole day on the beach, we recommend going to visit the Roman Amphitheatre, which was built around 2nd century BC and still stands in good condition today! It could hold over 15,000 spectators, who would go to watch chariot racing, gladiator fights and theatre performances.
How to get there: by car Tarragona is just over an hour from Barcelona, and by train it is roughly the same length of time too.  
If you are looking for somewhere to stay with the family on your visit to Barcelona, AB Apartment Barcelona has you covered. We have many apartments available to rent that are suitable for families to stay, with all the amenities and space you and the kids could need. Just visit our website to search for the perfect apartment for you or contact our friendly team who will be more than happy to help in any way possible.