Here at AB Apartment Barcelona, we think visiting the city can be fun all year round, so we've created a brief whistle stop guide to some of our favourite things to do in all four seasons…
Spring, Summer, Winter, Autumn? Barcelona is the best place to come, whatever the season.
Summer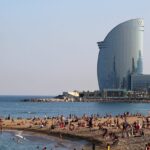 Summer is by far the most popular time to visit Barcelona, so don't be surprised if you see people from all over the world during your stay!
Here's what you can do when the glorious mediterranean sun is shining…
• Cool down on one of Barcelona's many beaches
• Rent a bike and cycle along the city's coast line
• Go to a one of the city's Festes Majores (free neighbourhood street parties)
• Play volleyball on Barceloneta or Bogatell beach
• Listen to live music at an outdoor concert
• Visit places outside of Barcelona
Autumn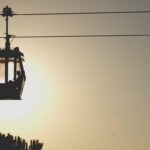 It's still warm in Barcelona in Autumn, but watch out, the temperature might suddenly drop during your time here! The chance to sunbathe is sadly over, but there are so many other things to do in the city…
• Go to La Mercé, Barcelona's biggest street festival that coincidentally celebrates the end of summer!
• Visit Sitges annual film festival and watch the very best up and coming films in the horror and fantasy genre
• Attend Salón Náutico, Barcelona's famous sailing festival
• Celebrate La Castanyada (Catalonia's answer to Halloween) and eat warm chestnuts and other local delicacies
• Take a day trip to Mount Tibidabo and experience some of the best views of the city
• Dance to Jazz music at the VOLL-DAMM International Jazz Music Festival
• Visit the magic fountain show at Monjtuic
Winter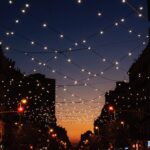 Despite many believing that Barcelona is only fun in the summer, winter is actually one of the best seasons to visit the Catalan capital. There's less tourists and you can really experience the local side to the city.
Why don't you…
• Visit the Christmas markets
• Go Ice Skating in the city's pop up rinks
• Take a stroll down the main avenues and see the streets lit up with Christmas decorations
• Warm up with some churros and hot chocolate
• Go skiing in the Pyrenees Mountains
• Visit Sitges Carnval in February
Spring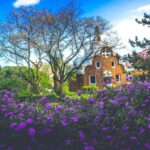 After a chilly winter, Barcelona starts to warm up again in spring. This is also a good season to visit the city as there are fewer tourists than in the coming months and the weather is not too hot!
Here are some ideas of things to do in Barcelona in the spring…
• Celebrate Semana Santa (Easter in the city)
• Go for a picnic in Parc de la Ciutadella
• Hire boats and row around Parc de la Ciutadella's lake
• Party hard at Primavera Sound music festival
• Visit museums for free in May's event 'Night of the Museum'
• Attend DOCS Barcelona, a film festival celebrating the documentary genre with professional masterclasses and open table events with esteemed directors.
If you're planning your trip to the city in any of the four seasons, don't forget to book in advance for the best deals on tickets, flights, and apartments.