While exercising may not be your top priority during your stay in Barcelona, there are plenty of options for exercising in the city that are easy, and actually quite fun! Running, cycling, and swimming are all widely accessible in Barcelona, as well as many private gyms and exercise classes.
Barcelona is also a very walkable city, so it's really easy to stay fit just by walking around! But aside from walking, here's how we like to exercise in the city…
Running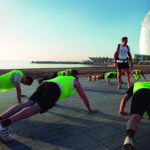 Barcelona's beaches and parks provide some of the most beautiful views you can experience while going for a jog. In the summer months, the weather is warmer, and you may want to go early in the morning or after sunset to avoid the heat.
Barceloneta's board walk provides a comfortable terrain for runs along the beach. This beach also has a street workout park (if you don't mind exercising out in the open) where you can join bodybuilders doing pullups, pushups, and other exercises.
If you are looking for a more challenging terrain, head over to Tibidabo, in Collserola Park, to run on the mountain trails. Collserolla Park is made up of the mountains between the Besòs and Llobregat rivers and is an excellent spot to exercise.
Hiking
Tibidabo and Montjuic are also excellent for hiking. You can easily spend a day up in the mountains but remember to bring water and a snack with you as shops up there are usually scarce!
Workout apps can help you track your run or hike, and even give you some suggestions for exercises that can be done without exercise equipment. Why not download some before your stay in the city?
Swimming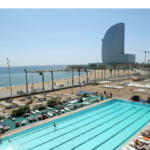 While at the beach, you can also go for a swim to beat the heat and burn some calories. Barceloneta can sometimes be crowded with tourists, so head over to Nova Icaria Beach or Ocata Beach to enjoy the waves.
Some gyms in Barcelona also have private pools, where you can do laps or take water aerobics classes.
Cycling
Cycling is one of the most popular ways to get around the city, and Barcelona has been built specifically with bike users in mind. Many businesses offer bike rentals to tourists, either for the day or at an hourly rate.
Barcelona also offers a city bike system called Bicing for city residents, so if you're staying for more than a few months, it may be worth it to join. A membership is 47 euros for the year, which includes unlimited 30-minute rides. A small fee is charged for longer rides, but it's still affordable.
Bike tours are also an easy and fun way to make the most of your time here as you can stay fit but also do a bit of sightseeing at the same time!
Gyms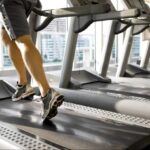 If your stay is over a month, many gyms in Barcelona offer deals on multi-month packages. Search around your neighbourhood for discounts and look for gyms with classes included.
Pilates and yoga classes are popular in the city: two great ways to exercise your core while also relaxing your mind.
If you're staying for a shorter time, or just don't want to spend money on a gym membership, you can also join one of the many meet-up exercise groups that can be found by searching online.
Membership often costs as little as 5 euros (and sometimes it's even free) and you can find groups that speak your own language, or instead ones that speak a language you want to learn!
Local Sports
Skateboarding in Barcelona is similar to cycling, with many locals utilising the city's skate parks and the beach boardwalk to skate and get around. Ping pong in public parks is also a fun activity, so search for tables for a game.
Football is also a popular sport with the locals, and there are many places where you can join a league or even just play a quick game. If watching football is more your thing, you can catch a Barça game at Camp Nou.
As for unconventional exercise, dancing (or partying) can actually have many health and wellness benefits, and there are many clubs along the beach in Barcelona where you can dance all night and get fit while you're at it… we've written about them here.
So whatever your style is, there's something for you in Barcelona, you just have to find it!