Originating from the Basque country but extremely popular in Barcelona, Pintxos (pronounced "Pin-Choss") directly translates to small snack. But beware, they're different to tapas. Unlike tapas which come in a range of styles, the concept of Pintxos is pretty simple. It's bread with a topping.
You're not convinced, but hold on! Pintxos are true works of art! Toppings can vary from anything as basic as Iberico ham, to black pudding and a fried egg. We've even found one place that serves oreo cookies on their Pintxos…
Trying Pintxos is a must on your stay here in Barcelona, if not only for the buzzing ambiance of the local Pintxos bars. To help you out, we've written a guide to our top five favourite places to eat Pintxos in the city.
But first, how do Pintxos work?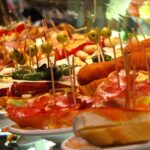 Pintxos are more than just finger food; they're held together with cocktail sticks. And at the end of the meal you pay for your sticks. It's a simple but surprisingly impressive concept.
They also come with every topping possible. Meat, fish, vegetables, you name it. If you can eat it with your fingers, you can stick it on a Pintxo.
Where to eat Pintxos in Barcelona
El Pintxo de Petritxol
Right in the centre of the city lies this cosy restaurant which serves Pintxos with authentic toppings straight from Basque cuisine. The Pintxos here are traditional and delicious, and range from only €1.95- €3.50, meaning you can eat cheap and tasty. They serve them both hot and cold, as well as a few tapas, which means you can finally understand the difference between the two.
Carrer de Petritxol, 9
Metro: Liceu (L3)
Anardi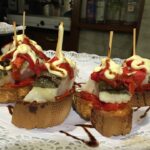 Located in the Raval neighbourhood, Anardi is a casual yet stylish place to eat Pintxos. They offer a wide range of Pintxos at a low price. We also recommend the super friendly service at Anardi, which adds to its cosy atmosphere.
Carrer del Parlament, 48
Metro: Sant Antoni (L2)
Maitea
As well as offering over 100 different hot and cold Pintxos, the owner's very own mother is Maitea's chef. The restaurant offers a mix of Basque and Catalan dishes as well as an atmosphere that will make you view Maitea as a home from home. You're in safe hands here as Maitea also means 'love' in Basque.
Carrer de Casanova, 155
Metro: Hospital Clínic (L5)
La Tasqueta de Blai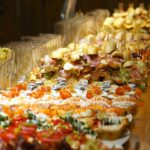 La Tasqueta de Blai started out as a local but small Pintxos bar, but thanks to its superb Pintxos, it's grown in fame ever since. Every half an hour they put out a new selection of Pintxos, varying what they offer each night! There's a full list of all their Pintxos on their website here so you can even start choosing your favourite Pintxos before you go!
Carrer de Blai, 17
Metro: Paral·lel (L2/L3)
Els Pinxus
Our last but certainly not least pick of Pintxos restaurants is Els Pinxus. This restaurant has a chef with a history of working in Michelin-starred restaurants so his Pintxos are not just Pintxos, but artistic creations. It's a bit pricier than our other favourites, but believe us when we say you won't want to miss tasting these tiny bites!
Carrer de Marià Cubí, 81
Metro: Fontana (L3)
So go on, get Pintxos tasting! Just don't forget to keep the sticks! If you think you'll stick to tapas next time, read our post about our favourite tapas restaurants here.