Although Spain is known for its coffee obsession- Barcelona is currently in its third wave coffee scene with an expanse of independent coffee houses, roasteries and caffeine themed events- the city is also home to a few special tea sites.
Here at AB, we don't think you can beat a steaming cuppa or a builder's brew, so we've compiled a list of our favourite places to drink tea in the city.
Miss Perkins Tea Room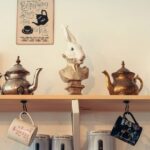 Are you looking for an authentic British tea drinking experiece? If so, head to Miss Perkins Tea Room in Sants neighbourhood. At Miss Perkins, they offer a variety of teas from the regular British brew, to more exotic flavours such as strawberry, mango and peach, and even mint chocolate.
They also offer tea lovers a mouthwatering array of fresh cakes and biscuits, cooked from scratch in Miss Perkins' kitchen and inspired by traditional English recipes. From 16:30- 20:30 there is also a Merienda deal where you can enjoy tea and cake for as little as €4…
Miss Perkins Tea Room has been described as a little piece of London, with a decor not too dissimilar to that from Lewis Carroll's Alice in Wonderland. And it's one rabbit hole we wouldn't mind falling down…
Our recommendation: Afternoon Tea (€10 per person) – a tantilising spread of mini crumpets, mini scones, sandwiches, biscuits and cakes, and unlimited tea. Booking required.
Rambla Brasil, 24
Metro: Badal (L5)
Čaj Chai
Čaj Chai takes its inspiration from the other side of the world, in Prague, Czech Republic. This city is home to bohemian tea rooms known as čajovny or čaj for short, and the decor and overall feel of Čaj Chai has most definitely been inspired by the Czech originals.
Čaj Chai is probably the most famous tea house in Barcelona and has been praised for its extraordinary calming atmosphere and unusual tranquility. It's the perfect place to escape the hustle and bustle of city life.
The staff at Čaj Chai are experts in the tea field, and will personally recommend the perfect tea for their guests. When you have found your perfect match, you can even buy the loose tea leaves to take home with you and enjoy the next day.
Our recommendation: Every month Čaj Chai hold a Tea & Sound Experience with Sonando (a group who play music using Tibetan bowls and guitars) to create a purely mesmerising meditative space. This unique experience can't be missed.
Calle Sant Domenec Del Call, 12
Metro: Jaume 1 (L4)
Sienté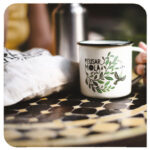 Situated in Clot, Sienté looks like an ordinary tea shop from the outside. It isn't until you venture into the shop and go up to the second floor that you discover Sienté's best kept secret: a hidden tea room.
Due to its hidden location, the tea room here is quiet and a great place to relax. There's books, newspapers, and free wifi, making it the perfect place to study or just escape the world for a couple of hours. They also serve all of the teas from the shop below, as well as a range of biscuits and cakes that are all homemade.
Sienté was started by brother and sister Anna and Dani. Anna is in charge of Sienté's image and online presence, whereas Dani focuses his work more on Sienté's herbal products. Along with their two canine helpers Inca and Menta, this small team has helped a family vision truly come to life.
Calle Rogent, 96
Metro: Clot (L1/L2)
Salterio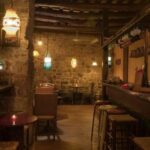 As well as offering a fine selection of meals and snacks, Salterio is a self-professed tea house, hidden in the back streets of the city's Gothic Quarter. The tea house reminds us of a Northern African coffee house and it has an Arabian feel which makes you think that you've ventured into another land for a short while.
As well as tea, Salterio is famous for its sardos (tortillas filled with either sweet or savory toppings.) It is also host to regular live music performances in the corner of its team room!
Although slightly verging more on a restaurant than a café, Salterio is a great spot to get lost in and enjoy an entirely different atmosphere to the city outside.
Our recommendation: Salterio's authentic Moroccan mint tea
Carrer Sant Domenec del Call, 4
Metro: Jaume 1 (L4)
La Teteria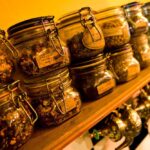 La Teteria, also known as La Clandestina, is the perfect place to kick back with friends and a large cup of tea. Its interior is eclectic and cosy, and the menu covers far more than just your average cuppa.
La Teteria is home to an abundance of exotic teas, and sells some of the most popular flavours from countries such as India, Sri Lanka, Morroco, China, Japan, and many more. They've got Rooibos tea, Gunpowder Green tea, Vanilla tea, and even Fruit Salad tea, just to name a few. If you want to see their full tea menu, you can click here.
Aside from tea, La Teteria also makes delicious fruit and veg juices, and milkshakes. They also offer guests a wide range of homemade cakes, vegan pastries, and their *famous* chocolate cookies that are guaranteed to make you drool!
Baixada de Viladecols, 2
Metro: Barceloneta (L4)
So go on, stick the kettle on! There's never a wrong time for a cup of tea…
Still need a stronger caffeine fix? Read our post about our favourite places to grab coffee in the city.