After the success of our Chocoholics Guide to Barcelona we thought we would dedicate a post to another one of the most recognised gourmet groups, cheese lovers. And why not? In 2013 alone, the exportation of Spanish cheese increased by roughly 32%!
Cheese is a staple part of the Spanish diet, and ours too. So we're proud to present to you our own special guide to all the best cheese delicatessens in the city…But brie careful, once you've visited these grate places, it might be hard to leave without feeling bleu!
Vila Viniteca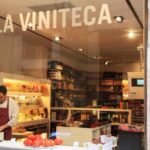 Vila Viniteca offers an impressive selection of 350 different handcrafted cheeses, which are available to sample in their tasting area, along with a refreshing glass of wine. A lot of the cheese is made locally in Viniteca's very own cold rooms, and the rest is supplied from other independent cheese factories in Spain. As well as cheese, Vila Viniteca offers over 4,000 types of wine from all around the world. Prices start from as little as €5, and go all the way to €275!
After indulging in cheese and wine, Viniteca offers guests the chance to buy many of their other specialities: canned goods, Iberian ham, homemade vegetables, and even wall paintings! (There's a reason this family-run business has been popular since 1932…)
Metro: Jaume 1 (L4)/ Barceloneta (L4)
Carrer dels Agullers, 7
Formatgeria La Seu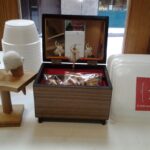 Barcelona's very own cheesy paradise, Formatgeria La Seu is located in the city's Gothic Quarter and truly is one of our favourite places to eat cheese in the city. The owner of La Seu was born in Scotland, and keeps strict guidelines for the cheese that she sells, whittling them down through an extensive selection process. In fact, there are roughly only 25 cheeses in La Seu, but you can guarantee that they are the best of the bunch. To pass La Seu's strict guidelines, cheese must be handmade, produced by independent farmers, and only sold in limited quantities. Here, you can sample the very best selection of Manchego, Tupi, and other Catalan classics.
La Seu also offers a range of tasting platters with a glass of wine, a small with three types of cheese, and a large with several varieties. However, we recommend that you book any tastings as La Seu can only accommodate up to 8 people! But we've saved the best bit to last… Not only does La Seu offer breakfasts, but the owner also produces her own Formatgelat, a homemade ice cream made from different cheeses that comes served with nuts, honey, or raisins! Now that really is a gouda time!
Metro: Jaume 1 (L4)
Carrer Dagueria, 16,
Colmado Múrria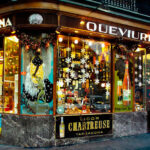 Located in the Eixample district, Colmado Múrria is a traditional delicatessen offering tourists the very best bits from the Catalan Capital. Its façade is striking, channeling the very best of the art deco movement on the exterior, and breathtaking wood paneling within. There's no surprise then that Colmado won the prize for best shop window… Colmado Múrria has more than 240 varieties of cheese, including a truffle gorgonzola for €380! Don't worry, there is also cheese for a lot cheaper!
The shop also offers a range of other traditional gourmet specialities like chocolate, nuts, coffees, ham, wine, and cava. They are also particularly proud of their tea selection. So who knows… maybe you will discover your favourite tea along with your favourite cheese!
Metro: Girona (L4)
Carrer de Roger de Llúria, 85
Celler Cal Marino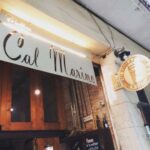 A former fizzy drinks factory, today Celler Cal Marino is one of the best places in Barcelona for wine and cheese connoisseurs. Its interior is decorated with drinks barrels, giving Celler Cal Marino that authentic touch, and its location at the foot of Monjtuic mountain also offers guests the chance to explore the beautiful nearby surroundings, before or after tasting their cheese. Celler Cal Marino has a selection of cheese from Switzerland, France, and local cheese factories. Think The Sound of Music, Barcelona style…
Metro: Poble Sec (L3)
Carrer de Margarit, 54
So go on, say cheese!
To read about the 9 local cheeses we think you need to try on your visit to Barcelona, read this post.