Perfect with bread, wine, or (most importantly) tapas, we don't think there's anyone on the planet who can say they don't like cheese! And although many consider Spain a relatively unknown nation of cheese when compared to its European brothers and sisters, it in fact offers its very own unique variety of dairy delights.
A particularly important region for el queso is that of Catalonia, where Barcelona is based. So we've written (probably) the most important tourist guide you'll read during your stay here in the Catalan capital: The 9 Best Cheeses to Taste in The City.
Traditionally Tasty
Cheese lovers, did you know that the Spanish queso has a large and creamy history? Not only were the smoked cheeses of Northern Spain traded in Rome for some of the very first years of our modern era, but by the 13th century, the trading of cheese had also reached Britain! In particular, the Mahón cheese from the Balearic Island of Menorca…
Mahón Menorca is made from cow's milk and is dipped in a brine before maturation. It is then sold at different levels of ripeness!
Menorca has been producing its own cheese for many centuries, and is a proud manufacturer of its dairy delicacies. Mahón Menorca is the perfect cheese for those that want to truly taste a piece of the region's creamy culture.
On the other side of Spain in the region of Galicia, cheesemakers make a type of cheese that will certainly catch your attention… Tetilla cheese is also made from cow's milk but has a very let's say, interesting, shape to it. When translated its name means 'little female breast', such which explains its rather unusual teardrop form. But aside from its slightly alarming body, Tetilla is soft, creamy, and has a delicious mild taste.
Last but certainly not least, is Manchego cheese. As a self-confessed cheese connoisseur, it's likely that you've already heard of the mighty Manchego, but do you know its history?
If you want to believe local folklore (we think we do), Manchego cheese can be dated all the way back to the Bronze Age when the inhabitants of the La Mancha region had mastered the art of making cheese using sheep's milk. Manchego cheese became more mainstream when Miguel de Cervantes mentioned it in his internationally acclaimed novel, Don Quixote de La Mancha.
You can eat Manchego in every tapas restaurant in the city, and its taste ranges depending on its ripeness. So if you want to start with a Spanish cheese, start with Manchego!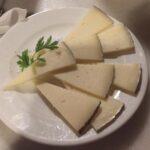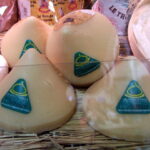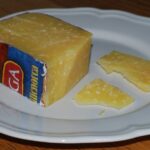 Catalan Classics…
You don't have to travel far to get good, local cheese. And aside from Mahón, Tetilla, and Manchego, there are countless other classic Catalan cheeses in the city. So if you ever find yourself drawn to the cheese counter in your local market (we know we do), here's what to ask for…
Tupi
Tupi cheese is a local specialty produced in the region's Pyrenees mountains, and has a strong and fruity taste from the clay pot where the cheese is fermented. It's made with Cazalla (a liqueur of dry anise) and either cow's, goat's, or sheep's milk.
Costa Negra
Also from the Pyranees, the Costa Negra is a type of soft cheese with a real rich mix of sweet and sour notes.
Alt Urgell- Cerdanya
This cheese is the first and so far the only cheese in the Catalonian region with a protected designation of origin. It has a creamy soft texture and is sweet in taste. It's popular at artisan markets and goes great when paired with wine.
 Drap Cheese
Drap cheese is made in the province of Girona and has two forms: fresh (white, milky, and with no rind) and tender (with a thin yellow rind.) It's made with fresh cow's milk and is usually presented in small wheels that have the shape of balloons.
Mató de Montserrat
Mato de Montserrat, or just Mató, is a cream cheese often served with honey in the form of the traditional dessert Mel I Mató. It's made in the villages near the Montserrat mountain and has a rich history; one of the first mentions of Mató cheese can be traced all the way back to Catalan cookbooks from the 14th century!
Tou del Tillers
Tou del Tillers is made from raw milk in the province of Lleida. It has a creamy texture not too dissimilar to Brie and goes great with dry red wine.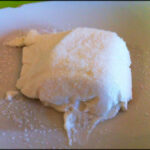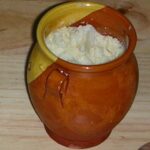 Well, is your mouth watering? We know ours is!
If all this talk of cheese and wine has got you thinking about changing your dinner plans, why not read our post on where to find the best tapas in the city.