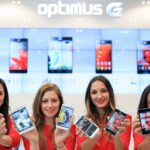 MWC Barcelona (Mobile World Congress) is the largest mobile event in the world, bringing together the latest technological innovations from more than 2,400 leading companies, to today's visionaries. See here for a complete list of exhibitors and sponsors in 2019.
The event boasts a highly rated conference programme that explores some of the hottest topics influencing the industry today, and with over 107,000 key decision-makers expected to attend the Congress in 2019, MWC 2019 is the one of the best places to expand your professional network, but also to move forward in your career goals.
Registration for this year's congress opens soon, and you can sign up through this link to receive notifications when registration opens, as well as other exciting event details.
Below are some highlights from this year's conference.
Here at AB, we still have plenty of apartments available for Mobile World Congress 2019. But demand is high for our properties between the 25th-28th February and they are selling out fast. So if you're planning to join us in Barcelona for MWC 2019, make sure to book one of our apartments right away!
You can browse all of our available apartments here.
For more things to do in Barcelona, read our Apartment Barcelona blog.