Whether you're preparing for your trip to Barcelona or have already arrived, we recommend checking out our list of smart travel tips for making the most out of your adventure-filled stay in the beautiful city.
1. Take advantage of the midday menu
Barcelona holds the world title for the most restaurants per capita, so finding food will definitely not be an issue! The average lunch hour in Spain takes place between 14:00 and 16:00 and many restaurants and bars offer the option of ordering food à la carte or off the menú del día, which is a set menu that usually consists of a first course, main course and dessert for a fixed price. In some restaurants, even drinks are included. This is a great option if you want a full stomach without burning hole through your wallet, as most menú del día lunches range from 8,00€ to 10,00€. Your stomach and your wallet will thank you!
2. Get a public transit pass
TMB, the company that oversees all public transit operations in Barcelona, gives citizens and tourists the option of buying passes for public transportation. The one we recommend is the T-10, which allows you 10 trips on TMB metro and bus lines, FGC trains, TRAM, and Rodalies de Catalunya regional trains. T-10 passes cost around 9,95€ each and one pass can be used for an individual or more than one person, which is a real money-saver compared to the average 2,15€ one-way bus fare.
3. Take care of valuables
While Barcelona is a very safe city, it does have its share of pickpockets. We recommend that you carry your wallet, passport, cellphone and other valuables in a secure bag that you can keep at the front of your body. Whether you're walking around or in public transit, have a hand on your valuables and keep them close to your body. Do not carry anything in the back pocket of your pants . Keep your passport and ID in your accommodation and take a copy of each with you to store in your wallet. Pickpockets here are usually non-confrontational, therefore they generally look for easy targets. If you have a hand on your valuables and are vigilant, they will get the hint that you're aware of your surroundings and will likely avoid you.
4. Get lost
While it's good to have a plan for each day that you're here, it is also nice to just wander around and let the city be your guide. Wherever you are
staying, take a stroll around the neighborhood when you first arrive and get to know the area. Absorb the sounds of cars whizzing through and motos rumbling along the streets.
Don't just observe what's in your peripheral frame, be sure to look up and absorb Barcelona's architectural wonders that combine the old world with the modern times. No matter the area, you're sure to find a beautiful monument, a museum or impressive landmarks somewhere along the way. At the end of your stroll, treat yourself to a hot cup of café con leche or a sweet serving of churros con chocolate.
5. Free Things on Sundays!
Here in Barcelona, Sundays are some of the best days for tourists because many museums and galleries offer free admission to visitors. Wherever you decide to go, be sure to check their website for specifics. Some places have free admission all of Sunday while others only offer it after 15:00.
6. Pay in cash
While many places accept debit and credit cards, it is much more economical to pay in cash to avoid as many conversion rate charges from your bank as possible. While it is more convenient to maintain all of your money on a card, it is rather a hassle to have to swipe for a small purchase and then incur additional charges for conversion and for swiping in a foreign country.
To incur the minimum amount of fees, we recommend going to a bank ATM like Sabadell or Santander and withdrawing the maximum amount of cash from your debit card. Only carry in your wallet the amount you think you will need for the day and store the rest of the cash in a safe spot in your accommodation. Only withdraw more cash when you have run out from the previous transaction.
7. Book your tickets ahead of time
A word to the wise: getting tickets online is a beautiful thing. It saves you from having to wait in long lines, so all you'll need to do is head to the entrance when you arrive. Keep in mind that some places, especially Gaudí hotspots like Park Güell and Sagrada Familia, offer tickets for set times throughout the day, so if you show up to buy a ticket you may find yourself waiting over an hour to actually get in.
8. Feast on Catalan cuisine
Recently, the world of gastronomy has gained much popularity, and Spain just happens to be its epicenter. Some Barcelona restaurants feature traditional Catalan recipes that have been passed down by families for generations while others serve more modern, innovative dishes inspired by their cultural roots. Try a little bit of both. A tapas dinner is a great way to sample varieties of savory treats while enjoying a fun and social atmosphere with friends and family. Some must-try foods: pa amb tomàquet, escalivada, mongetes amb botifarra and coques.
9. Get to clubs before 2am
Some of Barcelona's most popular clubs, like Opium and Razzmatazz, draw in enormous crowds because of their fun and lively ambiances. At these places, you find a good mix of locals and visitors alike. If you want to party, you better be ready to party hard because nightlife here goes late into the night til the crack of dawn! Some of the large clubs offer reduced entrance fees with one drink included and even free admission before certain times. Be sure to check out their websites and Facebook pages to take advantage of a fun night without emptying your wallet.
10. Visit a mercado and a mercadillo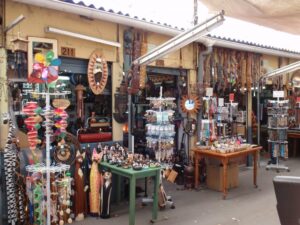 If you like the bustling atmosphere of herds of people trudging through and back-and-forth haggling, the rush of finding good deals and great products and the excitement that comes with being immersed in a local environment, then you won't want to miss out on checking out Barcelona's market scene.
There are two types of markets: a mercado, which features gourmet foods, locally grown products, and some restaurants, and a mercadillo, a flea market that features a mix of brand new clothing and other products for cheap as well as hard-to-find antiques. Some markets to check out are Mercat Sant Antoni, La Boqueria, Els Encants, and Mercadillo de la Plaça de Sant Josep.