Want to dine like a local in Barcelona? If you're looking to break away from the tourist masses to enjoy a nice meal, here's a list of some of our favorite spots that are more popular with residents of Barcelona than visitors. Whether you're in the mood for something warm and wholesome like Grandma's cooking or wanting to dine on locally-grown vegetarian delights, we've got something for you.
1. Can Tosca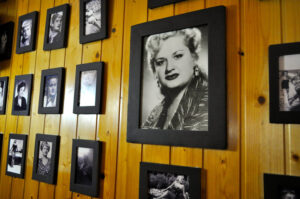 Located in the alternative Gràcia neighborhood, this fabulous tapas bar-restaurant was established in 1961 by the Tosca family and is today under the ownership of Rosa Sanchez Tosca and her siblings. Here, food is close to home figuratively and literally speaking—some of the family members live in the apartment right above the restaurant!
Stepping into Can Tosca is like walking into a family reunion: the smooth wood paneled walls are decorated with black and white photographs of various Tosca family members. During the week, this place serves traditional Catalan cuisine. On weekend evenings, it becomes one of the most popular cocktail bars in Gràcia. If you get a chance to visit, we recommend trying their botifarra sausage sandwiches.
Address: Carrer Torrent de l'Olla, 77
Price Range: €€€
2. Casa Pagès
If you're looking for a local restaurant in Barcelona with a "Grandma's kitchen" vibe, then Casa Pagès is the place for you! Opened in 1982 by Galician Pedro Barros, this grandparent-owned establishment is frequented by many of Gràcia's families. The tortilla de patatas are made by Pedro's wife, Albina, with the same traditional recipe that many grandmothers have been passing on for generations.
This authentic restaurant's lunch menu also features some Spanish comfort food classics from Pedro's home region such as caldo gallego, a Galician meat and vegetable soup. Probably the most unique contribution that Casa Pagès has to offer is their delicious sandwiches that are named after famous scientists and philosophers. Their "Freud" sandwich consists of chicken and tomato with vinegar while their "Nietzsche" is made with roasted vegetables and salsa. There are much more, but you got to pop in for a visit to find out.
Address: Carrer Llibertat, 19
Price Range: €€€
3. Espai Mescladís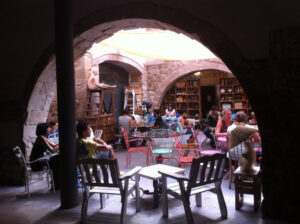 For a more relaxed non.touristy meal out in Barcelona, might we suggest Espai Mescladís. As you walk through this stone archway in the El Born neighborhood, you are greeted by an outdoor patio decorated with colorful garden tables and chairs. There are even wooden bookshelves on the walls that hold old books and quirky vintage toys.
Mescladís is no ordinary restaurant. It is affiliated with the Mescladís organization, a social entrepreneurship aimed at helping immigrants to Spain gain professional skills and adapt to a new society.
The restaurant was created to train immigrants in the culinary and hospitality fields so that they have a higher chance at obtaining a career in Spain. It was also established as a space where citizens, tourists, and immigrants can meet, get to know each other, and become united through food, a characteristic that all cultures share.
Here, Mescladís prides themselves in being a restaurant that is self-sustaining. Everything is homemade and ingredients are locally grown—there's an organic garden behind the restaurant! Some guest favorites are their roast butternut squash and pumpkin served over bread, empanadas, and hummus served with falafel. If you love paella, then Thursday is the best day to visit. If your mouth is feeling a little dry, we recommend any of their gourmet juices like ginger and pineapple-a real thirst quencher!
Address: Carrer dels Carders, 35
Price Range: €€€
4. La Flauta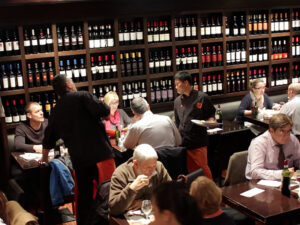 If you're someone who likes lots of options on a menu, then La Flauta is a surefire stop. The restaurant is mostly populated by Barcelona locals, but if you come across any tourists, they more than likely found out about this place by meeting a resident. It is especially popular for it's lunchtime set menu (menú del día) of around 12€.
La Flauta's menu features a selection of carefully prepared and beautifully presented dishes such as steak and foie gras skewers, beef fillet baguette, fried eggs served with French fries and jamón, and grilled shrimp and squid skewers.
Of course, La Flauta can't have its name if it doesn't serve its signature flautas: fried rolled sandwiches that remind one of a flute (hence, the name). To complement the vast variety of food at your disposal, the restaurant also offers an excellent local wine and sangria selection.
If you have trouble deciding what to fill your stomach with, just ask your waiter. Here, the service is just as raved about as the food. Make sure you leave some room for dessert at this non-touristy restaurant in Barcelona! You're going to want to devour their divine 6-layer chocolate cake after a scrumptious dinner. A word to the wise: get to the restaurant early. If you wait for the typical Spanish evening meal hour, you'll likely be waiting an hour to an hour and a half to be seated.
Address: Calle D'aribau, 23
Price Range: €€€
5. Orígens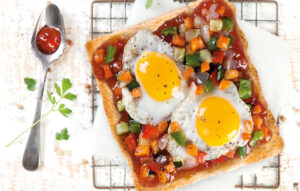 Regarded as "true Catalan cuisine", Orígens prides itself in creating not just tasty dishes, but also works of art. Each item you order is presented to you in such a beautiful fashion, you'd feel guilty to take your fork and dive right in. Orígens is also known for being a vegetarian's paradise. Here, herbivores and carnivores live together in harmony, as the menu features extensive options for both dietary types.
You have the option of choosing from their À la Carte menu, group menu, or their specialty menu that allows you to pick one salad, one coca (various ingredients served over bread like a pizza), a stuffed dish, and a dessert for extra. Some popular dishes are their stuffed apple with minced lamb and beef, lentil salad with vegetables and an octopus confit, stuffed eggplant with vegetables, zucchini stuffed with cod, and sautéed beans and peas with garlic shoots and mint. Yum!
Address: Carrer de Ramón y Cajal, 12
Price Range: €€€
6. Aguaribay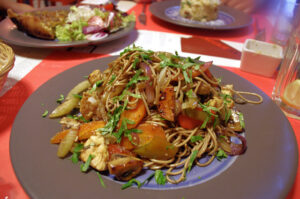 Another vegetarian haven, Aguaribay is nestled in Barcelona's Poblenou district and offers a quiet, peaceful atmosphere if you're looking to unwind after and adventure-filled day of exploring. This place cooks up some mean miso soup, veggie burgers, cream of pumpkin, and black bean tacos.
Aguaribay is definitely a non-touristy place to dine out in Barcelona. It has no set menu, so their options change daily. Check their Facebook page for daily updates of their menu of the day.
Address: Carrer de Ramon Turró, 181
Price Range: €€€
7. Quimet d' Horta
Founded in 1927, this 88 year-old restaurant in Barcelona is far from a tourist spot. It features traditional, well-made salads and tapas like croquetas, jamón ibérico and dados de fuet. Additionally, Quimet d'Horta is famous for their large selection of ciabatta sandwiches. Some crowd favorites are longaniza sausage with cheese, bacon with cheese, peppers and eggs, butifarra sausage with pork and peppers, and tortilla with York ham and Roquefort cheese.
Address: Plaça d'Eivissa, 10
Price Range: €€€