Bordering La Rambla, El Raval is one of four neighborhoods that make up Barcelona's Old Town. This neat quarter comes alive at night with its lively bar scene. If you're in the mood for having a round or two of copas with good friends or loved ones, here are some places we recommend for an enjoyable evening out. We've got something for everyone's taste!
For old souls
1. Bar Marsella

Just down the street from Rambla del Raval is an oldie but goodie. Established in 1820, Bar Marsella combines the spirited and laid-back atmosphere of a dive bar with the class and sophistication of your grandfather's library. The grand chandelier lighting and rustic wood-paneled walls lined with old bottles on top make for an evening that will surely take you back. Share a pitcher of sangria with some comadres and compadres or enjoy a glass of their special absinthe with sugar. Either way, you're in for a great night!
Address: Carrer de Sant Pau, 65
Weekend hours: 22:00h-3:00h
Price Range: €€€
2. Casa Almirall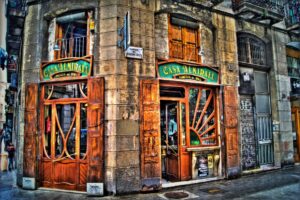 Opened in 1860, Casa Almirall is one of the oldest bars in Barcelona and is perfect if you're in the mood for going out for some good, old-fashioned copas. This rustic, well-preserved treasure of El Raval maintains its charm that drew in artists and authors of the Modernist era. Step back in time to this wood and marble sanctuary, sit where the greats like Picasso and Hemingway once sat and engage in lively talk whilst sipping their house vermut de l'oliveta.
Address: Carrer de Joaquín Costa  
Weekend hours: 12:00h-2:30h
Price Range: €€€
Sleek & Chic
3. Bar 33 | 45
Electro music, great cocktails and a buzzing vibe are the three main factors making up 33|45. This relaxed bar draws in a large and mixed international crowd to its DJ sets, cultural events or simply to chill on the comfy couches and enjoy a drink and some tunes into the wee hours. We advise you to pay attention to the selection of gin and tonics. The gin and tonic with cinnamon and orange is simply delicious! Always busy, this isn't the place for as chilled catch up with an old friend (unless you head there early!), but if you're after a fun night out to celebrate a birthday or simply feel like hitting the town – this is an excellent place to begin your night.
Address: Carrer de Joaquín Costa, 4
Weekend hours: 13:00h-2:00h
Price Range: €€€
4. Marmalade
Behind Marmalade's dark wood countertop is an arsenal of inventive mixologists whipping up tasty cocktails whose names are just as creative as their recipes. A trendy yet cosmopolitan locale, the place exudes a relaxed atmosphere with cozy dim lighting, cushioned seats and dark red pillows scattered about. If you're feeling up to it, have a go at a couple rounds of billiards with friends while enjoying a glass of their signature "Nicky Lauda Saua".
Address: Carrer de la Riera Alta, 4-6
Weekend hours: 10:00h-3:00h
Price Range: €€€
Can you keep a secret? 
5. El Armario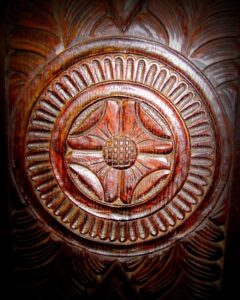 If you're feeling particularly adventurous, why not have a go at Barcelona's secret bar scene? Located somewhere along Carrer de la Riereta, El Armario bar can only be accessed if you go through a literal hole in the wall. Afterwards you get to have a little C.S. Lewis experience of your own and walk through the manager's wardrobe until you finally arrive at this Raval bar.
The place itself is decorated with antique furniture, thus presenting a more cozy and homely ambiance. Here, you will have no problem spending a fun evening getting to know some new and interesting people. Keep in mind that Barcelona's secret bar norms are a little different than those of the mainstream bar scene. El Armario has no set schedule because it is open only at the discretion of the owner. So if you knock and there's no answer, give it some time or come back the next night. The experience is certainly worth the patient wait.
Address: Carrer de la Riereta
Weekend hours: Whenever the manager feels like it
Price Range: €€€