As a visitor, a restaurant can either make or break a day in any foreign city. Even a place as beautiful as Barcelona will have food, services, and atmospheres that are not to your liking, let alone having to deal with restaurants that are tourist traps. Here's an outline of some of the finest places where you're guaranteed to experience wholesome Catalan food in Barcelona.
Breakfast
Barcelona is home to an array of trendy breakfast and brunch spots but the locals in the city can typically be found sipping coffee over breakfast in their neighbourhood bars. Some Catalan breakfast specialities include bocadillos (sandwiches) filled with various ingredients such as ham, Botifarra (a traditional Catalan sausage) and perhaps a tapa of callos (pig tripe in a spicy sauce with chickpeas). If you'd like to indulge in one of these specialities, take a look at these fantastic Catalan restaurants in Barcelona:
Cafe Punto 10
This quirky, neighbourhood café is located off the beaten track in the Sants area. This is the go-to place if you want an authentic Catalan breakfast served by always friendly staff. They also sell tasty Catalan pastries to satisfy your sweet tooth!
Location: Carrer Vallespir 96, 08014
Nearest Metro: Plaça del Centre (L3)
Can Ros Gracia
Very much a no-frills neighbourhood bar, Can Ros is located within in the Gràcia neighbourhood of Barcelona, not too far from the Sagrada Família.  Here you will find plenty of locals tucking into a hearty Catalan breakfast.
Location: Roger De Flor, 303, 08025
Nearest Metro: Joanic (L4)
Forn Mistral
Forn Mistral is one of the oldest bakeries in Barcelona, run by the Bertran family since 1977. They are specialists in 100% artisan and ecological bread which they bake in their wood oven. They offer a wide array of breads and all sort of delicious pastries such as ensaïmadas. They also offer seasonal products like panellets, cocas de Sant Joan and tarta de Reyes. They a seating area where you can sit down to enjoy a proper Catalan style breakfast, washed down with a coffee or even better, a mug of rich hot chocolate!
Address: Ronda de Sant Antoni, 96, 08001
Nearest Metro: Universitat (L1 L2)
Lunch

A nice relaxing spot for lunch is essential for setting the tone for the rest of your day.  Barcelona's Menú del Día (daily menu) is a great place to start. You can often pick up a full meal, usually consisting of 3 courses and a drink, for around 9-15€.
Seagons Mercat
This Catalan restaurant is located in the centre of the city and offers a menú del día for just 10,50€. This includes 2 courses, a drink, olives, bread with tomato and a dessert – great value! Typical dishes include: Escalivada and goats cheese (grilled vegetables with olive oil), as well as Catalan spinach and mel i mató (honey and soft cheese) for dessert. This is a fantastic option for those looking to sample the best of Catalan cuisine without burning a hole in their pocket.
Location: Gran Via de les Corts Catalanes, 552. 08011 
Nearest Metro: Urgell (L1) 
La Mar Salada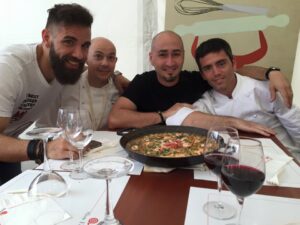 La Mar Salada offers so much and it is very close to Barceloneta beach. They have many unique Catalan dishes that change from week to week. La Mar Salada is one of the few restaurants in the area serving up authentic Catalan cuisine.
You can start with a fried egg and potatoes, all mixed with a sweet honey roast sauce. Enjoy a hake fish with macaroni served with Mediterranean flavors. A foam coconut, fruit and yogurt ice cream sits well for a delicious dessert. Now they are more on the expensive side, but your stomach will convince your wallet that it was worth it.
Location: Pg Joan de Borbó 58 08003 Barcelona
Nearest Metro: Barceloneta (L4)
Petra
Petra is a cheaper alternative for those who a seeking a less expensive, but still delicious lunch. Within the lovely streets of El Born, Petra serve up several fine Catalan dishes.
The duck confit in red wine sauce (pictured right) is amazing! It is unbelievably tender and goes down well with a glass of wine. Follow this with a traditional Catalana and carquinyois dessert. This place won't put you out of pocket either, with all their main courses costing under 10€!
Location: Carrer dels Sombrerers, 13 08003 Barcelona.
Nearest Metro: Jaume I (L4)
Dinner
Dinner is on the late side in Catalonia. Definitely taking place after 9pm, but more often than not much later. If you want the full Catalan food experience, have a light breakfast, a heavy lunch, and be prepared to wait until 10pm for dinner. Here are some of our favourite Catalan restaurants in Barcelona where you can enjoy a leisurely dinner:
Bodega Sepúlveda
This family-run wine house has been around since the early 1950s and serves up some of the tastiest Catalan food in Barcelona. Its aged interior is somewhat charming and adds to the atmosphere of the bar. Bodega Sepúlveda is a great place to dine if you're looking for some tasty tapas and traditional Catalan dishes, all finished off with a glass of local wine. Don't miss their cheese and mushroom croquettes!
Location: Carrer de Sepulveda, 173, 08011 Barcelona
Nearest Metro: Universitat (L1 or L2)
Cal Boter
Founded back in 1986, Cal Boter has been the epitome of Catalan cuisine in Barcelona ever since. Located in the Gràcia neighbourhood, they specialise in grilled meat, fish and fresh vegetables, as well as delicious homemade desserts. From Monday to Friday you can dine for a very reasonable price with their tasty lunch menu at 11,20€. Be sure you book a table though because this place can get very busy!
Location: Carrer de Tordera, 62, 08012 Barcelona
Nearest Metro: Verdaguer (L2 or L4) or Joanic (L4)
Can Culleretes
Barcelona's Gothic Quarter houses this lovely restaurant, which is actually, according to the Guinness Book of World Records, the oldest restaurant in Catalonia, and the second oldest in Spain, dating back to 1786. It's not too expensive, but much like Petra will give you a legit Catalan dish and their homemade desserts are magnificent. The place is really quite cozy and the staff sets the mood very well.
They recommend the pica-pica de piece i marisc and after you try it you'll see why! It starts with steamed mussels and clams. The second course consists of assorted things like fried squid, monkfish and prawns. While the third course the seafood is grilled. You'll enjoy lobster, prawns and calamari. Their desserts are all really quite fantastic, but you must try the Vanilla-hearted Chocolate Dome.
Address: Career Quintana, 5 08002 
Nearest Metro: Liceu (L3)
7 Portes
7 Portes is renowned for being one of the best Catalan restaurants in Barcelona. Specialising in seafood, the restaurant is quite pricey but totally worth it. They put a unique spin on Catalan dishes, yet they are still very much traditional.
This is a great place to try typical seafood as well as embutidos (cured sausage) such as the Catalan specialities botifarra and fuet. Their Catalan sausage with "7 Portes" white beans is perfect. I'll risk sounding boring to say I've had it and I feel as though I don't need to try anything else on the menu. The cooks were superb and the dessert was just as good. Pijama (not pajama) is ice cream, fruit, and caramel all mixed together…truly amazing.
Location: Pg. Isabel II, 14 08003 Barcelona
Nearest Metro: Barceloneta L4
Can Vador Diputació
This tasty Catalan grill is highly rated for its great food and friendly service. Their specialities include grilled duck breast with soft orange sauce and sweet crispy apple, and if you're feeling brave you can try their pig's trotters! They also offer a nightly menu Monday-Friday for just 20€ including 2 courses, a dessert, drink and bread with tomato – a Catalan tapas speciality.
Location: Carrer de la Diputació, 367, 08009
Nearest Metro: Tetuan (L2)
Bar Bodega Quimet

Some places really add a sense of character to their neighbourhood, and Bar Bodega Quimet is definitely one of those. You'll find a wide range of cheeses and hams from around the country to taste with a glass of vermut or good wine. With a very laidback, homely and authentic feel (definitely no screens to distract!), this is a place for good conversation with friends over drinks and delicious food.
Address: Carrer de Vic, 23, 08006
Nearest Metro: Fontana (L3)
Dinning Tips
Lunch is often eaten late, around 2pm, and dinner after 9pm

Leaving a tip is not necessary but is welcomed

Waiters are not known to rush you out of a restaurant, so if you need to leave (and can't speak the language very well) say "la cuenta, por favor" to ask for "the check, please" in Spanish or you can try your hand at some Catalan: "el compte, si us plau"