Barcelona's gastronomy scene is renowned for its tapas, fideuà, and paella but what meal is complete without dessert? Discovering Barcelona can be a tiring task, with museums, thousands of shops to explore and of course the beach and outdoor activities to enjoy. For all this fun plenty of energy is needed. These are our top picks of Catalan desserts, so you can indulge your sweet tooth during your stay in the city!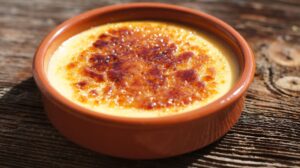 Crema Catalana is an especially popular Spanish dessert. If you've ever tried crème brûlée in France, then you'll know what to expect. It's primarily made from custard and then topped with caramelised sugar however unlike crème brûlée, it's not baked, but rather left to set and then flavoured with cinnamon and a lemon peel. This dish can be enjoyed any time of year but is especially popular on the day of San José, celebrated on 19th March to commemorate Joseph, the father of baby Jesus.
Xocolata amb melindros are the perfect treat for any cold winter day. Melindros, meaning lady fingers in Catalan, are otherwise known as spongy sugared biscuits much like those used in tiramisu. This dish requires for them to be dipped into a steaming pot of hot chocolate, making a mouth-wateringly sweet and delicious dessert! Of course, another typical version is enjoyed by switching the melindros for xurros (churros). You can't go wrong with either option!
Originally coming from Girona, xuixos are deep fried pastries covered in sugar with a custard filling and shaped into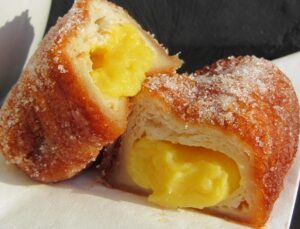 cylinders. They are commonly eaten for breakfast or at tea time and can be found in any pastry shop making them a great treat for an energy boost whilst you're touring the city.
Mel i Mato is made from exactly what its name suggests. For those of you who don't speak Catalan (most we assume!) that's honey and a fresh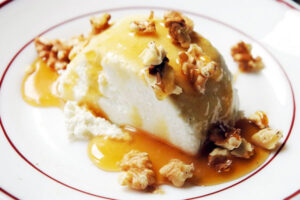 Catalonian cheese made from cow or goat's milk and has a similar consistency to ricotta. It forms the main substance of the pudding, drizzled with honey and then sprinkled with nuts. You can easily make this dessert on your own, either from scratch or from buying the cheese and ingredients at any local supermarket. A great one to enjoy with friends or family in your apartment in Barcelona!
Although they come from Mallorca one of the Balearic Islands in the Mediterranean just off the coast of Barcelona, ensaïmadas have unsurprisingly made their way to the Catalan capital due to proximity and of course, popularity! Made from a light and airy dough that includes reduced pork lard, or saïm in Catalan, amongst its ingredients (sounds bizarre we know, but don't knock them until you try them!) and doused in icing sugar, these are the ultimate breakfast treats or afternoon pick-me-ups. Find them in most bakeries around the city. Trust us; you'll want to fill your suitcases with them to take them home!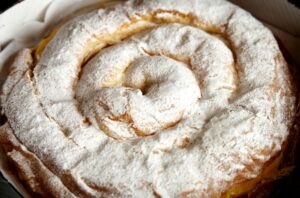 When visiting a new city, no trip is complete without trying some of the local cuisine. Treat yourself to these delectable Catalan desserts while exploring the city and properly immersing yourself in the culture!