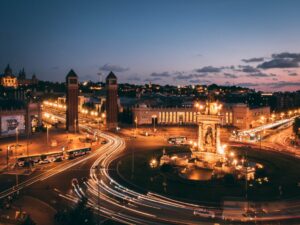 If you're sightseeing around Barcelona, or simply want to get to know the city better, then Plaça d'Espanya should definitely be one of your main stops. With Montjuïc and the Palau Nacional as its backdrop, as well as the Magic Fountain and the Venetian Towers making for some excellent photo opportunities, this area of town has plenty going on. Further still, on the other side of the plaça stands the magnificent Las Arenas building. Unknown to many short-term visitors or tourists, its in fact a whole attraction in itself. So…what exactly is this building and what does it have to offer?
Las Arenas de Barcelona, originally built and used as a bullfighting arena, is now a commercial shopping complex located in Plaça d'Espanya full of great shops, restaurants and cafés. You can take a lift up to the rooftop where the panoramic view will leave you speechless: you can experience a 360 degree view over the city and Montjuïc.
History
The building is a piece of architecture worth visiting in itself. The structure was first used as a bullfighting arena, which explains its impressive circular shape. It was inaugurated in 1900 and was the second of 3 bullfighting rings built in Barcelona, designed by Augusto Font i Carreras who also finished the facade of Barcelona's famous Cathedral. It held 16,000 people but after the Catalan parliament passed the ban on bullfighting in 2010, the building was later reconstructed and designed into a commercial centre in March 2011 by Richard Rogers. The last bullfight in the Las Arenas ring however, took place much earlier in 1977, two years after the death of Franco.
What's inside?
Spread across six floors, Las Arenas offers over 100 shops, a 12-screen cinema, a hairdresser, a health spa & gym and several restaurants and bars.
The first floor has an almost market-like feel with the open concept eateries on either side of the walkway. The rooftop, however, is where the true magic of this building is revealed. Restaurant options include up-scale Catalan cuisine, Japanese and Italian cuisine, each with its own sky-high view of Barcelona.
Abrassame
Abrassame specialises in fish and seafood. This large restaurant offers a sophisticated and romantic atmosphere with candles and soft lighting, perfect for a dinner for two. Views over the shimmering Tibidabo lit up at night offer the perfect backdrop. The menu includes selected meats, rice dishes and seafood. The quality, the taste and the service are excellent and the presentation is unique.
La Azotea Quinto Quinta
Quinto Quinta is a chic yet quirky place to enjoy some drinks and food with friends, whilst taking in the beautiful views of the city. The restaurants offers a varied menu of Spanish specialties, with many dishes involving the famous Cinco Jotas ham. The décor is different – the terrace is a chilled place to sit in the speckled shade to enjoy a burger, fresh salad or rice dish whilst you catch up with friends. Quinto Quinta offers good quality food and great service.
Watatsumi
For something a little different and less traditional, try out Watatsumi. This Japanese restaurant presents an exciting menu featuring hot starters such as tempura prawns, warming soups and sushi rolls as well as larger mains featuring lots of fish. Dine either in the warm interior, at the sushi bar or outside on the large terrace with wonderful views across the city. In addition, at the cocktail bar you can enjoy both classic and Asian-inspired mixed drinks. This is an ideal spot for a treat after a day of exploring the shops.
If a day out with a mix of sightseeing, shopping, eating and drinking is what you're looking for, then Las Arenas de Barcelona is a great destination. With plenty of other sights around it in Plaça d'Espanya and atop Montjuïc, you'll be exhausted by the time you finish exploring!
Extra information:
Address: Gran Vía de les Cortes Catalanes 373-375, 08015 Barcelona
Opening times
Shops: Monday to Saturday: 09:00 – 22:00 from June to September or 09:00 – 21:00 from October to May
Restaurants: Monday – Thursday: 10:00 – 01:00, Friday – Saturday: 10:00 – 03:00
Metro: Plaça Espanya (L1, L3)
For more information about Las Arenas de Barcelona, you can visit the official website.