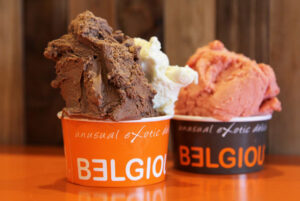 Sweet tooth? Then Barcelona is the place for you! Check out these seven places offering delicious delights!
1. Belgious
Boasting a selection of unusual, exotic and delicious flavours this place promises to take you on one of the most unique journeys in taste that you will ever experience. With over 30 delectable ice cream flavours, mouthwatering fruit juices and freshly made hot waffles and crepes, Belgious is a one-stop shop to satisfy that sweet tooth of yours.
Using only the finest ingredients, this place delves far into the realm of possibility of flavours with its obscure yet wonderful tastes including wasabi, cannabis and Dijon mustard. All products are made with natural ingredients using mangos from Goa and Iranian pistachios.
Rambla de Poblenou, 24
2. Chök 
If you haven't tried a kronut yet, you're severely missing out. One of the pastry world's most up-and-coming desserts, it's a combination of a croissant and a donut giving you the best of both worlds and a truly spectacular concoction.
With every conceivable flavour from pistachio, Nutella to Kinder Bueno, take your pick and be transported to kronut heaven at Chök in Barcelona. The assortment of donuts hanging on the wall behind the counter will have your mouth watering and you'll find it hard to remember how you ever coped without this sweet Barcelona shop in your life. As one of the most aesthetically pleasing bakeries in the city, it's ideal for all you instagrammers out there.
Carrer del Carme, 3
3. Eyescream and Friends
A completely unique ice cream store in Barcelona featuring deliciously airy desserts. Shaved rather than scooped, you won't go back to regular ice cream after experiencing this. Choose your favourite flavour which is served with sugary eyes looking right back at you and two toppings in pots on the side. Get creative, mix and match with flavours, and indulge in a dessert just the way you like it. You'll have everyone 'eyeing' up your masterpiece!
Passeig de Joan de Borbó, 30
4. La Donutería 
With some of the most weird and wonderful flavours you can imagine, this hole-in-the-wall donut shop is a must-do for your time in the city. From apple and maple bacon to cacao violet, your taste buds will be singing with joy after sampling one of these delights. All freshly made on sight, it is unlikely that you will find a better donut shop in Barcelona. Get there early as once a flavour sells out, that's it for the day. Don't say we didn't warn you!
Carrer del Parlament, 20
5. Xurreria el Trebol
You can't come to Barcelona and not sample the famous 'churros' delicacy. Whether you're a chocoholic or not, Xurreria el Trebol aims to please all by offering plain, cinnamon and chocolate churros. Tip: Don't forget to add a cup of piping hot chocolate to make your churros even more delicious! Located in the heart of the city and open 24 hours a day from Friday to Sunday, no matter what time you have a craving for this Spanish specialty, Xurreria el Trebol is at your service.
Carrer de Còrsega, 341
6. Papabubble
This artisan Barcelona candy shop is an automatic crowd-pleaser selling what can only be described as little drops of heaven. Choose from a wide range of flavours, that make your taste buds tingle leaving you wanting to come back for more. You can even have your sweetie package customized with a personal message making it the perfect souvenir to take home to your loved ones. In store, you are able to watch the candy connoisseurs hard at work and see how these tiny pieces of artwork are created giving you the full sweet experience.
Carrer Ample, 28
7. Happy Pills
If you're feeling blue, there is nothing that a sweet Barcelona happy pill can't do. Brighten up your day with the most colourful of sweets for an instant pick me up. These candies come in pill bottles and are the perfect gift for a friend in need or simply to cheer yourself up if its just one of those days. You know that dreams really can come true when the doctor prescribes you a dosage of sweets.
Carrer de l'Argenteria 70