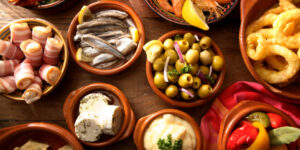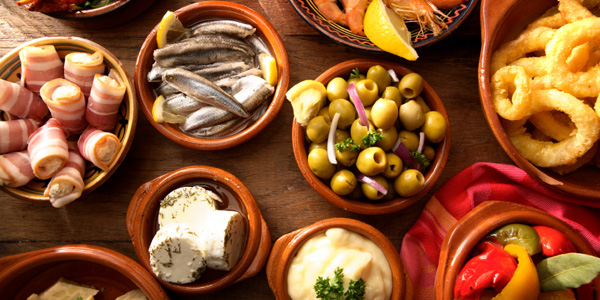 Want to get a true taste of Spanish cuisine on your Barcelona trip? There is only one way to satisfy your craving: tapas! Tapas have a longstanding history within the Spanish culture, and have transformed into one of the most delectable traditions in the Iberian Peninsula, including in Barcelona.
Originally created in the south of Spain, these small, snack-like treats were served with beers, wines, and Sherries. The most common type of tapa was a piece of bread with a cold meat, usually ham or chorizo, piled high on top. Today, tapas can be found hot, cold, big, small, on breads, on plates, on toothpicks, in bowls – you name it. If you're coming to Barcelona, there are tons of tapas bars throughout the city waiting to be explored! Take a look at a few we've deemed worthy…
Raspall
Tapas on a budget
The traditional tapas, still served in the south of Spain, are actually free! Though there are many bars that will charge you for larger portions such as sandwiches or mini-burgers, the majority of the snacks in the lower regions of the country come free with the order of a drink. Raspall is one of the few tapas bars in Barcelona that maintains this tradition, offering free tapas when a guest orders a beer.
How to get there: C/ Samsó, 8. In the heart of the beautiful Gràcia district.

 

El Xampanyet
 Tapas and champagne
Looking for a local experience? Head to El Xampanyet! Easy to find near the Picasso Museum in the Born District, the bar offers a small, classic atmosphere with some of the best cava and champagne around. In terms of tapas, their canned seafood and anchovies are a huge hit with residents and tourists alike. Come early to this traditional bar, as the locals tend to crowd in around 8pm.
How to get there: C/ Montcada 22, near Metro line L4 at the Jaume 1 station.
Quimet i Quimet
Tapas chosen for you!
For fresh tapas so good they'll make your mouth water, you have to head over to Quimet i Quimet. Here you will find a plethora of various types of meats, fish, and cheeses coated in sweet sauces with fruits, nuts and more. The maestro behind the counter is known for choosing a delectable plate for you, while you decide the drink. Lining the walls of this small joint are bottles of wines and spirits from around the globe, as well as beer selections beyond comparable to any tourist tavern. Don't expect anything fried here, but look forward to a great time in a bar-like atmosphere.
 How to get there: C/ Poeta Cabanyes  25, near the Metro line L3 at the Paral-lel station
Sagardi
Basque Country tapas
Sagardi offers traditional B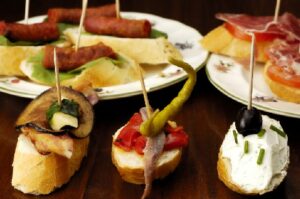 asque food for those wanting a taste of tapas from the north of  Spain. Known for having some of the best food in the world, the Basque Country is full of gastronomical traditions, including various types of ciders as well as txacolí, a very dry white wine. Sagardi offers all of these delicious treats as well pintxos, a type of tapa where the topping is pinned to a piece of bread with a toothpick!
Traditionally, the amount you pay for your pintxo meal is determined by the number of toothpicks left on your plate, some with different colors or sizes indicating higher or lower prices. With more than 80 varieties of snacks to pair with the drink of your choice, Sagardi is one of the obvious choices for Basque tapas in Barcelona.
 How to get there: C/ Avenida Diagonal 3, near the Metro line L4 at the El Maresme|Forum station.
La Bodegueta
Tapas with wine
Formerly a winery, La Bodegueta boasts some of the best wine (to drink with tapas of course) to be found in Barcelona. Here, guests can nibble on some of the most traditional tapas, such as anchovies, tortilla de patatas, olives, sausages and cheeses, all washed down with wine straight from the barrel. The scene is usually a hit with students, as well as many locals, making it the perfect place to experience some Catalan tapas first-hand.
How to get there: Rambla de Catalunya 100, near the Metro lines L3 and L5 at the Diagonal station.
Bar Tómas de Sarrià
Tapas bar with the best 'patatas bravas' in Barcelona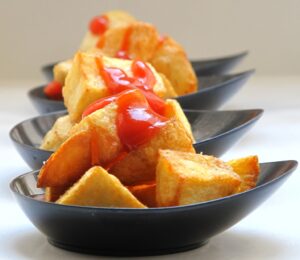 Patatas bravas are one of the most delicious and traditional forms of tapas served all throughout Barcelona. However, if you're looking for the best, you must try them at Bar Tómas de Sarrià. Located in the Sarrià district, this little tapas bar is known for its outrageously amazing fried potatoes served with a secret house sauce. Mostly young people and locals gather round under the patio tents for a taste of these scrumptious bravas, while also munching on many of the other fabulous tapas Bar Tómas has to offer.
How to get there: C/ Major de Sarrià 49, near the FGC line at the Sarrià station.
Whether you're staying in Barcelona for a night or moving to the city for a year, tapas are a must for anyone visiting the Catalan capital. The list above is certainly not extensive, so you may even want to try some "tapas bar hopping" around Barcelona and experience every different type of tapa or pintxo possible. Just be sure not to get carried away with the cava! ¡Buen provecho!