As you may know, the Spanish culture has a lot of traditions and festivals. So does the Catalan culture. They not only share some Spanish traditions, but also have a lot they can proudly call their own. We will take you on a journey through Catalonia's interesting traditions and festivals. Hopefully you can check them out for yourself on a trip to Barcelona.
Festivals and Traditions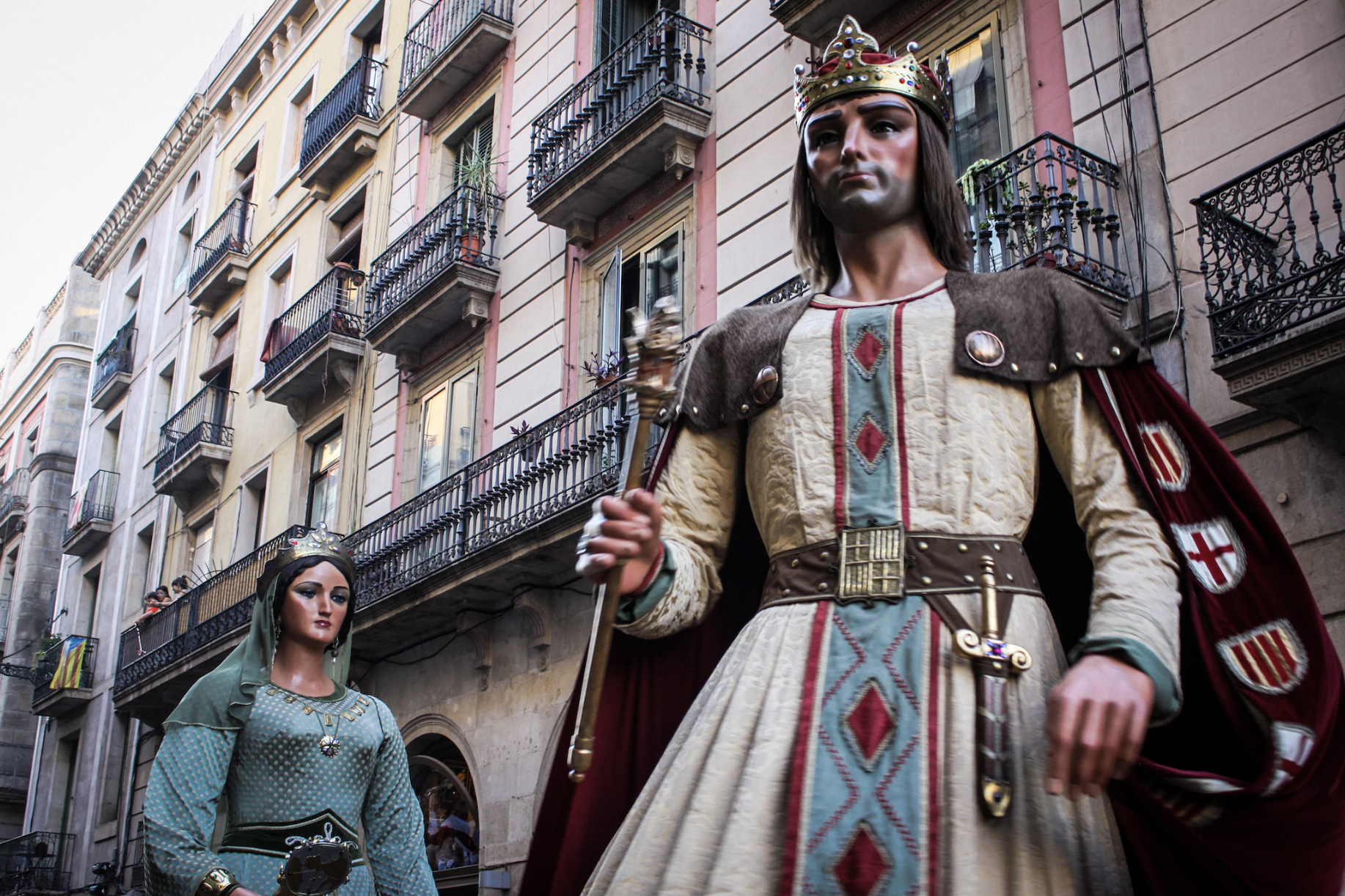 Calçotada
In the first months of the year, you will have the chance to take part in the Calçotada. This tradition originates from southern Cataloniain Valls, which is about 1,5h from Barcelona.
But what is it all about? Well, Calçotada is a family friendly party, which celebrates the calçots. They are a type of scallion that solely is grown in Southern Catalonia. Catalonians enjoy them flame grilled and eaten whole after removing the outer green leaves. The calçots are then dipped into a sauce called salvitxada made of almonds, pine nuts, tomatoes, and olive oil. Yummy!
If you are in Barcelona on the last Sunday in January, you will have the chance to check this out in the city of Valls when it's time for the "Gran Fiesta de la Calçotada Valls".
St. Jordi
All of us know Valentine's Day in February, but did you know that in Catalonia they have their own special tradition on St. Jordi's Day? This is a special day for couples and all people who love one another. Our blog about "La Diada de St. Jordi" tells you the whole story of this day and why it became a tradition. But, the tradition essentially remembers the day that the brave knight St. Jordi rescued the princess from the dangerous dragon- all in the name of love!
If you are lucky enough to be in Barcelona on St. Jordi's then you will see what a big deal it really is in Catalonia. Many booths line the streets where people can buy roses and books for their loved ones. Originally, the man gave his chosen one a rose and in return, she gave him a book as a sign of their love. Nowadays, you'll see people picking what suits their partner best and gifting it to them. In the end, it's all about love, right?
Make sure to visit Barcelona next 23rd of April with your partner to share the love with them and the city! St. Jordi definitely is one of the most celebrated days in the Catalan capital.
Sant Joan
The celebrations of St. Joan are welcomed every summer with parties on the beach, fireworks and bonfires. If you are here in the beautiful city of Barcelona on June 23 you should watch the pageantry down on the beach or maybe even higher above the city on Mount Montjuïc for some of the best views in town.
Traditionally, this whole ceremony about cleansing, using water and fire to give more power to the sun. If you want to find out more about this special night, check out our blog on the Sant Joan Festival.
Diada Nacional
La Diada Nacional on September 11 is a very important and historical day for many Catalonians. The National Day reminds the locals of the day when Barcelona was taken over by the Franco-Castillian troops in 1714, which they still refer to as a loss of Catalonia Independence.
Since 1980, it is officially a public holiday. All around Catalonia, you will see the Catalan flags hanging out of windows and on balconies as a sign of solidarity and strength of the Catalan will. The day is used for demonstrations to fight for their independence. Read our blog about the National Day for more!
La Mercè
La Mercè, also known as La Fiesta Mayor de Barcelona, is the biggest street festival of the year and honors the patron saint of the Catalan capital, Mare de Deu de la Mercè. The whole city comes together to celebrate. There are parades with gigantes (giant figures), capgrossos (giant heads), diablos (devils), falcons (acrobats) and correfocs (fire runners).
Everywhere you go, art, music and attractions, such as parades and open-air concerts. This festival is a really special occasion for most Barcelona locals and is worth a visit for at least one day.
Festes Majors
These annually local celebrations take place from neighbourhood to neighbourhood on different dates throughout the year. They celebrate their own patron saint for a few days with concerts, parades, beautifully decorated streets, and giant heads. If you are in Barcelona, be sure to check out what's going on in your neighbourhood to not miss any events!
Castanyada
On the 1st of November, the day of All Saints, Barcelona celebrates the "Catalan Halloween". Catalonia's families eat traditional, seasonal things like warm, roasted chestnuts, sweet potatoes, panellets – a pastry made of marzipan and drink muscatel (a special wine). Around this time, you will see vendors on the streets selling these goods.
Nowadays, this day is personified by an old woman with a headscarf, roasting the chestnuts and selling them. It is worth trying roasted, baked or grilled sweet potato on this day- even better together with roasted chestnuts! In addition, available in different shapes, you will find the panellets with pine nuts, shredded coconut or coated in chocolate.
Catalan Cultural Symbols
Caganer
Catalonia is famous for one special man – the "Caganer" which literally means "the pooping one". He is a crouching figure wearing traditional peasant clothing, except of his lowered pants and, you might have guessed it, he is pooping. In the festive time during Christmas, children are happy to find the hidden figure. It is said that he will bring fertile soil and a good harvest. He symbolizes a good fortune for the upcoming year.
Next to the traditional caganer there are now many people personify the caganer as a small figurine, like footballers, politicians, or stars and superheroes. They are very proud to be part of this tradition.
Correfocs
As mentioned before you will be able to see the Correfocs at La Mercè festival but also at others. The game with fire displays a battle between good and evil. There will be "Els diables" who dance to loud drums, spitting fire through over the crowd and shooing the giant beasts through the streets. This is a widely celebrated tradition, by many locals but also tourists who are fascinated by the show! You will get carried away by its mesmerising energy!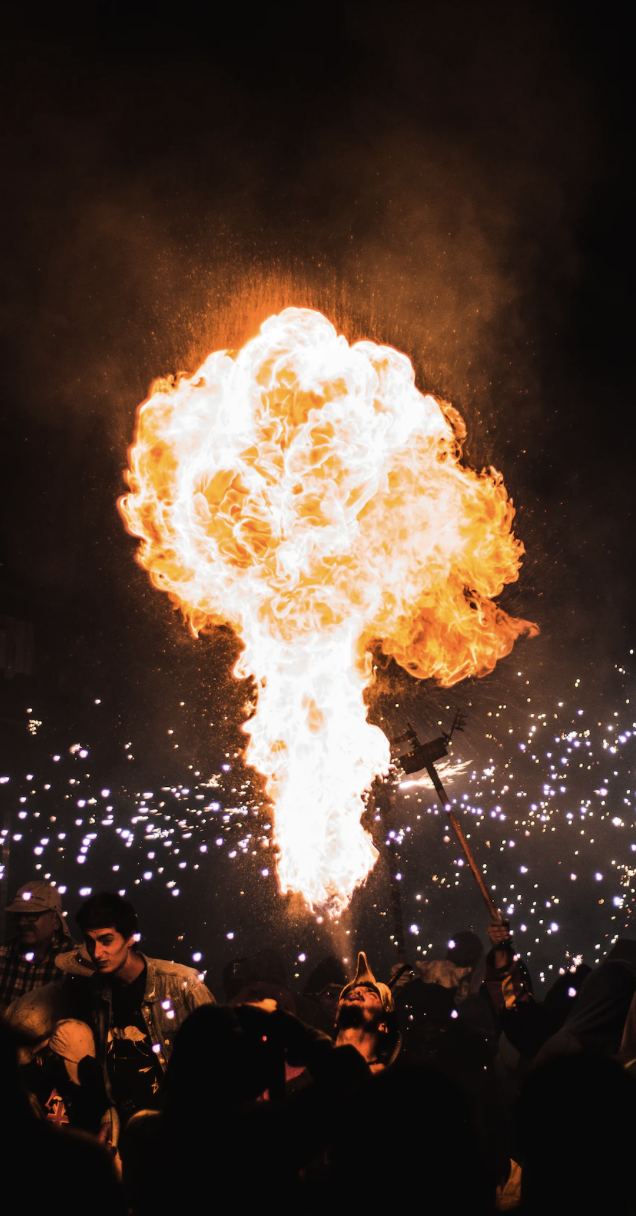 Castellers
Another very popular tradition are the Castellers. These acrobats build incredible towers by climbing onto each other. The first base is the "pinya" which builds the foundation to give stability. Next, there is the "tronc" which is the middle part and takes 1 to 9 people. Lastly, the "pom de dalt" builds the top of the "Enxaneta" to scale where he shows a traditional gesture the "Aleta" that means the completion of the tower.
La Sardana
The Sardana is a special traditional Catalan dance. People dance it together in a circle while holding hands and following the steps of the dance. They dance it whether in a big circle, a small one or many small ones, but everybody is invited to join! They dance accompanied by a flute and Cobla which is a Catalan group of musicians. The meaning of this dance is special for Catalan people because they can identify with it, and it has a strong meaning in the fight for their Catalan identity. At La Mercè you will certainly find shows to participate in but first, be sure to know the steps and the rules as it is getting faster from time to time!
Ball de bastons
A very popular folk dance in Catalonia, Aragon, the Valencian Community and Castilla León. The traditional dancers perform different forms, dancing and smashing their sticks together. The dancers may wear white trousers, as well as red ribbons or sashes. For the dance, they are separated in two rows standing in front of each other and performing the "ball de bastons".
The Catalan Donkey
The Catalan donkey is a tall donkey species native to the region of Catalonia. It is the largest and oldest donkey breed and is known for its clever, strong and hardworking skills. The Spanish culture has a bull as a symbol of strength, but the Catalan donkey is a symbol of strength for this region.
Eloi Alegre chose the Catalan donkey as a symbol of unification for Catalonia, as it is native to the region and its characteristics make Catalan people feel connected to it. The donkey symbolizes the Catalans' strong will to be independent from Spain, as it is peaceful and friendly when treated right. If you pay attention, the donkey is present everywhere: on the back of cars, as keychains, on clothes and in many souvenir shops!
Catalonia is a proud region with many beautiful traditions and festivals. With this blog, you have a great overview over them. If you want to learn some Catalonia and maybe are now hyped to also learn, a few Catalan words for your trip to Barcelona, then check out our beginners guide to Catalan.